The Bahrain Economic Development Board (EDB) recently revealed investment in Bahrain's tourism infrastructure reached over $13 billion. The figure covers 14 prominent projects that will further boost growth in the Kingdom's tourism and leisure sector.

The sector witnessed rapid growth in the past year, with the total number of tourists visiting the Kingdom increasing by 12.8 percent in the first nine months of 2017. The Kingdom is also witnessing further enhancement to its tourism infrastructure to support this growth, which plays a significant role in Bahrain's economic diversification efforts.
"The total number of tourists visiting Bahrain has reached 8.7 million during the first nine months of this year, a significant number considering our resident population of only 1.5 million people." said Dr. Simon Galpin, Managing Director of Bahrain EDB.
Strong competitive advantage
"The tourism sector is one of the key investment sectors we recognize as having a strong competitive advantage for Bahrain. It contributes 6.3 percent to the country's GDP, and is set to grow significantly, as the number of visitors and leisure activities increase. Bahrain continues to reaffirm its position as a tourism destination of choice with a number of new hotels, retail and leisure developments currently underway."
The tourism investment projects are part of Bahrain's large-scale infrastructure development across a wide range of sectors and are valued at over $32 billion. This public-private sector investment consists of $10 billion of government funding, $7.5 billion under the GCC Development Fund, and $15 billion worth of investment in the private sector.
As part of these developments, Bahrain International Airport is undergoing a $1.1 billion modernisation program, set to increase passenger capacity from nine to 14 million per year by 2020. This will go hand in hand with the new five and four-star hotels and resorts in the tourism development pipeline that will cater to current and future demand.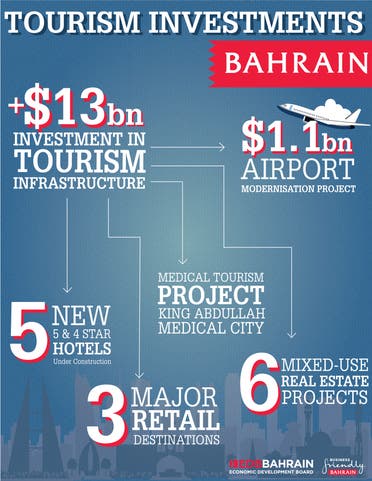 Other infrastructure investment projects include the development of a number of shopping malls such as Dilmunia Mall and the Marassi Galleria shopping complex, to join the recently-opened $159 million Avenues Mall at Bahrain Bay.
Furthermore, Bahrain's tourism strategy also extends to medical-tourism projects through King Abdullah Medical City, and mixed-use real estate projects such as Bahrain Bay, Bahrain Marina, Diyar Al Muharraq, Water Garden City, Dilmunia, and Marassi Al Bahrain where Emaar Hospitality brands such as The Address Hotel and Vida are under construction.