In smart new offices with Gulf views, a dozen firms work on digital currencies, blockchain-based payments and other financial technology.
Bahrain FinTech Bay, inaugurated last month, is part of the kingdom of 1.4 million's drive to revive its reputation as the Middle East's top banking and business center. Protests in 2011 hurt Bahrain's image and some investors turned instead to nearby Dubai.
Saudi Arabia, a friend and sponsor, sent soldiers to help quash the unrest in Bahrain and growth and foreign investment slowed. Then the plunge of oil prices from 2014 dramatically reduced state revenues, its credit ratings fell and debt soared. Large debts still pose a risk as interest rates rise, but after a push to turn the economy around, Bahrain is starting to see initial signs of recovery.
PayTabs, a Saudi company specializing in online payment solutions, will set up a base in Bahrain FinTech Bay in May. "Bahrain's central location in the Middle East makes it a critical online payments hub," PayTabs chief digital officer, Philippe Berard, said in a statement earlier this month.
"Internet penetration in the kingdom is over 90 percent – one of the highest in the world and it is only natural that e-commerce thrives against this backdrop."
Tap Payments, a mobile payment company founded in Kuwait, moved to Fintech Bay last month. Chief executive Ali Abulhasan said Bahrain had regulatory advantages when compared to other Gulf Cooperation Countries (GCC). Amazon Web Services, the cloud computing subsidiary of e-commerce giant Amazon, decided last year to establish operations in Bahrain.
Foreign investment from a record 71 companies was $733 million last year, up from $281 million and 40 companies in 2016, according to the government's Economic Development Board.
This contributed to average annual growth in real gross domestic product of more than 3.5 percent in the first three quarters of last year after rates below 3 percent in 2015 and 2016.
Central bank governor Rasheed Mohammed al-Maraj said last month that growth could accelerate further as strong oil prices have bounced to around $65 a barrel from below $50 in mid-2017.
Importantly for Bahrain's role as a financial center, assets in its banking system appear to have stabilized. Total banking assets edged up 1.4 percent from the end of 2016 to $188.7 billion last November, latest data shows, though they remained well below pre-2011 levels above $200 billion.
Strategy
Part of Bahrain's revival is based on good fortune: the oil price rebound. Fitch Ratings said this accounted for half of the narrowing of the government's deficit last year. The fiscal gap shrank to 13.2 percent of GDP - still very high - from 17.8 percent in 2016, International Monetary Fund estimates show.
But Bahrain has also reshaped its regulatory environment to attract investment more quickly and aggressively than most other Gulf states.
Sometimes that involves deregulation, such as a "regulatory sandbox" in which fintech firms can experiment without heavy supervision and licensing. In other areas, Bahrain is tightening regulation; this month it launched an agency to govern its real estate industry in order to crack down on abuses and draw more foreign money.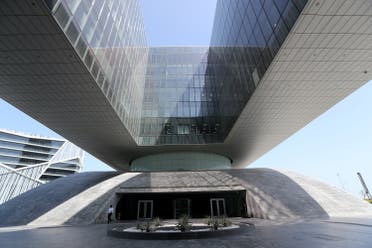 The government is also spending $32 billion on an infrastructure plan that includes airport expansion, the development by state-controlled Aluminium Bahrain of one the world's largest smelter complexes, and a $5 billion refinery upgrade by state-run Bahrain Petroleum Co.
While this may add to pressure on state finances it should improve Bahrain's external position by boosting exports. Meanwhile, Bahrain is marketing itself as a platform for companies seeking to profit from economic reforms in Saudi Arabia that make it more expensive to operate there as the authorities encourage employment of Saudi citizens.
Rates rising
Still, Bahrain is not without its problems. Political violence continues sporadically and last month, authorities said they arrested four members of a cell behind a bomb attack on an oil pipeline. The other big economic threat is the cost of government debt.
All three major international rating agencies now assess Bahraini debt below investment grade, while the ratio of government debt to gross domestic product soared to 81 percent in 2017 from 34 percent in 2012, S&P estimates.
With global interest rates expected to climb in the next 12 to 18 months, Bahrain's debt position may worsen further, "with interest payments likely to rise to as much as 15-20 percent of total government spending," London-based Capital Economics said. The current ratio is about 11.5 percent.
Partly because of domestic opposition to austerity, authorities have not released a comprehensive plan to get state finances under control. In January, the government said it would not proceed with new austerity steps until parliament agreed on how to compensate citizens for a higher cost of living.
But Bahrain may be able to postpone solving the problem. Investors believe Bahrain is able to count on financial support from Saudi Arabia in a crisis. "The expectation of such support has supported Bahrain's market access and US dollar peg despite extremely low foreign exchange reserves," Fitch Ratings said this month.
This perception allows Manama to keep borrowing successfully in international markets despite its junk rating. In addition, official sources and bankers in the region say Bahrain has since last year been discussing the possibility of obtaining additional aid from neighboring countries such as Kuwait, although a final agreement has not been reached.