Information that seemed to suggest Israel had launched a military offensive against Syria appeared on Twitter on Thursday, sent oil prices soaring, reported Agence France Presse.
This continued until traders realized the post referred to the 40th anniversary of the Yom Kippur war.
At mid-morning, oil was trading near its Wednesday closing price of $101.61 a barrel, before breaching $103 on the roughly coinciding with the posting of the Tweet.

At a quick glance the Tweet suggested a dramatic escalation in Israel's long-standing tensions with Syria.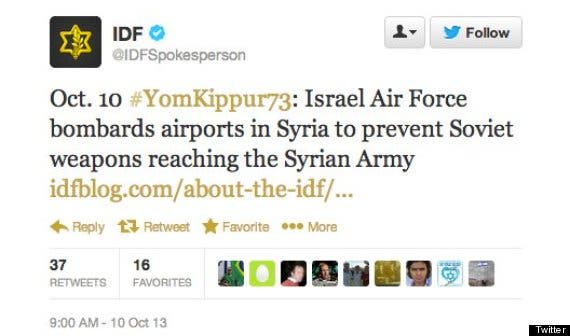 "Israel Air Force bombards airports in Syria to prevent Soviet weapons reaching Syrian Army," read the Tweet, from the Official Israel Defense Forces.

It appears that many users omitted the first part of the comment, #YomKippur73, which clarified the events referenced which occurred 40 years ago.

However, oil market participants said the misunderstanding over the Israeli tweet played a role in oil's initial rally on Thursday. Oil eventually closed the session at $103.01 a barrel, up $1.40.
Andy Lebow, a senior vice president of energy derivatives at Jefferies Bache speculated that the fluctuation in prices were not human error.

"It might not be a human being," Lebow said of the trades. "It might be a computer that's maybe programmed with the words 'Syria' and 'Israel.'"

"There was confusion on that tweet and it got bandied about as a new attack," said John Kilduff, founding partner of hedge fund Again Capital.

The market's reaction reminded him of an incident earlier this year when equity markets tanked due to a bogus tweet which announced to the Twitter community that the White House had been attacked.

"It's a dangerous move to trade off these Twitter statements," Kilduff said. "This has happened before, and I'm sure it'll happen again."
(With AFP)