Saudi Vision 2030: A look at oil giant Aramco's ambitious IPO
As per the new plan, ownership of Saudi Aramco is to be transferred to the Public Investment Fund
Saudi Aramco, the state oil giant, is one of the kingdom's key motors. Its transformation is naturally one of the drivers of the Saudi Vision 2030, unveiled today. Paradoxically, oil plays a central role in moving the country away from oil.
Ownership of Saudi Aramco is to be transferred to the Public Investment Fund. The PIF's value, now around $87 billion based on stakes in Saudi Basic Industries Corporation (SABIC), National Commercial Bank and other companies, is intended to rise to $2 trillion with the addition of funds from selling a 5 percent stake in the oil company, with other assets including government land and its monetary reserves.
"IPOing Aramco and transferring its shares to PIF will technically make investments the source of Saudi government revenue, not oil," deputy crown prince Mohammed bin Salman, chief architect of the plan, told Bloomberg.
This plan rests heavily on the valuation ascribed to Aramco, which the prince says he expects to exceed $2 trillion. Its worth rests primarily on its 10.2 million barrels per day of crude oil production, by far the largest by any single company, 1.5 million barrels per day of natural gas liquids, and more than ten billion cubic feet per day of natural gas.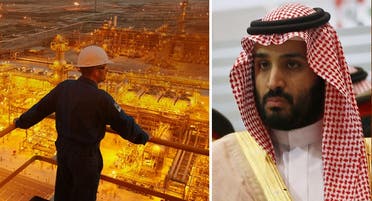 This output is backed by official proved reserves of 267 billion barrels, the largest conventional reserves of any country, which are also low-cost and straightforward to produce. It is also a major refiner, at home and abroad, and a growing petrochemical producer. Aramco is known for its professionalism and dedication to technology.
Simplistic estimates based on its reserves are not appropriate for a company focussed on a single country, and which is producing its reserves much more slowly than a private-sector firm such as ExxonMobil.
Massive valuation
The key issue is whether, under this new structure, Aramco would continue to pay taxes to the Ministry of Finance, or whether all earnings would be routed through its holding company. Currently, allowing for the company's likely future production, reasonable oil price forecasts and taxes suggest a valuation to investors more like $300-400 billion, but the government reaps far more than this through taxing Aramco.
The IPO is planned for 2018 or even as soon as 2017. Further IPOs may follow of Aramco subsidiaries, probably a downstream unit (refining and petrochemicals). This is an ambitious timeline for valuing and restructuring such a large and systemically important company – not just the key component of the country's economy, but a global player through its impact on oil production and prices.
The question of governance, transparency and disclosure will be key. After disastrous mismanagement and value destruction at another listed national oil company, Brazil's Petrobras, investors holding just 5 per cent would be concerned about their ability to influence Aramco's management, particularly if national strategic objectives were to override profit-seeking.
The Tadawul, the local exchange, is too small to accommodate a sole listing, even of 5 percent of Aramco, so it will have to be dual-listed on a major international exchange, probably London which also hosts Russia's state champion Rosneft.
Mohammed bin Salman on Saudi Aramco
That would require the company to open up its books to an unprecedented degree, revealing its costs and its closely-guarded audited reserves. Aramco chairman Khaled Al Falih said in January, "a listing of the main company, and obviously the main company will include upstream."
Prince Mohammed explained on Monday that, "If Saudi Aramco is listed then it must announce its statements and it will do that every quarter…all international banks and research and planning centers in the world will monitor it intensively."
Such transparency is essential to make the company clear and so valuable to investors – as well as being legally required in most jurisdictions.
The minority listing of Aramco, transfer of its ownership, and greater disclosure will be huge changes for the company. They are only one component of the Saudi Vision 2030, but a key one given the centrality of oil to the economy. At the same time as it seeks to accelerate away from oil, the Kingdom needs to keep its economic engine running smoothly.