Russia, Saudi Arabia to set up working group to monitor oil market
Saudi Arabia and Russia, the largest oil producers in the world, are keen to find ways to support the weakening global oil market
On Monday, Russia and Saudi Arabia's energy ministers both signed a Memorandum of Understanding on the sidelines of the G20 summit, noting keenness from both sides to see the global oil market stabilize.
"Both Russia and Saudi Arabia, as the two largest oil producers in the world, have the heaviest burdens to see the oil markets stabilize," Russian Energy Minister Alexander Novak said.
"Of course, strategic works with Russia will be important given that they are one of the two largest producers of oil along with the Kingdom. There is no doubt that Saudi Arabia to see OPEC and non-OPEC countries to follow our lead in joining this strategic working group," Saudi Arabia's Energy Minister Khalid al-Falih told Al Arabiya News Channel's business correspondent Lara Habib Chamat in Hangzhou.
"Currently there is no decision to freeze output but it is one of the favorable options that will be looked into in the future. But there will be further meetings to monitor the global oil markets and Saudi Arabia will be looking forward to being a part of those talks for everyone's benefit," he added.
Earlier, Saudi Deputy Crown Prince Mohammed bin Salman told Russian President Vladimir Putin that Saudi Arabia-Russia cooperation will benefit the global oil markets.
Both had met one another on the sidelines of the ongoing G20 summit being held in Hangzhou, China.
Saudi Arabia and Russia, the largest oil producers in the world, are keen to find ways to support the weakening global oil market.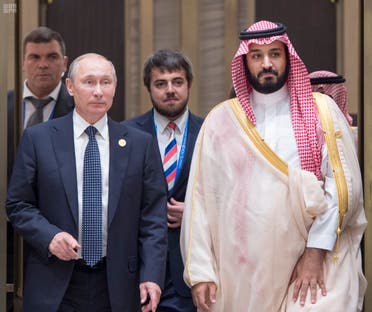 Russian President Vladimir Putin called Saudi's Deputy Crown Prince Mohammed bin Salman a "very reliable partner with whom you can reach agreements, and can be certain that those agreements will be honored," in an interview with Bloomberg on Friday.
Saudi Arabia's foreign minister Adel al-Jubeir said last month that the kingdom is keen to build the best relations with Russia in a number of joint cooperation fields.