Saudi Public Investment Fund chief: 'Aramco IPO is on track, 2018 is our target'
WATCH LIVE FEED BELOW
Yasir Bin Othman Al-Rumayyan, CEO of the Saudi Arabia's Public Investment Fund (PIF), said on Tuesday that the Saudi Aramco IPO is on track for 2018.
"The IPO is on track, 2018 is our target." He said the involvement of other investors such as Chinese won't delay the Aramco IPO.
"We don't want to exit conventional investments, but want to add new types," he added.
Aramco, which controls Saudi Arabia's massive energy assets, plans to list nearly five percent of its shares in the stock market. The IPO is expected to be the largest in history, raising around $100 billion in revenue for the kingdom.
Rumayyan was part of a panel discussion held in a landmark conference - The Future Investment Initiative (FII) - on Tuesday. The discussion was titled "The big shift: what new frameworks are needed to understand the future?"
The FII is a conference hosted by Saudi Arabia's Public Investment Fund. As part of Saudi Arabia's economic reforms announced last year, the Saudi government plans to expand the PIF, founded in 1971, to finance development projects in the country.
Rumayyan said the PIF has an objective to grow revenue streams, localize technologies. He said he expects projects to create over 20,000 jobs by 2020.
The PIF targets annual returns ranging between 3 and 9 percent across its various portfolios in the long term, he added.

Rumayyan added that some outlying assets could reach annual returns in the low teens.

PIF is benchmarking itself against a range of other funds, he added.

Christine Lagarde
Saudi Arabia understands that oil will be a secondary commodity in the near future, IMF chief Christine Lagarde said in the panel discussion.
"In 50 years' time oil will be a secondary commodity ... If we don't address climate change & inequalities we will be moving to a dark 50 years.
"We need to address climate change and inequality right now for a future that is utopian, not dystopian," Lagarde added.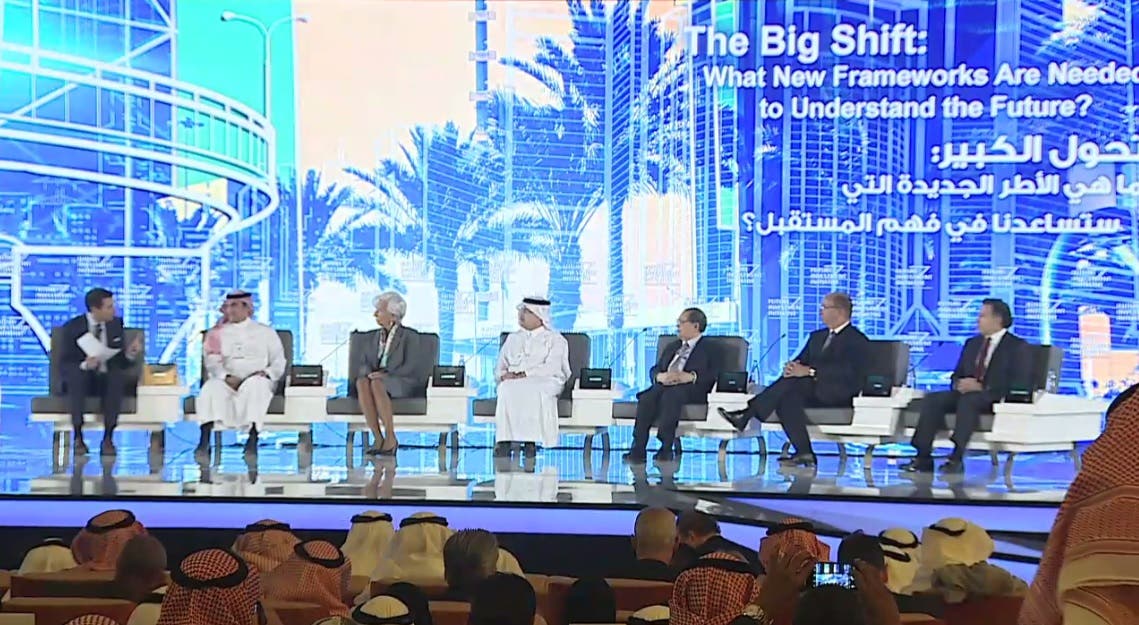 Panel details:
The big shift: what new frameworks are needed to understand the future?
Many of the institutional models used to build organizations in the twentieth century are no longer relevant. As a result, new social, economic, and intellectual frameworks are necessary to drive progress and achieve ambitious, large-scale goals. How should public and private sector leaders innovate to succeed in the era of exponential technological growth? What emerging trends are likely to have the greatest impact over the next two decades? What ignored issues deserve greater attention? And how does the world plan for a future when the past is no longer a useful point of reference?

H.E. Yasir Othman Al-Rumayyan, Managing Director & Member of the Board, Public Investment Fund(PIF), Saudi Arabia
Victor Chu, Chairman & CEO, First Eastern Investment Group, Hong Kong
Larry Fink, Chairman & CEO, BlackRock Inc., United States of America
Christine Lagarde, Managing Director, International Monetary Fund
David McCormick, Co-CEO, Bridgewater Associates, United States of America
Amin Nasser, President & CEO, Saudi Aramco, Kingdom of Saudi Arabia
Moderator: Andrew Ross Sorkin, Co-anchor of CNBC's "Squawk Box" and Founder & Editor at large, New York Times Dealbook, United States of America