Iraq's oilfields in the disputed Kirkuk region have taken on new significance after the United States restored oil sanctions against neighboring Iran. Washington is pressuring Baghdad to resume exports that stopped last year.
Iraq aims to raise its export capacity to 8.5 million barrels per day (bpd) in the coming years from less than 5 million bpd currently, 1 million of which could come via Kirkuk. But that resumption is not just a question of turning the tap back on.
Why is Kirkuk so important?
Volume and revenue. The halting of exports from Kirkuk stopped nearly 300,000 bpd flowing out of Iraq towards Turkey and international markets - causing a net revenue loss of some $8 billion since the stoppage last year.
Most of Iraq's exports come from southern fields, but Kirkuk is one of the biggest and oldest oilfields in the Middle East, estimated to contain about 9 billion barrels of recoverable oil.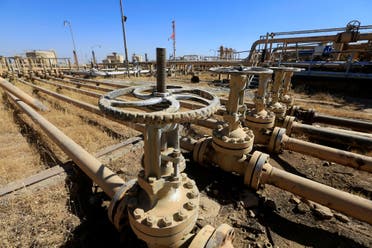 The United States also sees Kirkuk as an option to help offset global shortfall in oil supply caused by its sanctions on Iran, which forbid purchasing Iranian oil.
Washington has pressured Baghdad to suspend all shipments of oil to Iran and resume flows from Kirkuk to Turkey, industry sources say.
What halted exports, what obstacles remain?
Exports have been on hold since October 2017 when Iraqi government forces took control of Kirkuk from the semi-autonomous Kurdish authorities in northern Iraq, in response to a referendum calling for Kurdish independence.
The Kurds had controlled Kirkuk and its oilfields after ISIS militants drove the Iraqi army out in 2014, and Kurdish forces in turn ejected the militants.
Resumption of exports from Kirkuk depends on negotiations between Baghdad and the Kurds.
The pipeline Baghdad once used for exports via Turkey was wrecked by ISIS - leaving only one working pipeline, built and controlled by the Kurds. Iraq's government must use that, or build a new pipeline. It is considering both options.
Who controls the kirkuk oil flows?
On paper, Baghdad. But if Iraq decides to use the Kurdish pipeline to export oil, it needs to negotiate.
The Kurds will likely seek a greater share of Iraqi state oil revenue in return. Baghdad might also have to contend with Russia's Rosneft (ROSN.MM), which bought the Kurdish section of the pipeline last year.
When will Kirkuk exports resume, and how much?
As soon as Baghdad and the Kurds reach an agreement - hence US pressure to do so. If no deal is reached, Iraq will have to build the new pipeline, which could take around two years.
The Rosneft pipeline has been upgraded to a capacity of 1 million bpd, which could accommodate a current 400,000 bpd coming from other oilfields in Kurdistan, plus the 300,000 bpd that would come from Kirkuk, Kurdish authorities say.
Iraqi authorities say they still need to feed local refineries - where Kirkuk's current output is being diverted - so even if exports from Kirkuk resume, they won't exceed 100,000 bpd at first, meaning total exports via Kurdistan would be only 500,000 bpd.
That would be smaller than peak Kurdish exports of 700,000 bpd before the failed referendum and not enough to help Turkey cut its reliance on Iranian oil.