Lunch with Stefan Viard of Vida Hotels: insight into Dubai's hotel market
Stefan Viard, the manager of the Vida Hotel chain, believes that his two hotels can stand out amongst the 650-odd competitors in the city
Along a boulevard in Dubai's glitzy downtown district, well-known for being the site of the world's tallest building and – by some counts – the world's largest mall, two four-star hotels sit side-by-side.
The two properties are not particularly imposing, and in a city which frequently boasts of having the world's most luxurious accommodation, not especially fancy.
But Stefan Viard, the manager of the Vida Hotel chain, believes that his two hotels can stand out amongst the 650-odd competitors in the city.
"What we achieved is [the creation of] a destination within a destination," says the 39-year-old Viard. The 197-room Manzil Hotel - where our interview takes place - has four restaurants which Viard claims offer far more than the standard hotel fare.
Meanwhile, the 156-room Vida Hotel next door has five eateries, one of them - rather unusually for Dubai - a restored 1960's American food truck.
The high restaurant-to-room ratio has paid off, according to Viard. "In the evening most of our guests are actually outside guests," he says.
Another "unique selling point" of the chain, says Viard, is a service that enables guests to access the hotel's entertainment on their own Wifi-enabled devices – all without having to download an app.
Vida Hotels is part of the hospitality division of Dubai's publicly-listed developer Emaar, well-known for its construction of the 828-meter high Burj Khalifa skyscraper and the cavernous Dubai Mall.
For our meal, taken at the Manzil's newly refurbished Boulevard Kitchen restaurant, Viard chooses a light kale salad, out of a wish, as he says, to avoid the lethargy often experienced after a typical three-course business lunch.
In the same vein, this reporter orders a tomato salad topped with buratta, with French fries on the side.
La Vida Loca
As the brand name Vida means "life", a point Viard makes sure to emphasize, smoking is banned in all of the rooms. In keeping with the healthy theme, during the chain's earlier stage of set-up and training, all of the hotel's staff attended fitness sessions.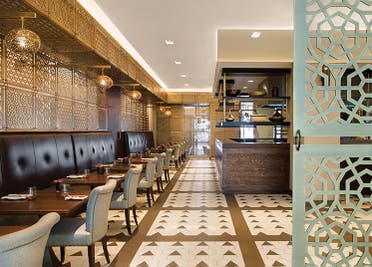 Dubai's hotel industry has seen an uninspiring year. A September report by UAE-based paper The National suggests a tepid market, with much of the city's stock of 65,000 rooms lying empty - a trend attributed to the strong dollar, weak euro and a sharp decline in Russian tourists.
But Viard says that business has been picking up, in line with Dubai's sweltering summer temperatures fading away.
"We had a tough summer like everybody else, but now October looked very promising," he says. "We had healthy months in both properties. November is also looking quite good." Viard also expects popular annual industry events in Dubai, including the airshow and auto show in November, to boost occupancy.
One challenge Viard has faced was luring back visitors after an extensive upgrade of the Manzil, completed late last year.
"Obviously it always takes a little bit of time to roll the business again and to bring back the loyal guests we had before," says Viard, who before heading up Vida managed one of the Address hotels, Emaar's other chain.
Both the Vida and Manzil hotels were formerly owned by South African tycoon Sol Kerzner's chain Southern Sun, before their takeover by Emaar in 2012.
The Manzil's design takes cues from Arabian architecture and culture, with a large courtyard and connecting rooms to suit typically larger Gulf families. The Vida has a more contemporary design and is aimed towards couples and corporate guests. Rooms currently go for around $245 per night.
Room at the middle
Viard believes that the Dubai hotel market needs a wider range of hotels, including lower cost options, to help reach the emirate's target of 20 million visitors a year by 2020 – in time for the city's much-hyped Expo.
"If all of us want to achieve the numbers of 2020 we need to create something which is slightly different. Not everybody can afford to fly business class and to stay in a 5-star hotel… there is definitely a market [for lower cost hotels]," he says.
"Already some of the five-star hotels are offering rates far below what they should be," he adds.
In January, Emaar and Meraas, another developer, announced the mid-market Rove Hotel chain, an apparent rebranding of a chain announced in 2013. The new chain, which according to plans will be equipped with cost-saving self-check-in stations, will have 10 hotels across the city by the end of the decade.
Vida's expansion plan includes three new hotels and three serviced residences. In March this year, Emaar announced that they would be launching another Vida hotel in Town Square, a 750-acre district planned by Nshama, another developer.
Another hotel will be built in Dubai's upscale Emirates Living community. In May, Emaar's hospitality division announced it would open another Vida hotel in Marassi, a new waterfront development in Bahrain.
Viard says that Vida is looking to expand further in the region and beyond, although declined to give further details.
However, he notes that it is "very very difficult to find a good location which is [also] affordable" in top destinations such as London or Paris.
Both of Vida's existing properties currently have a four-star ranking, marketed with the rather less-clear description of "boutique upscale." What would hand them the paramount ranking of five stars?
Viard explains that the rooms in both properties are an average 26 to 29 square meters in area – below the 35 square meter area that a five-star ranking would demand. Hotels with a five-star ranking also need facilities such as a spa and hair salon.
"Those are things we don't have," he says.