Market analysis: top UAE stock picks
Nayal Khan takes look at six key listed companies following this week's sell-off on the Abu Dhabi and Dubai markets
The stock markets of Abu Dhabi and Dubai have plummeted over the last week in the wake of an important announcement by index compiler MSCI.
It emerged on May 14 that nine UAE companies are being added to MSCI's benchmark emerging-markets index, with the country's weighting in the index (0.59 percent) considered small.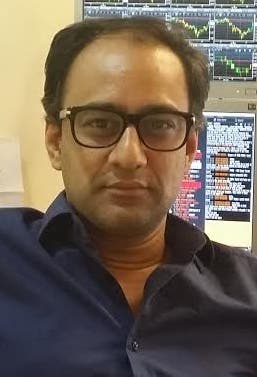 Since the announcement, the local markets witnessed a selloff, with the Dubai Financial Market dropping 14 percent and the Abu Dhabi Securities Exchange down 6 percent.
The moves were very much broad based and across quality assets such as property developer Emaar. Retail investors were the driving force behind the moves, which were largely exaggerated, in my opinion, by margin calls and possible offshore short-selling.
Banks however proved more resilient during trading this week, largely due to minimal participation by retail investors.
Despite the impact on the local markets, the UAE story – that of economic recovery – is still very much intact. I would argue that this correction provides very attractive entry levels to investors, in particular among the UAE stocks included by the MSCI on its emerging-markets index.
To recap, the names on this list are: ADCB, Aldar Properties, Arabtec, DP World, Dubai Financial Market, Dubai Islamic Bank, Emaar Properties, FGB and NBAD. In addition, the UAE names added to the MSCI small-cap indices include Agthia, Air Arabia, Ajman Bank, Dana Gas, Eshraq Properties, Tabreed, Gulf General Investment, RAK Properties, Shuaa Capital and Waha Capital.
The UAE's inclusion within the MSCI indices and more importantly the emerging-markets index is certainly a big step forward in terms of market evolution and attracting international institutional capital.
Despite the UAE's weighting within the index being small, the country is still likely to see approximately $800m to $1bn of capital inflows from passive investors, exchange-traded funds and index tracker funds.
Here are my top picks in the UAE over the next three months:
Drake & Skull: The Dubai-based contractor's recent contract wins in Kuwait and Egypt are positive for sentiment among investors. The company's strategy for the year is to strengthen its balance sheet and reduce costs to deliver on the growing backlog of projects. I expect Drake and Skull to tap more into the UAE's mechanical, electrical, and plumbing (MEP) services space, while the company is also trying to tap into railway-infrastructure building across the GCC.
Air Arabia: The budget airline's first-quarter results were positive, recording a year-on-year improvement in passenger traffic and load factor. Expect Air Arabia's financial performance to improve as a result of the ongoing expansion strategy and with increased passenger traffic in the region. Its new hub in Ras al-Khaimah and additional destinations will likely increase passenger traffic in the near-term. In addition, Air Arabia's ability to operate from Cairo is positive. The company's strategy to cater for demand from the sizeable Egyptian labor force in the GCC is prudent.
Dana Gas: The Sharjah-based firm's first-quarter results were expected given concerns over receivables in Egypt and Kurdistan. Receivables recovery is crucial for Dana and more so given their quarterly Sukuk payment obligations. I am expecting positive signs on the liquidity front to come through however. In addition, any development on Iran would serve as a catalyst on the stock with any positive development to add significantly to Dana's valuation, adding about $1bn to its existing market capitalisation.
Deyaar: The real-estate developer reported decent first-quarter results given its stronger property sales and improved margins. The company's balance sheet has also strengthened. I am expecting Deyaar to perform well in 2014, given the buoyancy in Dubai real-estate demand from local as well as foreign investors. Expect 2014 to remain a buyers' market with property prices remaining firm. Deyaar booked AED1.3bn in new sales from Jan to April 2014 and maintains a solid track record in terms of project handovers and benefits from successful new deals in its property management division. Amongst UAE real-estate players, Deyaar stands out given its unique property portfolio (such as the Business Bay district) and with a footprint in facilities and property management.
Emaar: It is very difficult not to like Emaar. The Dubai-listed property developer's first-quarter results were positive, with its strong performance led by improved gross profit margins. The company continues to witness strong demand for its properties, with AED6bn in sales in the first quarter, and a strong response to its international launches. Emaar stands out from its peers given its diversified portfolio in the hospitality and retail segments. In terms of catalysts, the possible initial public offering of Emaar Malls Group is positive in terms of unlocking additional value for shareholders.
Aldar: Debt is no more a concern for the Abu Dhabi-based property developer. With ample liquidity and bank facilities now in place, plus AED4.3bn yet to be collected from Abu Dhabi, Aldar is set to repay its $1.25bn bond this month. It has launched three new residential developments in Abu Dhabi, and I expect additional project announcements as demand for quality real estate continues to grow. Aldar is expected to deliver 1,400 units during the second and third quarters, which should help deliver strong earnings. Recent credit rating upgrades are positive and reflect clear signs of an improvement in Aldar's balance sheet as well as Abu Dhabi's continued support of the company, such as asset acquisition and capital injections when required.