State oil giant Saudi Aramco has appointed company veteran Motassim al-Maashouq to officially oversee preparations for its initial public offering (IPO), industry sources told Reuters.
Maashouq, who most recently worked as vice president of corporate planning and is viewed by industry insiders as well connected with the financial community, has taken up the position of vice president of IPO development, the sources said. Saudi Aramco said it did not comment on rumor or speculation.
The Saudi government plans to list up to 5 percent of Aramco on the Saudi stock exchange in Riyadh, the Tadawul, and on one or more international markets. Analysts think this could raise $100 billion, based on Aramco being valued at $2 trillion. The IPO is the centerpiece of the government's plan, known as Vision 2030, to diversify the economy away from oil.
Yasser Mufti, executive director of new business development, has been named acting vice president of corporate planning, replacing Maashouq for an interim period, the sources said, speaking on condition of anonymity as the changes are not public.
Maashouq joined Aramco in 1984 and has worked as treasurer, as well as president and chief executive officer of Aramco's previous affiliate in the Philippines, Petron Corp, among other positions. He is chairman of Saudi Aramco Luberef.
HSBC CEO speaks
It was earlier reported on Monday, quoting HSBC's chief executive, that HSBC Holdings Plc has been formally mandated as an adviser on the initial public offering of Saudi Arabia's national oil giant Aramco, expected to be the world's largest ever IPO.
Europe's biggest bank joins peers including JPMorgan Chase & Co and Morgan Stanley on the deal, which is expected to raise some $100 billion and is the centerpiece of the Saudi government's ambitious strategy to diversify away from oil.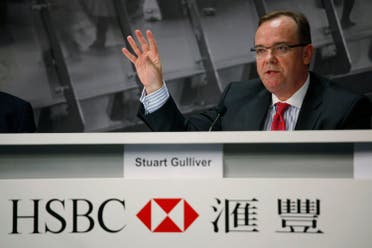 HSBC's Chief Executive Stuart Gulliver announced the bank's appointment on the deal at a shareholders' meeting in Hong Kong, confirming a Reuters report in February that the bank was close to being mandated on the hottest investment banking ticket in the world.
Gulliver also said HSBC is confident it can maintain dividend payouts in the foreseeable future and expects to exceed risk-weighted asset and cost-saving targets.
Dividend payout ratio
Despite earnings pressure, HSBC has retained its dividend payout ratio at a higher level in the last few years, at a time when some of its peers, including Standard Chartered, withheld dividend payments for 2016.
The bank may have to move "some thousand roles" from Britain to Paris depending on how the country's Brexit negotiations with the European Union unfold, chairman Douglas Flint added, reiterating the bank's previous estimates of staff moves.
HSBC last month named AIA Group boss Mark Tucker as the new chairman of its board, replacing veteran Flint, whose departure will end one of the longest-serving management partnerships at a major global bank.
CEO Gulliver is also due to leave in 2018, and one of the main tasks facing Tucker immediately after taking over the new role in October will be selecting a new chief executive for Europe's biggest bank.