Dubai's real estate market is seeing increasing demand from investors and end users, according to property analysts and brokers.
Much of the increased demand is towards large villas and apartments bought by investors to let, said Myles Bush, CEO of Powerhouse Properties.
"Investors are being drawn towards areas such as Jumeirah Lake Towers, Dubai Marina and the Greens and the Views," Bush told Al Arabiya English.
There has been a greater number of local Emirati buyers, as well as a sudden increase in other Gulf buyers.
"In the last year or so, we've definitely seen a lot of Gulf buyers coming into town," Jackie Johns, managing partner of Dubai Luxury Homes, told Al Arabiya English.
"Perhaps Gulf buyers missed the last property boom. Dubai's infrastructure is a lot better now, with better roads and better facilities and developments, so it's probably a better time to come in now than it was in 2005 and 2006," she said, adding that continued growth was likely in the next six to eight months.
Five-bedroom villas and two-bedroom apartments receive the most interest, Johns said.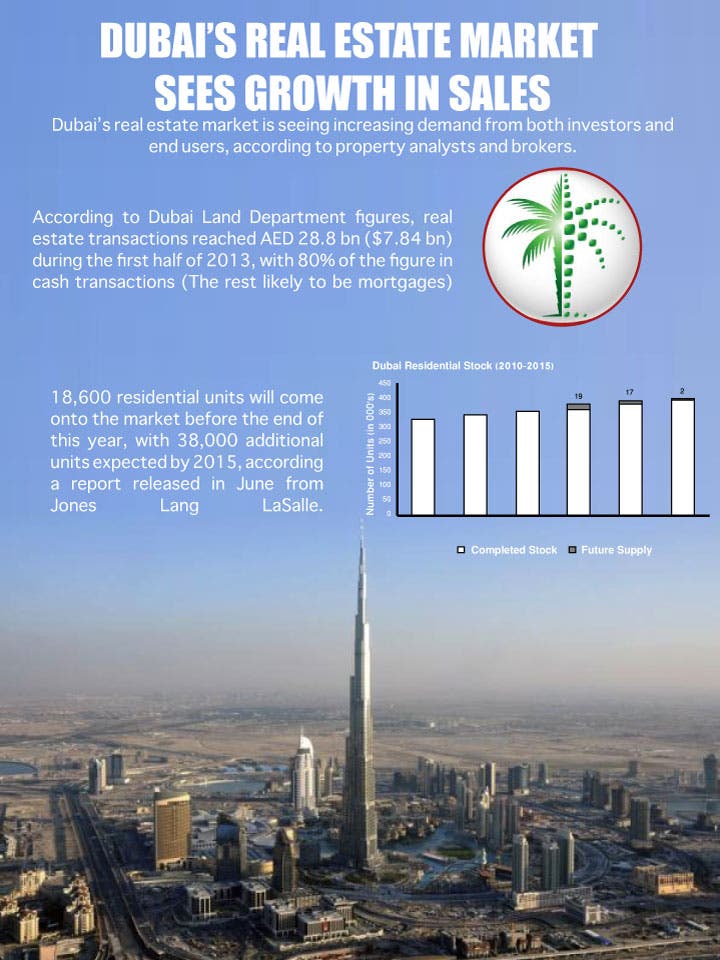 Real estate transactions reached AED28.8 billion ($7.84 billion) during the first half of 2013, 80 percent of which were cash transactions, according to the Dubai Land Department.
"Mortgages traditionally haven't been widely used in the United Arab Emirates, but the proportion of people buying with mortgages is increasing over time," said Craig Plumb, head of research at Jones Lang LaSalle in Dubai.
There are more mortgage buyers in the market because of competition from banks making interest rates more attractive, as well as reflecting demand for property from end users living in Dubai instead of just overseas investors, said Plumb.
Risk of overheating
However, the situation may not be as rosy as it seems.
The rapid rise in values, including the rental market, may put the emirate's real estate market at risk of overheating, according to a report released in June by international property consultancy CBRE's Dubai office.
"There definitely are signs that the market hasn't learned the lesson from the last cycle, and it's beginning to heat up again,' said Plumb.
Even with property agents and analysts noting increased demand, 18,600 residential units will come onto the market before the end of this year, with 38,000 additional units expected by 2015, according to a report released in June from Jones Lang LaSalle.
"That's one factor that will prevent prices going up so much because of the new supply that will hopefully keep prices a little more under control," added Plumb.