Saudi Kingdom Tower to have world's fastest double-decker lift
The tower will rise to the height of more than one kilometer upon completion in 2018
The developers behind Saudi Arabia's under-construction Kingdom Tower in Jeddah have said that it will boast the world's fastest and highest double-decker elevators.
The Kingdom Tower, which is being built by Saudi Bin Laden Group, will rise to the height of more than one kilometer upon completion in 2018.
Infographic: Saudi Kingdom Tower to have world's fastest double-decker lift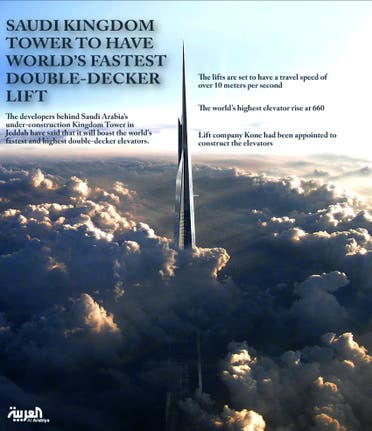 Jeddah Economic Company (JEC), the developers, said lift company Kone had been appointed to construct the elevators. The lifts are set to have a travel speed of over 10 meters per second and the world's highest elevator rise at 660 meters, the Saudi Gazette reported.
Mounib Hammoud, CEO of JEC, said: "We are building the world's tallest tower and have selected KONE high-speed elevators because they utilize technology that surpasses all industry limits and enables elevators to travel to heights that are twice the distance previously feasible."
"In addition, Kone vertical transportation solutions provide unprecedented eco-efficiency, durability and reliability in high-rise vertical transportation – important factors to be considered in a world where urbanization is bringing increasing numbers of people into cities."
Kone President and CEO Matti Alahuhta said: "We are delighted that JEC has chosen KONE as its vertical transportation provider and are greatly excited about being involved in this tremendous project to build the world's tallest tower."
Kone will also provide The Kingdom Tower with custom-designed car interiors and landing doors as well as Kone Destination Control Systems and premium Kone Infoscreen displays.
(With the Saudi Gazette)