Dubai ongoing construction projects valued at $390 bln
The total value of projects under construction in Dubai equates to $53.6 billion, with a further $337.2 billion in the planning stage
The total value of projects under construction in Dubai equates to $53.6 billion, with a further $337.2 billion in the planning stage. These are significant amounts of investment for most mature economies, but for an emerging market such as Dubai, they are extraordinary figures which provide evidence of Dubai's increasingly diversified economy.
This is according to Deloitte and MEED Project's new report, "The Dubai Construction Pulse", which analyses the construction market across a range of sectors. The new report will offer a year by year review of the construction industry – focusing on current activity and future pipeline of projects, thus mapping changes in development volumes by $ spend and contract awards.
The report revealed that the total quantum of current or planned development within the residential sector is estimated to be $66.4 Billion – this is categorized by projects either in the execution or the planning stages. Market wide, residential sales prices in Dubai flattened towards the end of the year in 2015 by circa 10%. The report predicts that residential sales prices in Dubai may continue to soften further into 2016.
The total development activity within the hospitality and leisure sector is estimated at $21.2 Billion made up of projects in the execution and the planning stages. According to Dubai's Department of Tourism and Commerce Marketing (DTCM), Dubai's ambition is to attract 20 million visitors per year by 2020. Growth in international overnight visitors since 2010 averaged 9.2% per year, and if this rate of growth continues, the 20 million target will most likely be met. Deloitte and MEED experts predict that growth may be modest in 2016, with occupancy levels down to circa 70-75% during the year.
The total quantum of development within the Retail sector is estimated to be $ 15.33 billion. Retail environments have evolved to integrate wellness, leisure, F&B and lifestyle to enhance the visitor experience and appeal to wider demographics. The report predicts that growth will be flat during 2016, however Dubai's status as a leading retail destination globally will remain.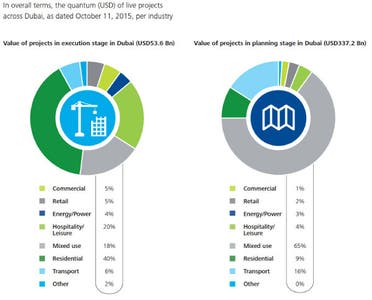 The total quantum of activity within the commercial sector is estimated to be $ 9.1 billion. The report predicts that a number of additional projects will be announced during 2016 in prime locations such as DIFC where there remains a strong demand.
"Despite regional security concerns and wider macro-economic turbulence, Dubai continues at pace with significant project awards in Q1 2016, including the Palm Gateway Towers, Phase II of the Atlantis Resort and Dubai Creek Harbour to name but three", said Ben Hughes, director at Deloitte Corporate Finance Limited, regulated by the Dubai International Financial Center.
"The Dubai construction market is proving resilient in the face of falling oil prices," said Ed James, Director of Content & Analysis at MEED Projects. "Notable contracts awarded in the first month of 2016, such as the $840 million second phase of the Atlantis Hotel on Palm Jumeirah, Nakheel's $380 million Palm Gateway Towers, the $370 million ICD Brookfield Place, and Wasl's $190 million Mandarin Oriental Hotel, show that developers are confident in the market's long-term prospects. As a result, companies involved in project development can feel quietly optimistic for the year ahead in the emirate, even if activity elsewhere in the region slows down."
This article was first published by the Saudi Gazette on February 25, 2016.