Top shop: Arab tourists to UK ranked highest spenders
Middle Eastern families spend average of $42k per visit to Britain – more than tourists from any other region
Visitors from the Middle East have topped a ranking of tourist spending in the UK, with the average family likely to shell out a staggering $42,000 per trip.
People from the UAE, Egypt and other regional countries spend more in the UK than all other foreign nationalities, according to figures from the Office for National Statistics quoted by the Daily Mail.
Combined spending from Middle Eastern tourists is more than $7.5 million a day, the statistics found. Tourists from the U.S. had a greater total daily spend, but only because of the higher tourist numbers from North America.
Infographic: Big spenders: Arabs top list of UK shoppers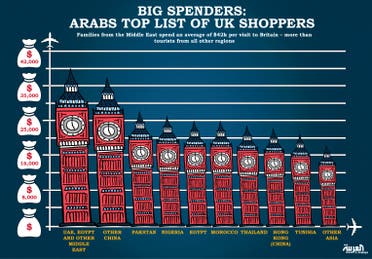 Families from the Middle East had the highest average family spend, more than those from China, Pakistan and Nigeria, the statistics show.
Visitors from the UAE spend an average of $262 a day in the UK – more than visitors from any other nation specifically identified in the statistics.
Last year a total of £2.1 billion was spent in the UK by families from the Middle East – about a tenth of the total tourist spending, the Daily Mail reported.
More than half the total spending happens in the UK capital, which cements "London's position as the world's top playground for the rich", the newspaper said.
The news comes despite two recent attacks on Emirati visitors to London. Following the two violent assaults, a YouGov / Al Arabiya News poll found that more than half of UAE nationals feel the UK is an unsafe destination.
However, experts from the travel, retail and real estate sectors downplayed the likely economic fallout of the two attacks, with several saying they expect spending by Arab visitors to London to continue.