Luxury brands court Gulf tourists for 'sustainable' UAE business
Panelists discussed "the tourist effect" during a session moderated by Al Arabiya News' editor-in-chief Faisal J. Abbas
Luxury retail, hospitality and real estate brands in the United Arab Emirates are pursuing local and regional tourists, considering them more "sustainable" than international tourists.
"International tourists would come, add an impact on your business, and for any reason such as a crisis, would suddenly disappear," said Christophe Nicaise, CEO of Ahmed Seddiqi & Sons.
Local customers and those from the Gulf Cooperation Council are a "sustainable, long-term tourism base," he added.
Panelists discussed "the tourist effect" on luxury brands during a discussion moderated by Al Arabiya News' editor-in-chief Faisal J. Abbas, at the Arab Luxury World 2014 held in Dubai.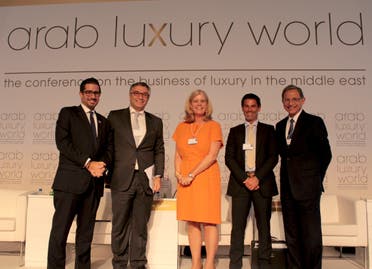 "Dubai has benefitted a lot from the Arab Spring, not by choice, but Dubai has grown on the instability around," said Albert Momdijan, founder and CEO of Sokotra Capital.
However, he warned: "We have to be careful about inflation in hotel rooms, and in costs related to running a business in the UAE. That's the biggest threat, in addition to geopolitical changes around us."
Nicaise cautioned that growth "is slowing down."
Lori Rippstein, vice-president of sales and marketing at the Ritz-Carlton, said: "You can get luxury goods and products everywhere. For long-term sustainability of tourism, it really has to be about the experience we're providing or delivering for our customers."
She added: "In this age of social media… if you want people to say exceptional things about you, then do exceptional things."
Similarly, Dimitri Vazelakis, executive managing director of shopping malls at Majid Al Futtaim Properties explained the nature of businesses competing at international standards.
"Our industry forces us to reinvent ourselves, on an ongoing basis… Just because we've got to a successful level it means we leave it alone, we've got to go back," he said.