'Pop-up' hotels firm Snoozebox in Qatar World Cup talks
London-listed portable-hotels firm says it is looking to enter the Middle East market, with events such as the Dubai Expo 2020 also of interest
The 'pop-up' hotels company Snoozebox is in talks to provide rooms at Middle East events including the 2022 World Cup in Qatar, the company's top executive told Al Arabiya News.
Snoozebox, which is listed in London, provides temporary hotels made from modified shipping containers, which can be stacked vertically according to demand.
The company – which counts retired British Formula One star David Coulthard as its president – has served high-profile events like the London 2012 Olympic Games and Glastonbury Festival, and has a semi-permanent hotel at the Silverstone Circuit in England.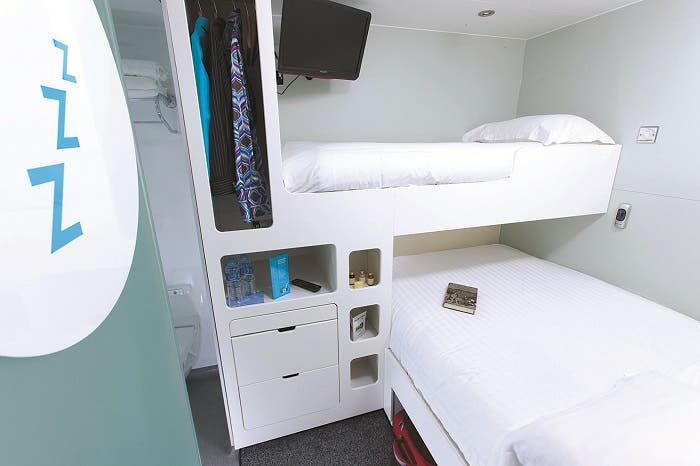 It recently signed a preliminary deal to provide accommodation for football fans at the 2018 World Cup in Russia, reportedly for 2,000 rooms and to be located in the city of Saransk.
Snoozebox is looking to branch out into other markets – and says the Middle East is of "particular interest" in providing its temporary hotels.
"The Middle East as an international territory is a priority," said Lorcán Ó Murchú, chief executive of Snoozebox. "There's a very exciting pipeline of events stretching right out to 2022 for the World Cup."
Ó Murchú said Snoozebox has presented its offering to the Qatari World Cup organizing committee, and talks are ongoing about providing temporary accommodation for fans. No agreement has been reached yet, he said.
The news follows a report last month by Samba Financial Group, which warned that Qatar could struggle to fill the 60,000 hotel rooms it will need for the World Cup after the tournament ends.
The use of 'pop-up' hotels could help alleviate that problem, providing opportunities for companies like Snoozebox. Qatar's World Cup organizing committee declined to comment on this, and would not confirm whether it had held talks with Snoozebox.

Mideast opportunity
Several other organizations in the Middle East have also expressed an interest in Snoozebox, Ó Murchú said, for both accommodation around entertainment events and to house workers. One organization, which he did not name, had expressed an interest in building an event hotel around the Expo 2020 in Dubai.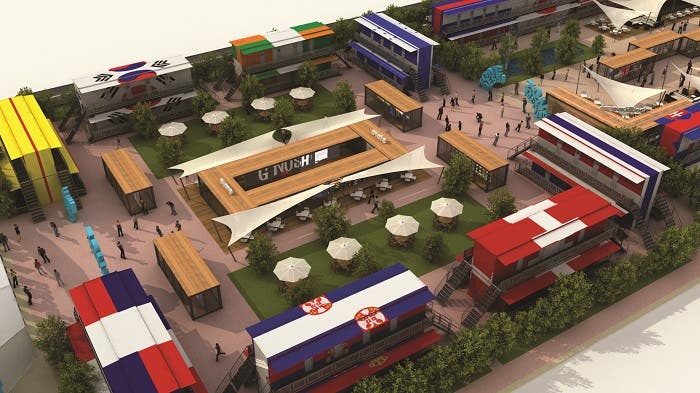 The company already has a regional partner that is looking at event opportunities, as well as building "semi-permanent" hotels around venues like race tracks. It is also looking at temporary hotels for workers in the energy and construction sectors, Ó Murchú said.
He did not put a timeframe on launching Snoozebox hotels in the Middle East, but said there was "no shortage of opportunity" in this market.
Next-generation hotel
Snoozebox was founded by the late entrepreneur and racing fanatic Robert Breare, reportedly after a miserable camping experience. Breare, who died suddenly last July, opened his first 40-room hotel at the 2012 British Grand Prix.
Snoozebox's rooms are fully air-conditioned, have private bathrooms and wireless internet, and are of three- to four-star quality. They are fully portable and don't require mains services like plumbing; each hotel has a special reception and hospitality area.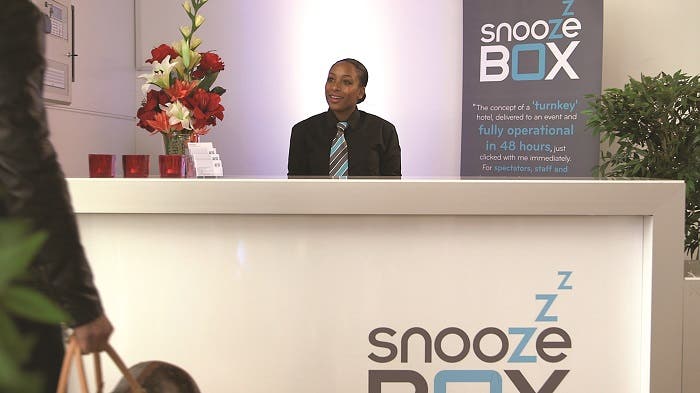 Ó Murchú said the company can cater for a wide range of guests – from "VIPs" to couples to construction workers sharing a room. Its rooms at the Silverstone hotel start at £65 ($105) a night – but the company was charging £1,995 ($3,240) for a five-night stay at its Glastonbury hotel.
The company is about to launch a next-generation portable hotel, formed of a trailer with expanding sides – rather than a solid shipping container – with six rooms. This model can be set up in just 24 hours, rather than the six-to-seven days Ó Murchú says it can take Snoozebox to configure its current hotels.
Financial woes
Snoozebox is pinning its future on the quick-to-assemble next-generation hotel model. "The portability is more efficient, the operating costs will be lower, and the speed of deployment will be significantly faster. That will allow us to do more events," said Ó Murchú.
The relatively slow speed of deploying its previous hotels has been the primary challenge faced by the company, the executive added.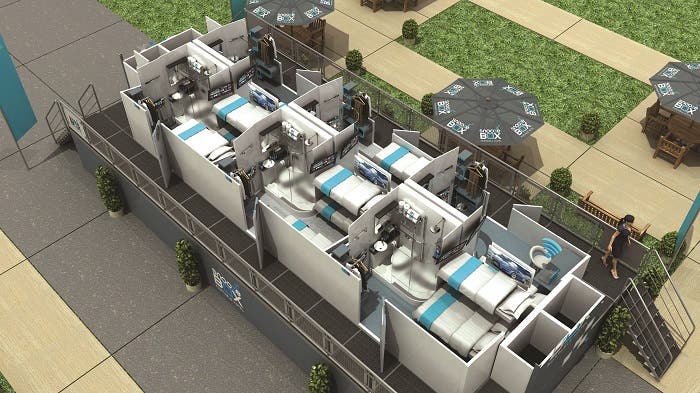 Snoozebox has had a tumultuous financial history, with its share price having dropped by more than 63 percent over the last 12 months.
The AIM-listed company made a loss of £9.4 million in 2013, despite accommodating almost 32,000 people at its hotels, and is not forecast to make a profit until 2016 according to Edison Investment Research.
Ó Murchú acknowledged the "operational challenges" the company had faced, but said it has been building demand and has seen many guests rebooking for future events.
Richard Finch, leisure analyst at Edison Investment Research, said that the company needed to demonstrate its performance in the UK before exploring markets such as the Middle East.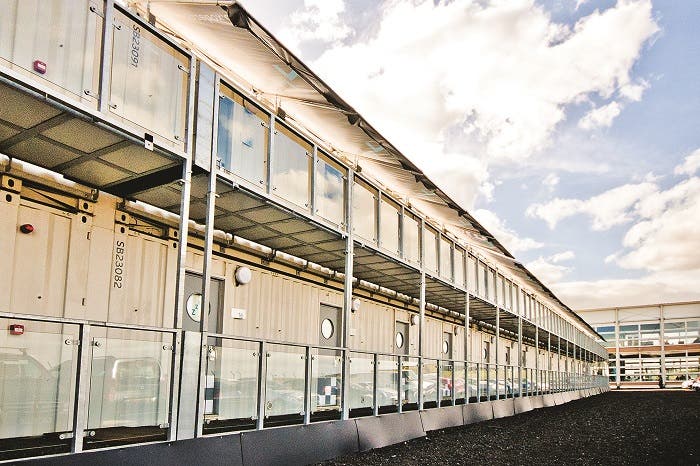 "From an investment angle… The company has to prove to everyone that they can get the product out and actually make a return," he said.
While there are opportunities for the company internationally, a focus on the Middle East is likely "way down the line", Finch added.