Abu Dhabi's new mega mall to rival Dubai shopping hub
The mall represents a push by the capital to attract international tourism, as well as visitors from the wider UAE
A new mega mall has risen up out of the sand in Abu Dhabi, covering 2.5 million sq. ft. and launching the capital city firmly into competition with its tourist hub neighbor Dubai.
Located on Yas Island, the mall is set to open its doors in November and will boast a 20 screen state-of-the-art cinema, a family entertainment zone and more than 370 stores, including the first The Cheese Cake Factory in Abu Dhabi, another restaurant in which food is served on mini roller coasters and the largest Zara, Nike and Adidas stores in the Middle East.
Developed by Aldar Properties, the new retail outlet seeks to "place Abu Dhabi on the global stage of retail destinations," according to organizers.
The mall represents a push by the capital city to attract international tourism, as well as visitors from the wider UAE.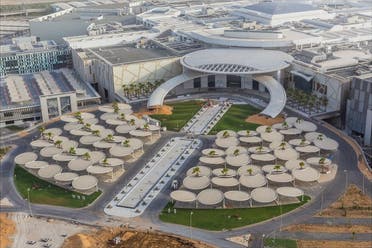 The Abu Dhabi Tourism and Culture Authority revised its 2014 target in recent months, aiming to attract 3.1 million visitors in 2014. In 2013, 2,806,283 guests checked into the emirate's 150 hotels and hotel apartments, representing a rise of 18 percent on 2012.
Speaking to Al Arabiya News, Talal al- Dhiyebi, executive director of asset management at Aldar Properties, said that the mall aims to target a range if consumers.
"It's a super regional mall. The idea behind it is to attract a wide range of visitors and tourists from Abu Dhabi, the UAE, the GCC and a bit wider," he said on Al Arabiya News' exclusive tour of the new outlet.
"We know that a third of the world's population lives withing eight hours flying time from the UAE. The UAE has established itself as a retail hub but the difference with Yas Mall is that it is part of Yas Island so we are selling an overall entertainment and leisure offer of the mall, the theme park and the hotels...and that's what international customers are looking for- the overall package destination."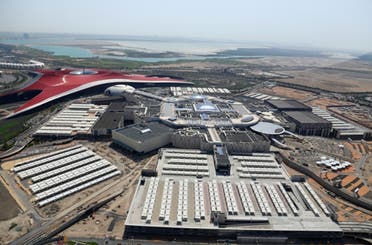 When asked how the mega mall would compete with the region's largest shopping hub in Dubai - Dubai Mall - said "competition is healthy. Abu Dhabi has had a gap in terms of providing a mall of this size and Yas Mall will fill that gap. We are out there to compete and gain our share of the market."
In an attempt to prove bigger is always better, the central space of the mall – dubbed the Town Square - represents the largest enclosed gathering space of any shopping center in the Middle East, organizers said.
If shoppers want to enjoy some retail therapy in peace, a 60,000 sq. ft play area for children, Fun Works, is also a part of the new mega mall. For thrill-seeking adults, the mall features the region's first Softair Battlezone, where teams battle it out in videogame scenarios.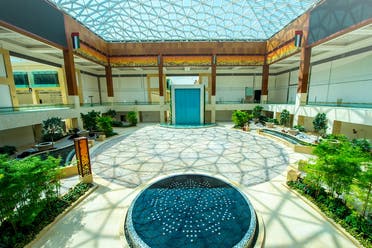 As for the aesthetics, acclaimed international Artist Marco Cianfanelli, known for his work in South Africa's Freedom Park, has designed three distinct sculptures, which have been placed in and around Yas Mall.
Developers say they are sticking to a green guideline by using regionally sourced and durable materials, including modular limestone flooring and wall cladding.
According to organizers, 20 percent of materials by cost were locally procured, 50 percent of the wood installed (by cost) was sustainably sourced wood, 75 percent of waste (by weight) produced during construction was diverted from landfills by recycling it and 80 percent of the steel was recycled steel.