The real deal: Is McDonald's heading to Iran?
Deal or no deal, some hardliners - fearing a cultural invasion - directly oppose the brand
As industrial giants including Volkswagen, Royal Dutch Shell and Siemens eye up Iran as a gleaming new business opportunity, U.S. fast food giant McDonald's could also be hoping to see 80 million more potential customers walking through its iconic golden arches.
Although a senior Tehran trade official said late last month that there had been no talks with the U.S. chain, the fast food giant had earlier posted a franchise application for Iran on its website - fuelling speculation from Iranians eager for the taste of an authentic Big Mac.
The application noted that in "the future we may take steps to open McDonald's restaurants in Iran" but added "a firm date" for their development had not been set.
McDonald's did not respond to multiple requests for comment by Al Arabiya News.
Since the 1979 Islamic revolution which forced the pro-Western shah out of the country, the chain shuttered its Persian outlets. And as chants of "Death to America" continued to ring out over the years, any prospect of reopening seemed to fade.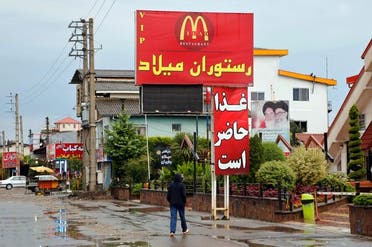 But now, even before the ink on the deal dries, some entrepreneurs have been defying hardliners and conservatives who oppose the landmark agreement.
The owner of "Mash Donald's," an imitation based in the capital Tehran, told the New York Times that while the joint's ersatz name had been changed to deflect the ire of hardliners, it "sort of sounds the same" as its American original.
U.S. cool
Despite an anti-American spirit that has continued since 1979, many Iranians - particularly the younger generation that grew up after the revolution - hold U.S. products in high esteem, said Alex Vatanka, and Iranian-born analyst at Washington's Middle East Institute.
"The symbolic role of McDonald's showing up in Tehran is massive," he told Al Arabiya News.
Currently, middlemen take a large cut from the import of Western products – among them smartphones, cars and Coca-Cola – shipping from sources such as the glitzy trading hub Dubai, which sits just across the Gulf.
Vatanka said that the Iranian reaction to McDonalds would mirror that of newly-post communist Eastern Europe in the early 1990s – curiosity, massive initial enthusiasm, and long queues.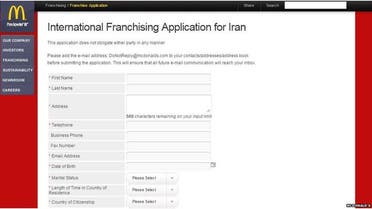 "In the initial phase, there's going be a moment where 'the real deal' is here," he said. "People want to be associated with that, because it's seen to be chic."
Deal or no deal, some hardliners - fearing a cultural invasion - directly oppose the brand.
During a Friday sermon, leading conservative cleric Reza Taghavi took the opportunity to slam the chain, the Los Angeles Times reported.
"Some people wish McDonald's to return to Iran… we cannot stop criticizing it," he was reported as saying. "America is always our enemy."