Abu Dhabi, Dubai and Doha have been ranked the most high-tech cities in the Middle East and North Africa, according to a study by the Swedish telecoms-equipment firm Ericsson.
The study looked at how 11 of Middle East's largest cities have developed in terms of information communication technology (ICT). Most of the cities surveyed show a high level of technology infrastructure and usage.
"Trends suggest that more than 60 percent of all people in the region will live in cities by 2030. The report shows high levels of ICT maturity in the MENA region in terms of infrastructure and usage and indicates the untapped opportunities to leverage the socioeconomic benefits," said Anders Lindblad, Ericsson's regional president, in a statement.
Infographic: Abu Dhabi, Dubai and Doha rank highest in Mideast tech survey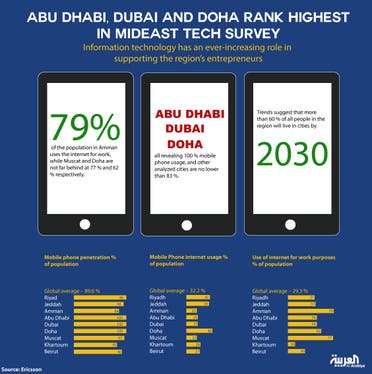 Amman, Beirut, Cairo, Jeddah, Riyadh, Khartoum, Istanbul and Muscat were the other cities in the ranking, which was based on 28 indicators categorized by tech maturity and benefits from investments in ICT.
"What we've seen from doing this research is that the MENA cities are high on ICT maturity compared to the global index study. What we've also learned is that there are still a lot of opportunities to really leverage all of these investments into ICT and get the benefits of that," Monika Byléhn, Ericsson's strategic marketing manager, told Al Arabiya.
The report also highlights the increasing influence of ICT in supporting the region's entrepreneurs, revealing a clear correlation between a city's high levels of tech maturity and the number of start-up businesses.