YouGotaGift taps into Mideast online money-making
A new Dubai based enterprise seeks to revolutionize making money through online shopping in the region
With e-commerce booming in the UAE and the rest of the Gulf region, aspiring Arab entrepreneurs are getting creative with grabbing their share of the multi-billion dollar business.
An enterprise by two men in particular seeks to revolutionize making money through online shopping in the region.
In the busy, fast-paced city of Dubai, the lavishness and diversity of products can pose a major challenge for choice.
Abed Bibi and Husain Makiya launched their venture in September 2013 to help gift givers with this dilemma by introducing the region's first online platform for gift card shopping, YouGotaGift.com.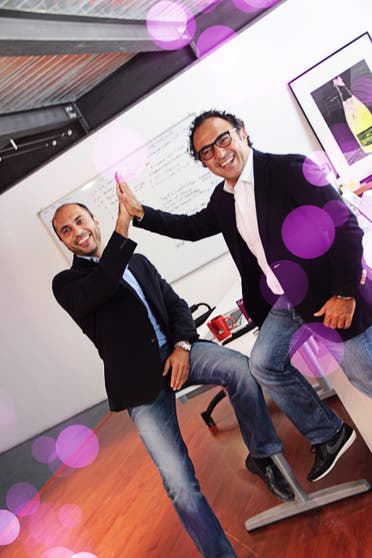 Five months following the official launch, the company is already expanding, by tapping into markets in Saudi Arabia, Lebanon and Qatar.
For some, a gift card may sound like a disingenuous present, but it provides relief, freedom and more importantly it is "safe."
"According to a research we did in the UAE…fifty percent of people don't like the gifts [they receive] sometimes, they put it on the shelf and not use it…or plan on exchanging it but never do," Bibi told Al Arabiya News.
He discovered the results after conducting a phone survey across the UAE, in a market research done prior to launching the platform.
"When you go to [visit] a married couple for example you don't know what the lady might like for her home… so I'll send you this gift card and she'll go and shop wherever she wants," Bibi added.
YouGotaGift offers wedding registries, corporate gifts and allows people to pitch in for group gifts.
How it works
"Just pick up a brand from the site… personalize the card, attach a picture, write a message, pick up the amount [of the gift's worth], then you can send it by SMS, email, Facebook or print it and take it with you to the event," Bibi explained.
After receiving the e-gift card, one can then go to the store and purchase his or her desired gift.
YouGotaGift is currently dealing with retailors in in the UAE, but is expanding in the region, starting with Saudi Arabia and Lebanon.
The new tool "saves the time, [allowing] people living abroad to [send] gifts here," Bibi said, adding that 69 percent of sales have come from the UK, U.S., Australia, South Africa and 15 percent has come from Saudi.
Last February, 20 percent of YouGotaGift sales were for Valentine's Day, and the upcoming Mother's Day on March 21st should be a new benchmark for the brand.
"We are growing on 25 percent on a month-on month basis since the launch," Bibi added.
The new start-up is developing further with a new Android and iPhone applications expected within the coming few weeks.
Online shopping is fast-growing business in the Middle East. The total value of e-commerce in the UAE amounted to $2.5 billion (AED9.2 billion) in 2013 and it is expected to accelerate in 2014, said Sarwant Singh, Senior partner and head of visionary innovation group at Frost& Sullivan, according to a Gulf News report.
"Although selling online in the UAE has the lowest percentage of online purchase worldwide, e-commerce will be growing as a main megatrend for businesses across the UAE," he told the daily in an interview this month.