Drones put to good use at world first competition in UAE
The UAE aims to be the first country to introduce regulations for drones
The UAE Drones For Good competition held in Dubai on Friday saw entries around the world that offer promising technology that would revolutionize service delivery, from traffic inspection to wildlife monitoring and blood supply in cases of health emergencies.
But prior to deploying drones for good there is a need for proper regulations, and the UAE Minister for Cabinet Affairs said his country will be the world's first to introduce rules for drones.
Speaking at event, aimed at promoting humane uses for unmanned aircraft, the minster, Mohammad Al Gergawi said: "There needs to be regulation, it is important to ensure drones are used properly and responsibly."
His comments come just weeks after Dubai airspace was closed for nearly an hour after pilots were forced to take evasive action when a drone was seen being flown near to Dubai International Airport.
No one was hurt in the incident, but because of the unpredictability of the drone, it was deemed necessary to suspend flights until the unmanned craft was dealt with.
There has also recently been instruction from the UAE government that drones must not be used to photograph people without their knowledge or consent.
World cup of drone technology
The minister was speaking at the end of the first day of DFG, which has been billed as the 'world cup' of drone technology.
The competition - held in Dubai's Internet City - saw entries from around the world, using drones for a number of uses, including monitoring wildlife, saving people from the sea, and delivering medical supplies.
"We need to ensure this technology is used properly … But you either move with the technology - or let it pass you by," said Gergawi.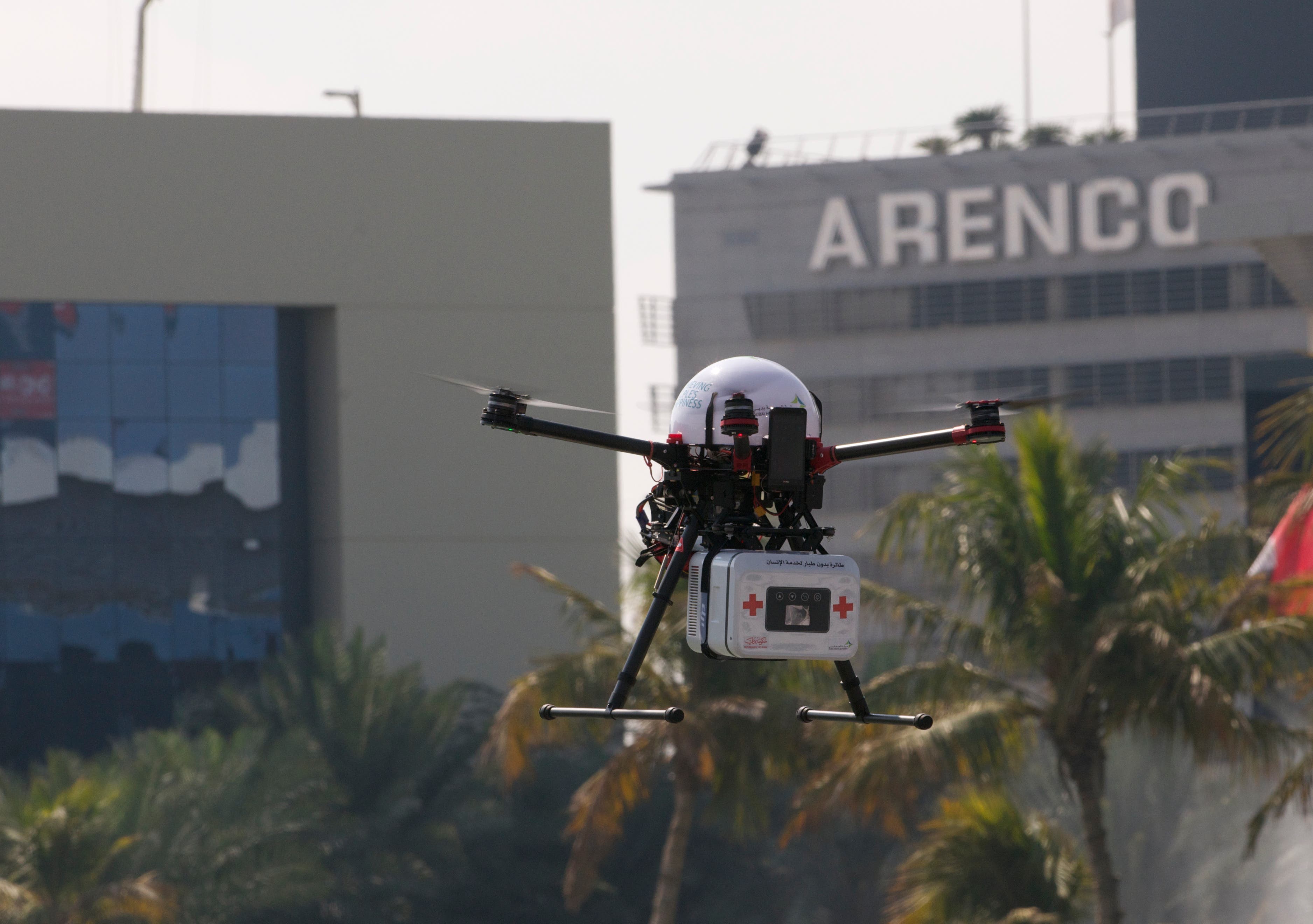 "This is just the beginning," he added, when asked about the UAE's interest in drones. "We must look 20 years down the line…Technology is moving so fast and you can either learn and move with it, or you can simply watch, but if do, you will end up being left a century behind."
One of the main features at the DFG was the various roles usually carried out by people that could be speeded up with the use of unmanned aircraft.
Entrant, WADI Drone, is helping park rangers monitor poachers in the Haja moiuntain range in the eastern emirate of Fujairah in the UAE.
It has been created by a team of students from the New York University in Abu Dhabi working with rangers from the Wadi Wurayah National Park. Cameras on the ground, activated by motion sensors, capture wildlife and poachers operating illegally in the mountains.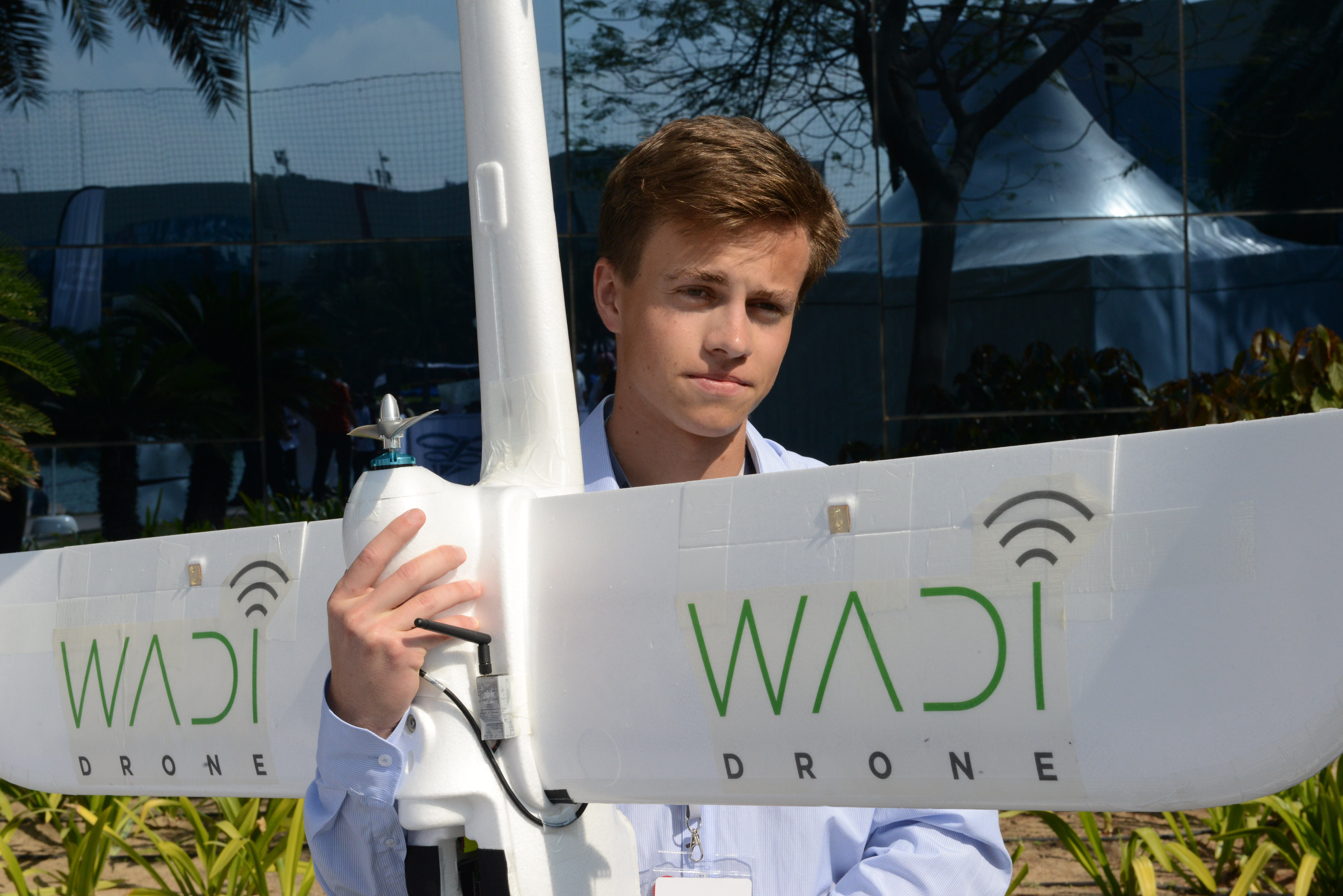 The drones fly over the area and provide a mobile communication facility that then relays images back to the base where the information is collected.
These images were previously collected by rangers who would walk along hazardous terrain, in 50C+ heat, where there are snakes and cliffs dropping hundreds of meters below. But there was an even bigger risk the rangers faced.
Swamiti Kakembo explained: "I have been confronted by poachers before, who have threatened me - I've had an AK47 pointed at me before. They don't care about anything, they want to kill whatever they see.
"The Arabian Tahr (a type of goat) is endangered now. The system these students have created helps us to monitor their movement and also that of the poachers, but keeps us in a safer environment."
Student Martin Slosarik, 21, who has helped devise the system with a team of fellow students, explained how they came up with the idea.
He said: "The park rangers contacted the university and asked for help with this problem. We identified a solution to help deal with it.
"Usually this kind of operation would be carried out by a helicopter that would cost about one million dirhams a year to fund - this project has a one off cost of just 120,000 dirhams to set up and run."
In recent years drones have received a lot of bad press. The U.S. government is well documented for its increased use of drones under the Obama administration to fly missions in the Middle East, attacking apparent militant targets.
Drones can save lives
The main message coming from the DFG competition, was if used carefully, drones could help society and perhaps even save lives instead of take them.
Mishal Al Marzouqi has been working with his team - Drones For Good in the Health Sector - to help Dubai Health Authority in the transport of medical supplies. Their project will see the delivery of medicines to those who can't otherwise travel to the pharmacy themselves.
It would also be used to transport emergency supplies, such as blood for transfusions.
Marzouqi said: "When people think of drones I want them to think of the good they can do, I don't and I don't want others to think of the bad that they have been used for in the past."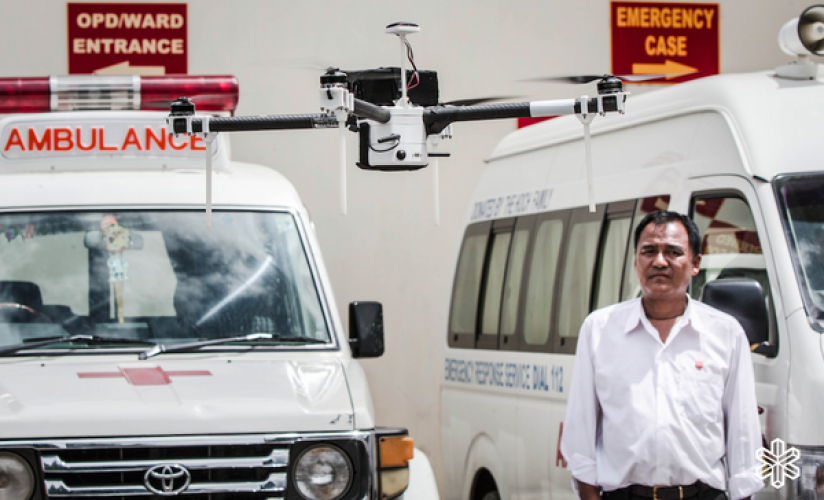 The winners – who will be announced on Saturday - will win one million dirhams for the national competition and $1 million for the international.
There is also a bonus prize from the Spanish technology company, Indra, that will offer the winners of the competition with support to develop their creations.
The company's head of innovation and alliances, Jose Luis Angoso said: "We have seen some original and new projects here with some new visions. The event itself has highlighted some innovative ideas.
"We will be looking to work with the winner on developing their idea - helping it to become a reality. We are not looking at making money out of this, we want - if they are interested - to help them develop what they have done so far."
One such contender who made it to Saturday's national finals, is Mohammed Darweesh, who has created the 'parking drone'.
Such a name might make many motorists in the UAE and across the region think of negative connotations, such as parking tickets – but in truth – Darweesh says his invention will help motorists.
He explained: "Using the Salik chip system carried by all cars in Dubai and an app in their phone, motorists will be able to find parking spaces identified by drones flying over carparks and park without having to worry about paying for a ticket in a meter. The drone will collect the data from the chip and take the charge off each motorist's account.
"The government spends millions every year on parking attendants who patrol the streets in very extreme temperatures. This system will help cancel the need for this to happen, the drones will help motorists save time and the government money."
It is hoped the competition will become a regular event and the UAE is already billed to host it again. A team of judges will decide the winners on Saturday.