Solar plane raises $20 mln to resume record round-the-world trip
Borschberg and Piccard had hoped to finish the 35,000 km (21,748 mile), multi-leg circumnavigation in 2015, leaving from Abu Dhabi
The Swiss solar-powered plane whose record-setting, round-the-world flight was put on hold in July by weather and battery trouble has raised the $20 million it needs to finish the trip, co-founder and pilot Andre Borschberg said on Monday.

Borschberg, at the United Nations' Paris climate summit with co-pilot Bertrand Piccard, said backers that include chemical maker Solvay, Swiss lift maker Schindler, power grid maker ABB and Swatch's Omega brand, made contributions.

Borschberg and Piccard had hoped to finish the 35,000 km (21,748 mile), multi-leg circumnavigation in 2015, leaving from Abu Dhabi in March.

First, crosswinds in China caused weeks of delays. Then, when its batteries overheated during a record-breaking five-day, five-night Pacific crossing from Japan to Hawaii in July, the plane was forced to winter inside a hangar at Kalaeloa.

"The financial side is under control," Borschberg, a former Swiss Air Force fighter pilot and co-founder of Solar Impulse, told Reuters.

"We are all very focused and looking forward to continuing next year," said the 62-year-old, who flies solo, alternating between pit-stops with Piccard at the controls of the single-seat plane.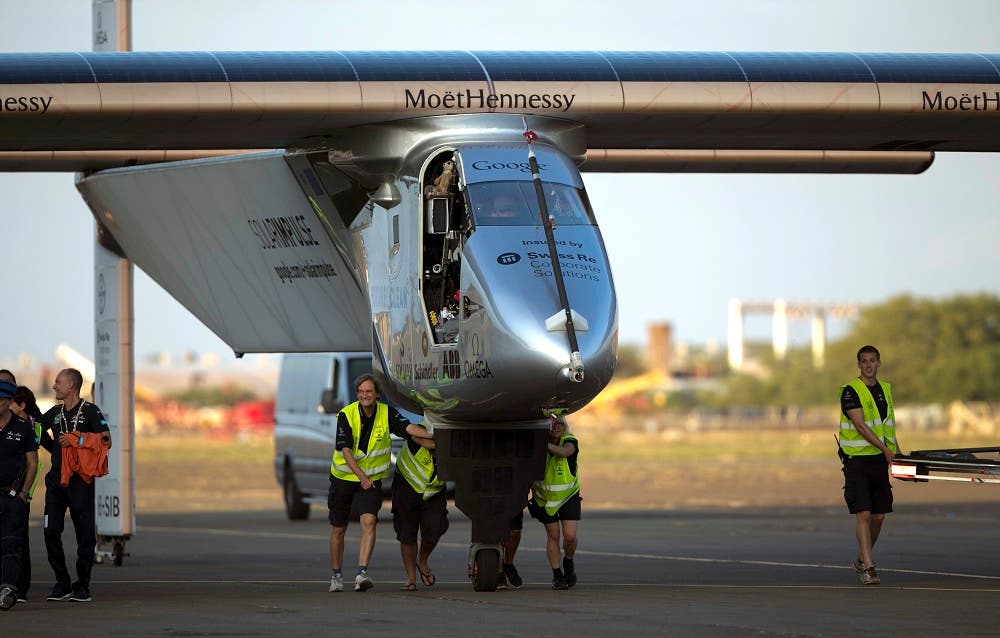 Solar Impulse's budget since 2004 is now some $170 million. The plane has 17,248 solar cells, a wider wing-span than a Boeing 747 and weighs as much as a five-seater family car.

Borschberg said he plans to start test flights around March and, barring obstacles, the 2,500-mile leg from Hawaii to North America starts in April, when daylight hours are sufficient to recharge the batteries.

West Coast stops have been left open to accommodate potentially fickle weather. Vancouver, as well as San Francisco, Los Angeles or Phoenix are all candidates, Borschberg said.

They also reckon on a U.S. Midwest pit-stop followed by New York's John F. Kennedy Airport, before crossing to either Europe or North Africa and, finally, Abu Dhabi.

"We know we can do it, but it remains a challenge," Borschberg said.

He hopes a year's delay will not undermine the message he aims to spread at the Paris climate talks: deploying renewable energy technology will help stop climate change.

"That's what we used to make it feasible to fly day and night with the sun only," he said. "That's what we certainly could implement on a larger scale."