Mars mission: Small step for the UAE, giant leap for the Arab world
The mission is expected to launch in July 2020, sending a space probe on a 60-million-kilometer journey and arriving at the red planet by 2021
After two days of debate on the ever-growing security threats facing the Middle East, the Al Arabiya News Global Discussions Forum ended on a bright note during a special Q&A session on the United Arab Emirates' mission to Mars.
Saeed al-Gergawi, a researcher at the Mohammad bin Rashid Space Centre, told Al Arabiya English editor-in-chief Faisal Abbas that the mission is an attempt to bring glory back to the region.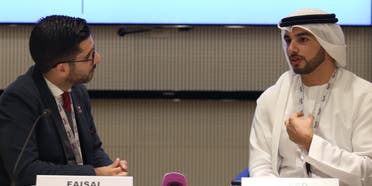 Gergawi said in order to do that, the government decided against approaching NASA or other space agencies, as the aim is to build a domestic capability. "Our guys and girls are in every component in the larger sense of the mission," he said.
The mission
The mission is expected to launch in July 2020, sending a space probe on a 60-million-kilometer journey and arriving at the red planet by 2021 to coincide with the 50th anniversary of the founding of the UAE.
Omran Sharaf, the mission's project manager, said: "Earth and Mars align their orbits once every two years, so we have a very short launch window in July 2020. We have to be ready by then. There will be no second chances."
The aim will be to collect data about the atmosphere and climate on Mars, and study how the lower and upper layers of the atmosphere interact with each other.
The mission hopes to help scientists regionally and globally to understand how Mars evolved from a planet with flowing water to the dry world it is today.
Research in recent years has found that Mars showed evidence that it could once sustain life. "We know Mars looked like Earth a billion years ago. It had river deltas, valleys, deserts, mountains, and even oases that looked a lot like Ras al-Khayma in the UAE," Gergawi said.
"Earth and Mars came out of the oven at the same time, but something must have happened to Mars for it to become what it is today. Could this happen on Earth? Highly unlikely, but still a good question to ask."
Establishing hope
The name of the mission's spacecraft was opened up to the public to decide via Twitter, and "Hope" was chosen.
"A lot of the region isn't doing well, and we wanted to give the 200 million youth who are in the region the hope to invest in science and technology, and venture into the stars," said Gergawi.