Where are the missing women in technology?
You know Mark Zuckerberg, Bill Gates and Steve Jobs. So why haven't you ever heard of Elsie Shutt, Stephanie Shirley or Dina St Johnston?
You know Mark Zuckerberg, Bill Gates and Steve Jobs. So why haven't you ever heard of Elsie Shutt, Stephanie Shirley or Dina St Johnston?
In 1958, Elsie Shutt founded one of the first software businesses in the U.S., CompInc, when Bill Gates and Steve Jobs were both only three years old. Mark Zuckerberg wouldn't be born for another three decades. A year later, Dina St Johnston founded the first British software company. Stephanie Shirley, another pioneer, started her business in 1962.
Many of the pioneers of computer programming were women. Through the post-war decades women were making key contributions to the birth of a new industry and more and more were choosing to study the subject at university. Then, suddenly, they stopped. What happened?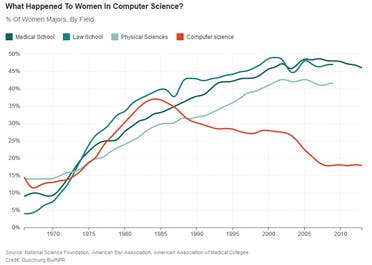 A woman was the first computer
As men went off to fight in WWII, women were recruited into the workforce. One part of the war effort was calculating trajectories and balistic tables for soldiers in the field and bombardiers in the air. This was done by female mathematicians – or "computers", as they were called – in secret. The story of these women is the subject of a recent documentary, Top Secret Rosies: The Female Computers of WWII.
A woman's job
Even after the war, it was still an industry very much dominated by women. When Shutt founded CompInc. in 1958, all her programmers were women: "The thing that I say that surprises everyone is that I thought it was a woman's field at first, and I do think it was." In 1967, Cosmopolitan Magazine ran an article called The Computer Girls, which proclaimed: "Now have come the big, dazzling computers – and a whole new kind of work for women: programming."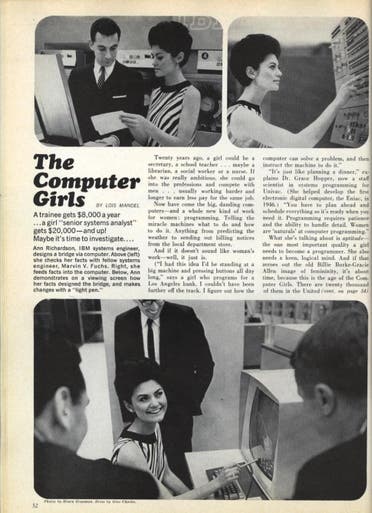 By the 1980s, computer programming seemed to be an exciting job opportunity for women. It had surpassed both law and physical sciences as women's choice for studies. Then, in 1984, it all came to an abrupt end.
Patricia Ordóñez, assistant professor of computer science at the University of Puerto Rico, was a student at Johns Hopkins University at the time. In an interview with NPR, she explained: "I remember this one time I asked a question and the professor stopped and looked at me and said: You should know that by now. And I thought: I am never going to excel."
The reason that Patricia did not receive the kind of support she would have enjoyed from professors only a decade before was that the narrative of what a computer was, and who was using it, had changed.
Toys for boys
Throughout the 1970s and into the 1980s, technology had progressed enough that personal computers were then both available and affordable to the general public. Nevertheless, these primitive machines were little more than toys. As with any product, especially toys, that meant they needed to be advertised, and marketers saw computers as a "boy's toy". Advertisements focused on the narrative that computers were both fun and educational for boys.
Around the same time, movies like Tron (1982), War Games (1983) and Weird Science (1985), featuring male computer hacker heroes, almost certainly contributed to this "boy's toys" narrative. The result was that by the time young men arrived at university, they had already been exposed to computers and computer programming, while women were often starting from scratch. The uneven playing field left many women discouraged. Female enrollment rates in computer science programmes plummeted. At its 1984 peak, 37% of computer programmers were women. By 2011, it was only 12%.
A return to normal?
When asked why she thought so few women were programmers, Shutt explained: "I think if there have been fewer women than men in computing, it's because they've been discouraged back at the education level from majoring in math, or engineering, or computer science."
Numbers are increasing, but more needs to be done to encourage girls to study STEM subjects. Programmes like Rails Girls, a global non-profit which began in Finland, are popping up to get more girls into the field.

The role models do exist but they are not getting exposure. When asked what advice she has for young women contemplating computing careers, Shutt had this to say: "Go after it! Don't be afraid to major in something in college that will lead you to this."
This article was first published in the WEF Agenda Blog on Dec. 30 2015.
_________
Donald Armbrecht is a freelance writer and social media producer.