Saudi researcher battles obstacles to gain 10 patents to her credit
Saudi women have shown that they are more than capable of overcoming the many obstacles and hurdles imposed on them by society
Saudi women have shown that they are more than capable of overcoming the many obstacles and hurdles imposed on them by society, winning praise and acclaim locally, regionally and internationally for their achievements in various fields.
Dr. Huda Al-Mansour is one of the many Saudi women who have contributed to society with their achievements and inventions.
Since her childhood, Huda has shown great interest in inventions. She hails from Al-Ahsa. Her father played an important role in drafting the Saudi Labor Law.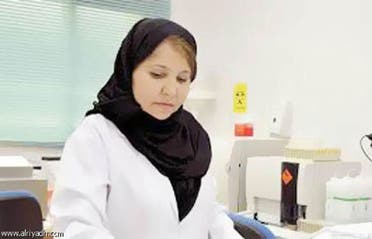 Al-Mansour said her parents are her role models. They played an important part in molding her.
"My father always told us to arm ourselves with education and ethics while my mother encouraged us to be active socially and have a strong will to get things accomplished," she said, during a recent interview.
Graduating from Cairo University's School of Sciences in 1985, Al-Mansour worked as a laboratory specialist at King Fahd Hospital before traveling to the United Kingdom in 1992 to complete her postgraduate studies.
She earned her master's degree in clinical chemistry in 1994 before returning to Saudi Arabia where she was appointed the director of a hereditary blood disease center.
Today, Al-Mansour has ten international patents registered under her name, including a screw to fix long bones, photo laser syringes, an electromagnetic device to treat chronic and incurable diseases, and food supplements that treat senility-associated diseases.
Al-Mansour has a doctorate in hematology and is responsible for establishing the Kingdom's premarital checkup program.
"While trying to get the program off the ground," Al-Mansour said, "I cried in front of top government officials because I wanted them to listen and understand the long-term effects of genetic diseases on society."
She said she fought tooth and nail to make the premarital medical checkup mandatory for all men and women getting married.
"I want our future children to grow up healthy and free from hereditary blood diseases, which make their lives difficult. I worked day and night to get the premarital medical checkup program approved by officials," she said.
Al-Mansour is still trying to get approval from Saudi authorities to allow her to sell some of her patented inventions on the Saudi market.
One of her patents is for a supplement registered in the United States in 2012 as an effective treatment of osteoporosis.
"Brittle bones disease is widely spread in our country. I thought I would get official approval for this invention but until now I have not had any luck although this treatment has produced impressive results and some Saudis buy it from Canada," she said.
She hopes that Saudi inventors and innovators will get increased support in the future, especially those who have registered their inventions with the U.S. patent authorities.
Al-Mansour dreams that one day all her patents will receive full official support from Saudi Arabia's health authorities.
She said she believes her inventions will revolutionize medical treatment in Saudi Arabia.
This article was first published by the Saudi Gazette on March 5, 2016.