Where in the world are people most reliant on Wi-Fi?
The United States dominates the data, with more than 50 million Wi-Fi networks identified
North America and Europe have considerably more Wi-Fi networks than the rest of the world, according to user-submitted data.
More than 150,000 users of WiGLE submitted information on the location of Wi-Fi networks around the world, enabling the US-based wireless-mapping site to identify more than 236 million connections.

The United States dominates the data, with more than 50 million Wi-Fi networks identified – considerably more than the next highest country, Germany, which has almost 9 million networks.
In the US, California has the most wireless networks, at over 6 million, followed by Texas. The East Coast and specifically New York state has a high density of networks, with more than 2 million identified – that's more than the entire sum of networks identified in Australia.
As this map shows, in metropolitan areas of the US the Wi-Fi density contrasts starkly with the number of connections in more rural states.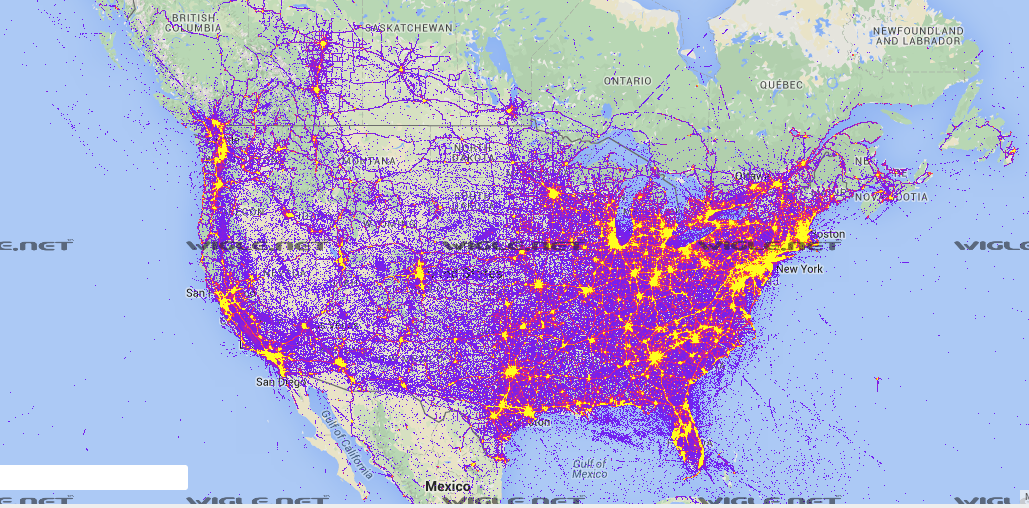 The caveat with these maps is that they are based on user data, so are unlikely to provide a full picture of global Wi-Fi. Many countries are listed as having fewer than 10 identified networks, for example.
Wireless connectivity has become a vital aspect of everyday life, and today's internet capabilities are a far cry from the days of dial-up internet. Wi-Fi provides on-the-go connectivity, whether it's high-tech military manouevres or checking emails during the morning commute.
But the quality of connections do vary. A survey of 184 countries by Rotten Wi-Fi identified the countries with the best public Wi-Fi networks. Based on users' experiences, each country is tested on the speed and quality of public hotspots.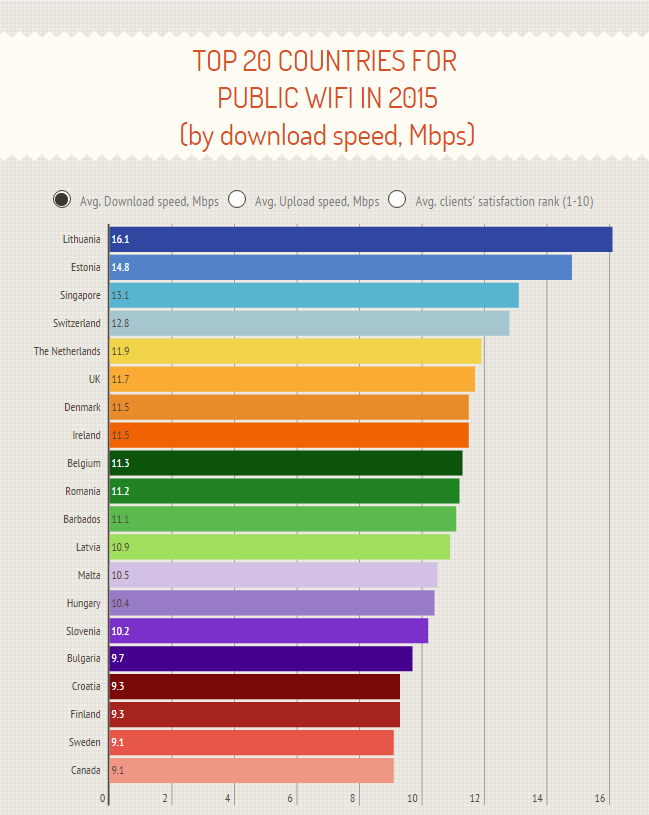 Lithuania comes top, with a download speed of 16.1 Mbps. Europe dominates the leader board, while the US does not even make the top 20, despite global dominance of Wi-Fi networks and being a base for many of the world's biggest internet companies.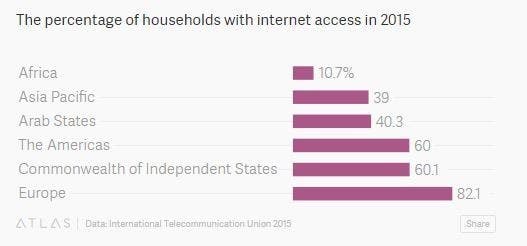 While some parts of the world have an abundance of Wi-Fi networks, Africa is lagging behind. Only around one in 10 African households had internet access in 2015, compared with over 80% of European countries. And while a United Nations report on global connectivity estimates that almost half of the world's population will have accessed the internet in 2015, this figure falls to less than 10% for the least developed countries.
African countries also pay considerably more for broadband in comparison with more developed countries. Africans pay 178% of per capital gross national income for access, a huge jump from the next highest area, Asia Pacific, where broadband costs only 16% of GNI. This goes down to 1.3% for Europe.
This article was first published in the World Economic Forum Agenda blog on March 4, 2016.
__________________
Emma Luxton is a Content Producer at Formative Content.