Huawei to invest in Saudi Arabia, establish center for innovations
The new license would allow the company to sell its products directly in the Saudi market
Huawei, a leading global ICT solutions provider, on Wednesday received an investment license from Saudi Arabia coinciding with the visit to China of Mohammed bin Salman, Saudi Arabia's Deputy Crown Prince and Chairman of the Council of Economic and Development Affairs (CEDA).
Dr. Majid Al-Qasabi, Saudi Arabia's minister of commerce and investment handed over the license as part of the activities of a forum organized by Aramco in Beijing to introduce the country's Vision 2030. According to a statement released by the company, this is the first commercial license in the field of ICT in the Kingdom, and it is also the first commercial license in Saudi Arabia to a Chinese company.
Huawei, represented by Pang Jimin, Director of Huawei Global Government Affairs, received the license to start the company's business in the Kingdom with a 100 percent ownership privilege. The new license would allow the company to sell its products directly in the Saudi market.
The license was obtained following a comprehensive action plan that was submitted to the Saudi Arabian General Investment Authority (SAGIA) that included several initiatives to contribute to the localization of the Information and Communication Technology (ICT) industry in the country.
Dr. Majid Al-Qasabi said that granting the license to Huawei was based on the regulations and conditions approved by the Council of Ministers to license foreign companies to invest in the wholesale and retail trade sectors with a 100 percent ownership, the statement said. He said that this was part of the country's keenness to attract and empower qualitative investments in promising sectors and stimulate international companies to invest in these targeted sectors.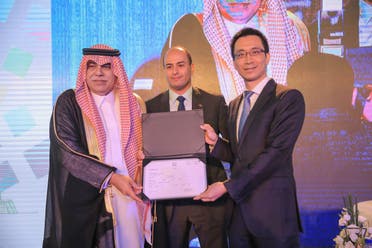 According to him, his ministry is committed to guarantee all the necessary facilities to help them implement the commitments and initiatives to promote the investments in Saudi Arabia and contribute toward achieving its vision.
Ramadan Ding, CEO of Huawei Tech Investment Company in Saudi Arabia, said that his company has been operating in Saudi Arabia since 1999. "We have launched the latest technological innovations, in addition to our support to young talents by investing to improve their skills through establishing a technology center. We look forward to future achievements and transforming ideas into reality using our latest innovations and the confidence of our customers in order to support the Kingdom's vision 2030", he said.
Ding said that an action plan has been approved, which stipulates that Huawei will establish an exhibition showcasing innovations, organize an annual and quarterly competition in Saudi Arabia to encourage young talents to innovate. This, he said, will provide a platform for innovation, foster small and medium companies and establish a center for ICT competencies to train 4,500 professionals over the next three years.
Huawei will focus on building effective partnerships with local distributors and enhancing local content through its purchases from the local market at SR 300 million in the coming five years, the statement said.
A delegate from Saudi Arabia's Ministry of Commerce and Investment visited Huawei's center for research and development in Beijing. The size of the ICT market in Saudi Arabia is estimated to be around SR 135 billion with a growth rate of 3.8 percent per annum.
With more than 1,000 employees, Saudi Arabia is considered to be one of the largest consumer markets for Huawei in the Middle East.