Space360, an innovation and knowledge-sharing platform designed to facilitate conversations between various entities and encourage collaboration has been launched in Dubai, it has been announced. Canon Middle East, a provider of imaging technologies and services, announced the opening within its Middle East headquarters in Dubai.
According to a statement released by the company, Space360 is a fully functional, innovation-led space that connects minds and drives creativity within the organization, and also aims to become a center fostering collaboration between other like-minded entities.
The three sections within Space360: Innovation, Knowledge and Community, have specific functional features and are equipped with the latest technology to enable communication, messaging and engagement via various media.
Fostering diverse ecosystem
"Dubai Internet City is a community that fosters a diverse ecosystem of businesses, big and small, conducive to innovation, exchange of knowledge and best practices," said Ammar Al Malik, Executive Director Dubai Internet City.
"We are always supportive of our partners and encourage them to grow and diversify to achieve their goals. The opening of this creative space at Canon Middle East is a good example of how we envision the future collaborating on the next big idea," he said.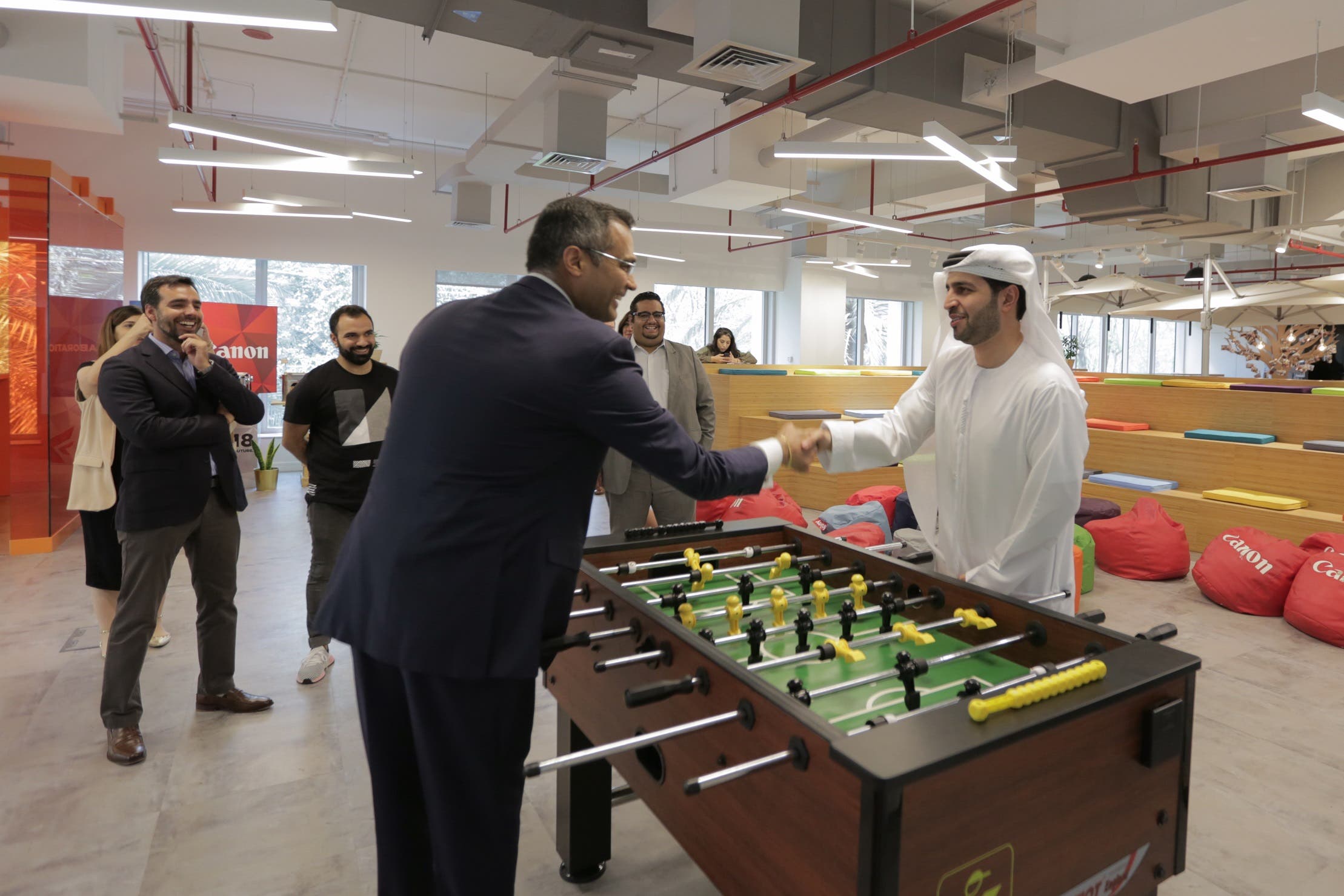 Anurag Agrawal, Managing Director, Canon Middle East, said that the priority of the company was to put our people first because they are the talent and minds that drive innovation. According to him, to achieve this objective, the workplace has to reflect the needs of today's working environment.
"Space360 is a one-of-a-kind initiative that is a basis for how the workspace is changing in the future. We are already noticing a change in mindsets and a more optimistic and productive atmosphere in the office, and the positive, happy energy is contagious," he said.
Stimulating brainstorms
The Innovation area is the launch pad for stimulating brainstorms and outside the box thinking, either between Canon's employees or other partners, and will be the basis announcing new initiatives and projects. The Innovation Hub also features a down-time area with games for employees to have fun and mingle with colleagues.
The Knowledge area is geared for training and learning about new methods, systems and operations; it is where employees can expand their sphere of knowledge and understand how to use this information as a tool to enhance their work and grow professionally.
The Community area is for connecting and engaging with others within the organization for a more collaborative and friendly working environment. It is also a space where employees can relax, re-energize and have a meal.
"Everything in this space from the design, lighting, materials, accents, and more has been selected for the purpose of adding value, catering specifically to our employees' wellbeing, happiness and ability to be innovative in their work. I look forward to seeing what initiatives we launch from this space," Anurag said.