Saudi Arabia, represented by the King Abdulaziz City for Science and Technology (KACST), has achieved new heights in the region and in the Islamic world by succeeding in taking satellite images using Saudi systems for exploration and surveillance of the moon as part of a joint space mission with China.
On Sunday, May 20th, efforts in this regard by both countries resulted in the launch of the space mission, Zhang E4, from the city of Xichang to reach the moon.
The joint mission came following Saudi Crown Prince Mohammed bin Salman's visit to China in May 2017 where a memorandum of understanding was signed between both countries. It also comes in accordance with the culture of research, development and innovation at KACST, emanating the kingdom's Vision 2030.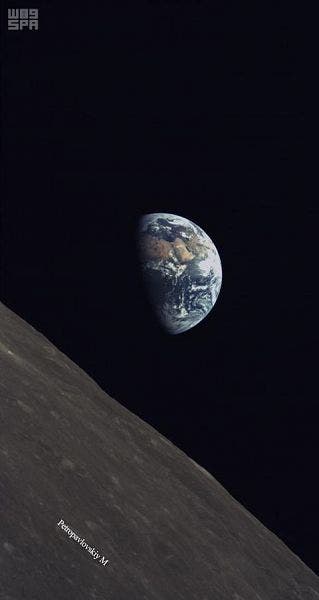 Three satellites were launched as part of the space mission to orbit the moon and carry out several experiments and research. The goal was to place one of the satellites in orbit beyond 'Lagrange Point L2' to form a communication network with Earth. The dark side of the moon does not face Earth, making it difficult to communicate except if a satellite existed there.
A series of photos were taken, the first on the fifth of June from a height of 1598 kilometers from the surface of the moon. The picture of the earth and the moon was taken together using the Saudi remote sensing system 'Lunang Giang' fixed on the satellite, where the globe was filmed in addition to several craters from the moon's surface.
The President of KACST Prince Turki bin Saud bin Mohammed stressed the importance of the Saudi institution's participation in this major international event, which will support its efforts in developing satellite technologies and use them in various fields, like remote sensing and space communications.
He added that on this mission, they are working on collecting more data from the surface of the moon.