The Google-backed O3b Networks today began the final countdown to the launch of its first four satellites, which it says will offer broadband connectivity to "millions" in the Middle East.
O3b stands for the "other 3 billion" – the number of people who live in under-developed countries where there is a lack of fiber optics.
The company's first four satellites are set to go into orbit at an altitude of 8,000km above the Earth. They will be launched aboard the Soyuz rocket, which is due to blast off later today from the French Guiana Space Centre at 3.53pm local time.
O3b plans to offer broadband services across Africa, Latin America, the Middle East, Asia and The Pacific. Connections will be available via local partners such as the UAE's Etisalat, with which O3b signed a deal in 2011.
The relatively low orbit of the O3b satellites, compared with the more common satellite altitudes of around 36,000km, means that there less delay in the voice and internet data they handle, according to press reports.
O3b's second four satellites are due to be launched in September and operations will start in November, the company said.
"The countdown has begun. In a few short hours, our satellites will be coming over the horizon for the first time," said Brian Holz, O3b's Chief Technical Officer in a statement. "We are very close to launching a network that has the potential to change lives in very tangible ways and that is a tremendous feeling."
The Channel Islands-based O3b reportedly raised more than $1bn to finance its infrastructure. It is backed by Google, along with other investors such as SES, Liberty Global and HSBC Principal Investments.
The company's Steve Collar told Al Arabiya about O3b's ambitions in the Middle East.
Q&A with Steve Collar, Chief Executive of O3b Networks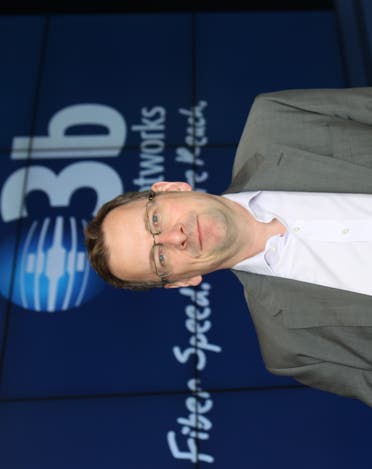 You plan to launch your first satellite on Monday. Will this have coverage of the Middle East?
Yes. With global coverage in a band 45 degrees north and south of the equator, the satellites will offer broadband connectivity to millions across the ME, including rural communities, who have previously been unable to access the internet effectively.

Have you got any launch customers in the Arab world?
Yes. In 2011 O3b Networks signed a deal with Etisalat.

What price do you think the broadband service will be in the Middle East?
We do not set prices. We sell capacity to operators [and internet service providers] who then sell it to their clients as a service. What we can guarantee is lower prices than traditional satellite companies – which is one of our key benefits.

How would you characterize the levels of internet penetration in the Arab world?
While there is good connectivity in major cities in the Arab world, more rural areas and villages often have only voice services or low speed internet connections or none at all. What is available is beyond the financial means of many. O3b will offer internet service providers and mobile operators affordable high speed connectivity that will allow them to increase broadband coverage well beyond major cities.

Do you plan further launches after the first four satellites go into orbit?
We are launching a further four satellites in September, whereby the network will be fully operational. In 2014, we will be launching another four and from there we can keep adding more when the capacity demands it.