Coronavirus: Newborn babies in Thailand don face shields to protect them from virus
Newborn babies in a hospital in Thailand were given face shields to protect them from accidentally contracting the novel coronavirus.
For more coronavirus news, visit our dedicated page.
Bangkok's Praram 9 Hospital said that they donned their tiny patients with the masks to protect them from the virus that can spread through droplets from coughs and sneezes.
Also read: Coronavirus 'baby's first pandemic' photoshoots: Cute or tasteless?
"Praram 9 Hospital has prepared a face shield to protect newborns from droplets from coughs or sneezes. This is one of the measures in place to increase the peace of mind of mothers giving birth at the hospital who are worried about the baby's health," the hospital said on Facebook.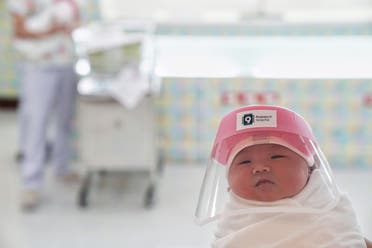 Thailand has reported a total of 2,518 confirmed cases of coronavirus and 35 virus-related deaths, according to data collected by John Hopkins University.
Thailand was the first to report a case of coronavirus outside of China on January 15, after a Chinese woman arrived from the virus epicenter Wuhan.