More than two thirds of the world's population are now living under some form of lockdown or quarantine with their movement restricted. In many countries, life has changed dramatically as police patrol public space, socializing is forbidden, and gyms and parks are closed.
While many people have struggled to adapt to the new status quo, the changes are less abrupt for members of one profession – astronauts, who are used to living in isolation in confined spaces.
Astronauts are placed in regular quarantine before every trip to space to prevent the chance of an illness spreading in a confined, remote space environment.
Al Arabiya English spoke with one of the UAE's two astronauts, Sultan AlNeyadi, to discuss his experience with quarantine procedures and how to maintain a positive mindset.
"We spent two weeks in Baikonur before the mission, we had to stay in one place for two weeks doing the regular routine from exercising and doing all the preparation for the flight and it was only in one place. You could not go outside," said AlNeyadi, referring to the Baikonur Cosmodrome spaceport in Kazakhstan. Baikonur, which is operated by Russia's space program, is a major hub for space travel with regular flights of Soyuz spacecraft to the International Space Station (ISS).
AlNeyadi noted that perhaps it was his experience of quarantine at Baikonur that meant when lockdown procedures came into force in the UAE earlier this month "in a way it felt natural."
Below he shared his top advice for quarantine back here on Earth.
Use time wisely, stay in touch
AlNeyadi encouraged those living under lockdown to use the extra time that they have at home wisely.
"I think after we finished from this crisis many people will regret the free time that they had. I encourage them to do all the postponed stuff that they wanted to do for a long time like reading a book or maybe following the diet or finishing a project that they wanted to do," he said.
The UAE astronaut stressed the importance of staying in touch with friends and family too, for both theirs and your mental health.
"Personally, I make sure to call a friend every day, a different friend every day," he said.
Under lockdown, it is also important to focus on personal mental health and stay positive, AlNeyadi added.
"It's very important to engage yourself with other activities, rather than sitting on, probably, social media and just following every bit of news about the coronavirus. You have to have that mental mindset or mental health, to stay away from negativity and be productive in many ways," he said.
AlNeyadi also urged people to focus on their physical health, noting that exercising regularly and eating well will help to come out of lockdown positively.
"You can pretty much eat anything, and it's a very dangerous thing. You have to control your diet … and stay healthy and physically active. It's a very important thing," he said.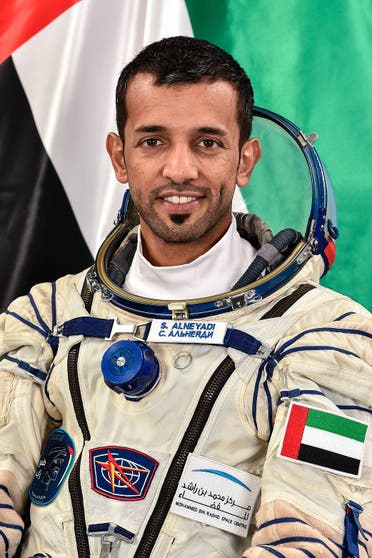 Important to obey the curfew
AlNeyadi said that it is very important that everyone follows the procedures laid out by the authorities.
Dubai announced on Thursday new restrictions for movement permits as the emirate aims to combat the spread of the coronavirus. On Friday, the emirate announced an extension of its national disinfection program for a week.
The program was implemented last month and required residents to comply with a curfew from 8 p.m. to 6 a.m. daily which was later extended to cover the 24-hours in a day.
"I think if we all follow these procedures, the disease will finish quicker than what we think," he said.
He also urged everyone in the UAE to "stay positive and stay away from negativity. … we should only focus on ourselves, trust in the programs that are run by the authorities, and follow the small procedures of self-hygiene, such as washing hands, eat healthy and stay active."
The UAE has so far confirmed 6,781 coronavirus cases as of Sunday as it ramps up testing throughout the country. The death toll has remained relatively low at 37 and a total of 1,286 people have recovered.
Most patients who recovered followed healthy habits that strengthened their immune systems and suffered only from minor symptoms, the health sector spokeswoman Dr. Farida al-Hosani said on Wednesday.
Most patients with few or no symptoms recovered within two to three weeks in the UAE.
Read more:
Coronavirus: UAE reports 479 new cases, 4 deaths, after conducting 23,000 new tests
Coronavirus: UAE gets 5.5 million hydroxychloroquine pills from India
Most recovered coronavirus patients in UAE followed 'healthy habits': Spokeswoman