Ramadan in coronavirus lockdown: Psychologists answer questions on mental health
The Islamic holy month of Ramadan is a time of spirituality and community for Muslims, giving them an opportunity to connect with their friends and family and providing time for reflection and gratitude.
But with the coronavirus pandemic continuing to sweep the world, most countries have imposed restrictions on movement that have forced Muslims to change the way they celebrate Ramadan this year.
Unable to pray communally in mosques or gather with family for iftar dinners, many Muslims may have been unable to enjoy the communal solidarity of Ramadan this year, while others might be stuck inside due to government-imposed lockdowns aimed at slowing the spread of coronavirus.
In these circumstances, some people have voiced concern over the impact of isolation during Ramadan on their mental health and wellbeing.
Al Arabiya English spoke to two psychologists from the Thrive Wellbeing Centre, established in Dubai by Dr Sarah Rasmi, about the effects of isolation and how to stay healthy this Ramadan.

1. What are the psychological effects of social isolation?
Dr. Vassiliki Simoglou, Counseling Psychologist: "Humans are fundamentally social beings. We need others to survive, and we need others to thrive. And although modern technologies have given us the means to connect with each other even when we are not physically close, nothing can substitute for the joy of human contact. Social isolation can lead a person to feel increasingly lonely, can make them withdraw emotionally even further, and feel sad for prolonged periods of time. Particularly vulnerable individuals are the elderly and those already diagnosed with social anxiety or a mood disorder."
Read more: Coronavirus: Spending Ramadan in lockdown? Here's what you can do during the month

2. How can we stay mentally healthy in a period of social distancing? What are some practices/habits you recommend?
Dr. Simoglou: "Physical distancing requires coming up with creative ways to stay socially connected, since connecting online is by far preferable to not connecting at all: a virtual birthday party, a virtual loungewear or dress up party, texting or calling loved ones, joining online support groups or online discussion forums, can allow us to stay connected and combat loneliness. Unprecedented times like this require unprecedented ways to cope, and it's important to be flexible and willing to try new pathways for connection."
Read more: Coronavirus could have long-term mental health consequences: Yale doctors
3. What are some bad practices to avoid during this time of social isolation/quarantine?
Dr. Simoglou, Counseling Psychologist: "This time of social isolation can give rise to unhealthy coping mechanisms like overeating, smoking, substance abuse, lack of exercise, excessive screen time or excessive time spent on social media, social withdrawal, deregulated sleep, compulsive spending, etc."
Read more: Ramadan: Want to lose weight this month? Here is what you need to know first
4. Due to coronavirus restrictions on movement and large gatherings, many Musli
ms will be unable to spend time with their families in Ramadan this year. Do you think this will have a psychological impact on people, and if so how can it be mitigated?
Mina Shafik, Clinical Psychologist: "Avoiding and banning social gatherings has been tough on everyone, but during Ramadan, a time associated with large gatherings, it can be tougher. We may have felt lonely during the lockdown time, but with Ramadan, we may feel more lonely. It's hard on people to change traditions and routines easily. As humans, we always fear the unfamiliar, even if it is good for us. Usually, people prepare for Ramadan, they go shopping, they plan iftar dinners, watch TV together, then maybe socialize with friends. All of that had to be stopped or limited. Then, people will become nostalgic about the past memories, and may have feelings of grief over those memories."
"It is best not to avoid those feelings though. It may sound weird at the beginning to say this, but if people feel nostalgic about previous Ramadan events, they should not avoid remembering it. In fact, they should cherish these memories, and appreciate the elements in them such as socialization, being present with specific people, etc. Then plan for the future on how to show those appreciation when it is the right time to socialize."
"Additionally, people can be creative in creating scenes close enough to their usual gatherings. For example, making watch parties on Zoom, play games, socialize with friends, pray together, etc."
Read more: Ramadan: What do I eat for Iftar? A health expert answers all your questions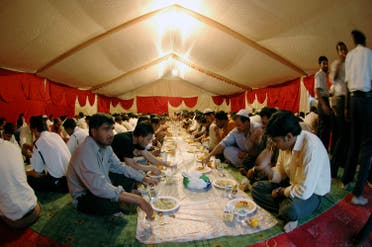 5. Do you have any tips specifically for families/parents during these difficult times?
Dr. Simoglou, Counseling Psychologist: "Parents might be spending more time with their children during these times, however this additional time is not always spent meaningfully. Parents can take this opportunity to deepen their connection with their children, by spending quality time with them. Quality time is uninterrupted time together, where the parent is fully available, physically and emotionally, and in tune with the child's needs. Quarantine at home can also become the time to make memories together that will last: one way of doing that is to create new family rituals, for example a jigsaw puzzle every evening, a movie night every Thursday, cooking together every Friday, etc."
Read more: 'Communicate with the people you love' while in coronavirus lockdown: Psychologist
6. Many poor people benefit from charity and community at mosques and elsewhere during Ramadan. With these social practices currently difficult under coronavirus restrictions, are vulnerable groups at risk?
Shafik, Clinical Psychologist: "Definitely vulnerable people are at risk, whether during Ramadan or not. It is understandable that many charities would have benefitted the poor population more if there were no restrictions. However, some organizations are still providing support during this time."
Read more: Ramadan's message of hope in the time of coronavirus