As the death toll from the ongoing COVID-19 pandemic continues to rise, it's not easy to find reasons to be cheerful. However, life is not all doom and gloom. The coronavirus lockdown has brought with it a smorgasbord of side effects – and some of them are surprisingly positive.
Here are ten of the good things to come out of the coronavirus pandemic.
Community spirit
Despite the fact that most people are shut away in their homes, many communities have never been closer.
Community support groups have sprung up around the world with volunteers doing shopping and picking up prescriptions for the elderly and vulnerable. In the UK, a staggering 750,000 people answered the government's plea for 250,000 National Health Service volunteers. And in the UAE, residents have organized a buddy system using the hashtag #InThisTogetherUAE, with volunteers offering practical support as well as psychological help, legal advice and careers workshops.
And that's not to mention the community concerts and singalongs that have been taking place from people's balconies, bringing people together with neighbors they may have never spoken to before.
Reduced carbon emissions
As economies have ground to a halt, so has fossil fuel usage. Carbon emissions are set to decrease by 8 percent in 2020 as the coronavirus pandemic causes the biggest shock to the global energy system in over 70 years, according to the International Energy Agency.
In China, the country with the world's biggest carbon footprint, emissions were cut by a quarter.
The decrease has led to reports of cleaner air in locations across the world.
Read more: Before and after coronavirus: As humans lockdown, the planet air clears
Focus on essential workers
Supermarket cashiers, shelf-stackers and delivery drivers are not generally thought of as heroes. But the COVID-19 pandemic has highlighted the essential roles played by key workers who we all depend on.
Across Europe, people locked in their houses have been applauding their medical staff and other key workers who are continuing to go to work despite the health risks. Suddenly, these often low paid workers are getting the appreciation they deserve.
Read more: Coronavirus: Dubai residents clap, cheer for health aid workers from their balconies
Access to culture without having to travel
Always wanted to go to the Met in New York but never managed to get there? Well now you can wander through its exhibitions without paying for a flight and hotel, thanks to a free online virtual tour.
With potential visitors stuck at home under coronavirus lockdowns, museums across the world are offering the chance to take a virtual look round their exhibits.
Why not soak up the Rembrandts at Amsterdam's Rijksmuseum, take a look around the Louvre or even climb the steps of Mayan ruins Chichén-Itzá in Mexico thanks to the British Museum.
Read more: Five reasons you should book that dream holiday - and five reasons to wait
People are sleeping better
Data from Fitbit users in six US cities shows that people are getting an average of 17 minutes more sleep each night during the coronavirus lockdown than they were before the pandemic hit. The health tracking tech company also shows that sleep quality has improved with users getting more REM and Deep Sleep.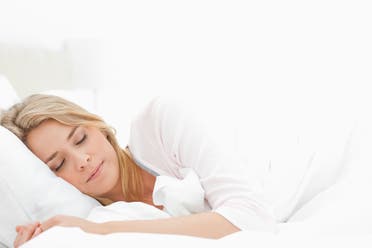 Changes in working habits
Many workers have taken their office jobs home with them and are now fulfilling the same role from the safety of their home.
While some jobs cannot be replicated online, many people are saving time and money by not travelling. Whether it's an hour's daily commute or frequent business meetings around the world, that travel time adds up and can now be spent getting more work done or just relaxing.
Changes in working habits may also encourage employers to switch from outdated business models that are over reliant on face-to-face meetings and fixed working hours. Technology such as Zoom and Microsoft Teams gives the potential for more streamlined workflow and productivity – without those unnecessary meetings.
Read more: 7 tips for working from home during the coronavirus pandemic
People are more in touch with friends and family
While many are spending the coronavirus pandemic alone and unable to meet up with anyone in person, others have reported being more in touch with their friends and family than before. Furloughed workers may suddenly have found themselves with more time on their hands, while others might be reminded of the importance of family and friends in this time of crisis.
Thankfully, internet technologies have meant that many people have been able to reconnect with their loved ones online.
And while social events on online platforms like Zoom may never quite replicate the feeling of seeing someone in person, they have their advantages. Zoom gatherings, for example, can easily get large groups of people together without anyone having to host, or any restrictions like how far away someone lives. They can also be attended from the comfort of your own home – without having to dress up and commute.
Read more: 'Communicate with the people you love' while in coronavirus lockdown: Psychologist
Break in routine, time to restructure life
It's commonly thought that time spent alone provides an opportunity to stop and reflect. With social distancing measures limiting people's lives, it is a good time to have a think about what really matters.
Psychology shows that people are more open to habit changes at times of upheaval, so the COVID-19 lockdown is a good window for making lifestyle changes. Whether it's pursuing a new career, moving to the countryside or focusing on your family, now's the time to make that move.
Read more: Ramadan in coronavirus lockdown: Psychologists answer questions on mental health
Clearer waterways
Alongside the reduction in pollution, clearer waters have also been spotted in locations across the globe.
Venice's waterways are clearer than they have been for years as the lockdown has halted traffic in the usually busy canals. Schools of fish have been spotted in waters that in normal times are too cloudy to see the bottom of.
However, experts have warned that this isn't an indication of less-polluted water, but is caused by sediment that is normally stirred up by frequent boats settling to the riverbeds.
Read more: Coronavirus lockdown reveals fresh air, clean rivers in India
The internet is improving
Internet usage has rocketed under lockdown, up 25 percent in major cities between January and late-March, according to Cloudflare. In some respects, this means that people are struggling with slower Wi-Fi and reduced picture quality on videos.
However, the sudden increase in demand is forcing rapid upgrades to internet services. Netflix is installing more servers, data caps are being cut and mobile data packages made cheaper or even free – providing easier entertainment than ever, despite being stuck at home.
Read more:
Five reasons you should book that dream holiday - and five reasons to wait
Coronavirus: It's safe to fly again, says Southwest Airlines CEO
Top 10 activities people are dreaming of post-lockdown