Watch: Inside look at the 100-bed Mecca field hospital treating coronavirus patients
Saudi authorities were able to build a field hospital with a capacity to hold 100 beds near the Kudai neighborhood in Mecca to treat coronavirus patients, according to a video shot from inside the premises.
The field hospital was built with the help of the Kingdom's armed forces in Taif in cooperation with the health authorities of the Mecca governorate.
According to the official spokesman for the Mecca's health authority Hamad al-Otaibi, the hospital is nearly 2 km away from the center of Kudai neighborhood and was build and equipped with the support of the General Department of Medical Services at the Ministry of Defense.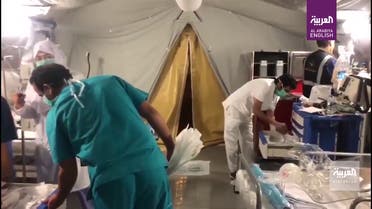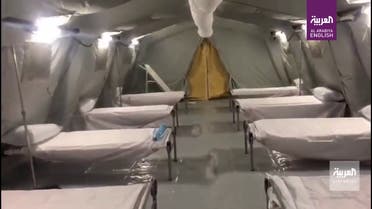 While the rest of Saudi Arabia has seen a lifting of lockdown restrictions, the governorate of Mecca and its densely populated neighborhoods remain under 24-hour curfew to stem the spread of the coronavirus.
Read more:
Coronavirus: Saudi Arabia bans family gatherings, crowds of more than 5 people
Coronavirus: Saudi Arabia sets up self-sanitization gates in Mecca's Grand Mosque
Coronavirus: Saudi Arabia's low death rate below 0.7 pct, compared to global 7 pct
Also, on Thursday, Saudi Arabia confirmed it was banning all gatherings and crowds of more than five people under new regulations issued by the Kingdom to curb the coronavirus outbreak, according to the Ministry of Interior.