Coronavirus: Lebanon cases spike as returning expats flout quarantine requirements
Some of the newly detected coronavirus cases in Lebanon are of individuals who entered the country on the repatriation flights, and some returning expats have flouted the requirement to quarantine, raising fears that the returns could threaten progress made in controlling the virus.
Read the latest updates in our dedicated coronavirus section.

Beirut's airport remains closed to commercial flights until at least June 8 amid the coronavirus outbreak. But several repatriation flights have continued to arrive, bringing Lebanese expats home from locations around the world.

Lebanon was in the process of gradually lifting its lockdown procedures before a spike in cases prompted a new four-day lockdown beginning Wednesday night. Coronavirus numbers have remained relatively low in the country – with a total of 902 cases and 26 deaths reported as of Saturday.

On May 6, the Ministry of Public Health reported that 25 expats returning on a flight from Nigeria had tested positive for the virus, but smaller numbers of positive cases have surfaced among returning expats nearly every day. On Saturday, the health ministry reported 11 new positive tests, of which six were among expats.
For all the latest headlines follow our Google News channel online or via the app.

And in a notice issued earlier this week, Mount Lebanon Governor Judge Mohammad al-Makkawi announced that five recently returned expats – who had come from Warsaw, Frankfurt, Bucharest, Tehran, and Cameroon respectively – were wanted for arrest after they had allegedly given false contact information to authorities in an attempt to elude follow-up monitoring meant to ensure that they were quarantined at home.

The government's handling of the expat returns has drawn criticism, particularly after the new lockdown, with some asserting that mishandling of the repatriations was threatening to undo the progress made on controlling the spread of the virus.

Add to this the limited capacity and poor public health infrastructure. Safety will be compromised when conditions for easing the #COVID19 lockdown are not fully met and when the risk of importation related to repatriation are not properly handled. https://t.co/y6jRWlpHnF

— K2P Center-AUB (@K2PCenter) May 15, 2020
Former MP Ismail Sukkariyeh, a gastroenterologist, on Saturday issued a statement questioning the government's handling of the repatriations, and particularly the failure to ensure that the returnees adhere to quarantine measures.

"Why did the government not put its hand on vacant institutions, such as hotels and public buildings, to quarantine the arrivals in them?" Sukkariyeh asked. "Why aren't government hospitals placed at the disposal of conducting the quarantine, and not only performing a laboratory test that is mistaken 30 percent of the time?"

About 11,300 Lebanese are expected to return on repatriation flights during the current phase, which began May 11 and ends May 24. Many of the returnees are university students who got stuck abroad when the Beirut airport closed on March 18.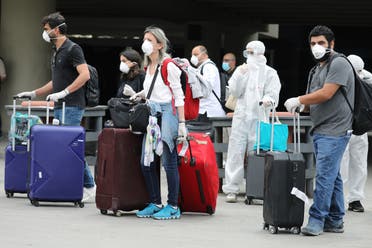 For expats returning from countries where COVID-19 testing is available, authorities have been requiring expats to show a negative test result taken within three days before their departure before they can board a repatriation flight. Those with positive test results are not allowed to board.

However, those returning from countries that do not have reliable testing capacity are tested upon arrival. All returning expats are ordered to quarantine, but unlike in some other countries that have quarantined returning travelers in hotels, Lebanon has ordered the expats to self-quarantine at home.

A spokesman for the health ministry did not respond to requests for comment. In a statement Friday, the minister urged returnees to take seriously "the necessity of compulsory home quarantine and not to socialize even with their families or neighborhoods, as this poses a challenge to preserving the progress made in the face of the epidemic."

Firass Abiad, head of Rafik Hariri University Hospital, the government hospital that has been at the forefront of the coronavirus response in Lebanon, told Al Arabiya English that halting repatriation flights altogether "is not really an option for a lot of humanitarian social reasons, and at the end of the day, these are people coming back to their country, so you cannot just lock them out indefinitely."

However, Abiad said he believes additional precautions could be taken.

Returning travelers who test positive, even if they are asymptomatic, "need to come into the hospital until we have a very clear assessment, which is both a medical assessment and a social assessment to make sure they can go back, that it's safe for them and for the society at large to be at a quarantine in their homes," he said.

While other countries have been allowing asymptomatic patients to quarantine at home, Abiad said, "We have to take advantage that we do not have a lot of cases in Lebanon, and this allows us to exert more control. We don't have to take shortcuts like some countries because they have so many positive cases they're overwhelmed."

Abiad noted that some of the recent case clusters that had driven the new four-day lockdown did not appear to be related to returning expats, including a cluster of cases among soldiers at a military court. He added that citizens also need to take responsibility for preventing spread of the virus.

"There are two sides to this conversation," he said. "There is the conversation of the measures that the government is taking, but then there is the other side, which is the behavior and conduct of the population. I think that the more we conduct ourselves in a responsible manner, the easier it will become for the government to ease its measures."
Read more:
Coronavirus: Lebanese stranded abroad amid flight suspensions given path home
Coronavirus lockdown more harm than help for Lebanese who can't afford to stay home
Coronavirus: 13 soldiers at Lebanon military court infected