Coronavirus: Saudi Arabia plans to double its testing program to 36,000 tests daily
Saudi Arabia's Ministry of Health is planning to double its coronavirus testing program to conduct up to 36,000 COVID-19 tests daily, the spokesman Mohammed al-Abd al-Ali said on Sunday.
For more coronavirus news, visit our dedicated page.
The Kingdom currently conducts between 15,000 to 18,000 tests daily as part of its efforts to curb the outbreak, he added.
Only a month ago, the Kingdom was conducting around 5,000 and 6,000 tests per day, he said, adding that at the time it was a significant number compared to other countries.
Also read: Researchers in Saudi Arabia develop local coronavirus diagnostic test
Saudi Arabia has since tripled the amount of tests to ensure that cases are detected early and isolated to prevent them from spreading further, according to al-Abd al-Ali.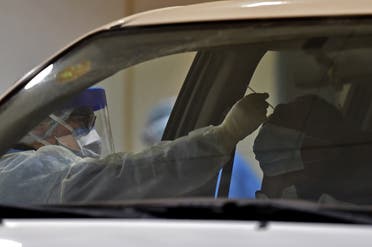 For all the latest headlines follow our Google News channel online or via the app
A total of 586,405 coronavirus tests have been conducted across the country so far, he said.
The Kingdom has reported 54,752 confirmed coronavirus cases and 312 deaths so far.
Read more:
Saudi Arabia's coronavirus death rate, critical cases lowest in world: Minister
Coronavirus ban on family gatherings, weddings, funerals remains, says Saudi official
Coronavirus in Saudi Arabia: Eastern Province launches sterilization gate for cars