Lebanon's restaurants on the brink: Coronavirus intensifies economic crisis
Lebanon's hospitality industry, famed for its sumptuous cuisine and generous hospitality, is under threat of collapse as coronavirus has dealt a deadly blow to businesses already struggling after months of economic crisis.
On Tuesday, the syndicate that represents restaurant, cafe and patisserie owners issued a grave warning that "the funeral of the sector has started and the invitations have been written."
Read more: Food prices in Lebanon spike by 55 pct as locals struggle to feed families: Report
"I don't know how much longer we can survive," Nazih Dirani, the manager of Beirut's Em Nazih cafes, told Al Arabiya English. "We're running at a total loss."
Restaurants and cafes were ordered shut for almost two months as part of the government's efforts to tackle the coronavirus. They began cautiously reopening their doors at the beginning of the month, welcoming customers up to 30 percent capacity since May 4 and at 50 percent capacity from Monday.
Nevertheless, many have struggled to attract customers, either due to lingering health risks, limited opening hours or the consequences of an unprecedented economic downturn.
"Many of our clients cannot afford to go out, even though we consider ourselves one of the cheapest restaurants in Beirut," Dirani said. "And it's becoming more expensive for us to operate too."
Lebanon's economic and financial crisis has seen the local currency lose more than 60 percent of its value, slashing people's purchasing power and sending businesses' operating costs skyrocketing.
The sector had already been hit hard by the economic crisis and mass protests which saw thousands take to the streets beginning in October 2019 and roads blocked across the country.
Between September 2019 and January 2020, 785 restaurants and cafes closed their doors, and 25,000 people have lost their jobs, according to the Syndicate of Restaurants, Cafes, Nightclub and Pastry Shops.
Read more: Coronavirus: Lebanon to gradually reopen economy from Monday, says PM Diab
The latest victim was Dar Bistro and Books in Beirut's Hamra district, popular among locals and expats alike for its relaxed atmosphere, community spirit and cultural events.
"COVID-19 is of course a problem, but it's the mask hiding the real issue, which is the economic crisis," said Abdul-Rahman Zahzah, a partner in Beirut restaurant T Marbouta.
"We have to choose between our principles and profit – a choice no one should have to make."
Despite the challenges of increasing supply costs and falling customer demand, T Marbouta is determined not to raise prices on its menu.
Adapting to crisis
Many outlets were forced to change the way they operated just to keep running, including by introducing delivery services, replacing imported goods with local produce or changing opening hours to get around night curfews.
"We were closed for about two months, during which time we had to pay lots of fixed costs like rent, generators, bills and staff salaries, without revenue coming in," said Dalia Jaffal, the co-founder of the Kalei Coffee Co.
After a few weeks of minimal sales, Kalei set up tables outside to serve guests take away food and drinks while maintaining safe social distancing and created a "buy now, drink later" system for coffee orders.
Once they reopened, they first allowed guests to sit outside only, but have now allowed inside seating, as long as a 2-meter distance is maintained between tables.
"We were fortunately able to adapt, but many of those who run on a more traditional restaurant business model have found it difficult," Jaffal said.
Delivery services have also had to be flexible to assuage users' fears around the spread of the virus and meet changing demand for take-away food.
Toters, one of the two leading delivery companies, has promoted "contactless" delivery, where customers pay online so they don't have to handle cash. Drivers regularly sanitize and change gloves, and simply drop food packages outside the customer's door.
However, overall demand for orders has decreased, in part due to the night-time curfew and people working from home, where they can prepare meals in their own kitchens, explained Nael Halwani, Toters' COO and co-founder.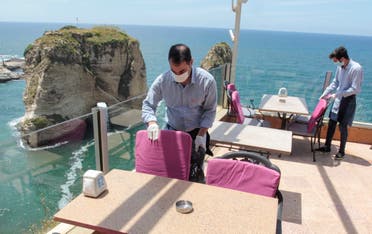 Some restaurateurs have criticized the apps for taking high commissions that make them out of reach.
Halwani responded that the commissions taken by Toters are in line with international standards and are necessary to pay drivers' salaries and maintain the high level of service expected by customers.
"Without it, we simply wouldn't be able to deliver," he said.
Holding out for now
Despite being given the green light to reopen this month, some cafes decided to hold off until they felt the situation had calmed down and were comfortable receiving guests.
Rafi Kechichian is the owner of Terwi2a, a restaurant serving traditional breakfast foods, such as hummus and foul in the northern city of Tripoli. He wanted to wait a while before opening, both to protect his own health and to minimize losses.
"If we'd opened we would have just broken even," he said, adding that he has been forced to consider increasing prices or reducing portion sizes when he starts serving again after the Eid al-Fitr holiday.
Hook, a coffee shop in Beirut's Furn al-Chebbak, has also been empty since March.
"We decided to wait a little while, until things stabilized," said Imad Moukarzel, who co-owns the neighborhood cafe with his wife Clara. "The COVID-19 situation was still so uncertain."
The couple's concerns were confirmed when the government announced a four-day total lockdown starting May 11, forcing all businesses to temporarily shut down once again.
Now, the Moukarzels are looking ahead, wondering whether their tentative reopening date of early June is feasible.
"It's really tough to open and not know how long the situation is going to last," Imad said. "What we know for sure is that we won't open in the same way."
Read more:
Migrant workers on weeks-long strike in Lebanon close to deal with employer
Coronavirus: Lebanon to evacuate stranded foreign workers from May 20