Coronavirus pictures: Muslims celebrate Eid al-Fitr amid restrictions, lockdowns
Muslims across the globe welcomed Eid al-Fitr on Sunday, with many forced to celebrate the normally festive holiday marking the end of the fasting month of Ramadan under strict stay-at-home orders due to the ongoing coronavirus pandemic.
Read the latest updates in our dedicated coronavirus section.
The three-day holiday is usually a time of travel, family get-togethers and lavish daytime feasts after weeks of dawn-to-dusk fasting. However, this year many of the world's 1.8 billion Muslims can only celebrate at home, as governments across the world keep lockdown measures aimed at slowing the spread of coronavirus in place. While some countries allowed mosques to reopen, most worshippers maintained a distance while praying. Muslims traditionally stand side-by-side with shoulders touching while praying in a group.
Some countries, including Saudi Arabia, Iraq and Jordan, have imposed round-the-clock holiday curfews. But even where many restrictions have been lifted, celebrations will be subdued because of fears of the pandemic and its economic fallout.
Saudi Arabia
Saudi Arabia, home to the holy cities of Mecca and Medina, is under a complete lockdown, with residents only permitted to leave their homes to purchase food and medicine. Eid prayers were broadcast from the Ka'ba in Mecca, Islam's holiest site, with no worshippers present due to precautionary measures.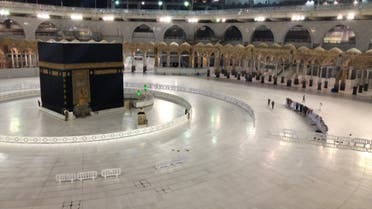 Palestine
In Jerusalem, Israeli police said they broke up an "illegal demonstration" and arrested two people outside the al-Aqsa mosque, which Muslim authorities have closed for prayers since mid-March and will not reopen until after the holiday. Worshippers who tried to enter the compound scuffled with the police.

Al-Aqsa is the third holiest site in Islam and would ordinarily welcome tens of thousands of worshippers during the Eid. The hilltop compound is also the holiest site for Jews, who know it as the Temple Mount. The site has long been a flashpoint in the Israeli-Palestinian conflict.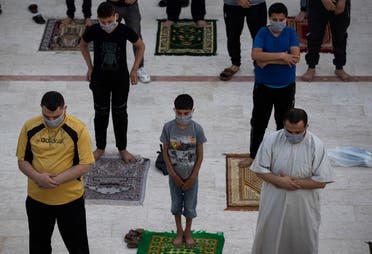 Iran
Iran, which is battling the deadliest outbreak in the Middle East, allowed communal prayers at some mosques but cancelled the annual mass Eid prayers in Tehran led by Supreme Leader Ali Khamenei. Iran has reported over 130,000 cases and more than 7,000 deaths.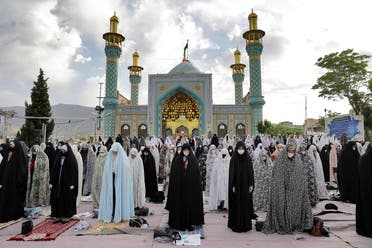 UAE
The UAE has slowly been lifting restrictions and allowing businesses to reopen. However, mosques remain shut to worshippers and Muslims were asked to perform Eid prayers at home this year.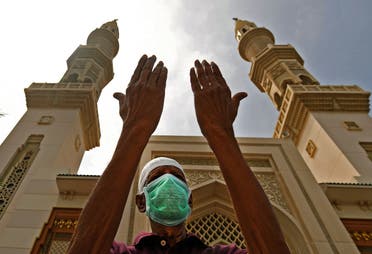 The virus causes mild to moderate flu-like symptoms in most patients, who recover within two to three weeks. But it is highly contagious and can cause severe illness or death, particularly in older patients or those with underlying health conditions.

Jordan
The Jordanian government imposed a total lockdown on the first day of Eid al-Fitr in order to slow the spread of the deadly virus. Streets were empty, shops and restaurants were closed. The usually bustling amusement parks on Eid were also deserted.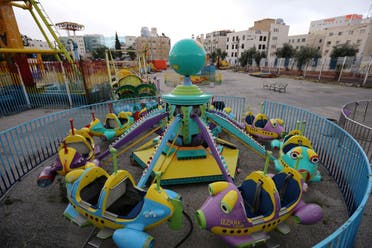 Lebanon
Similar to Jordan, people in Lebanon avoided amusement parks and usually crowded places on Eid due to coronavirus fears. The government has imposed a total lockdown until June 7; however, people have no abided with the measures as the country faces its worse economic crisis in decades.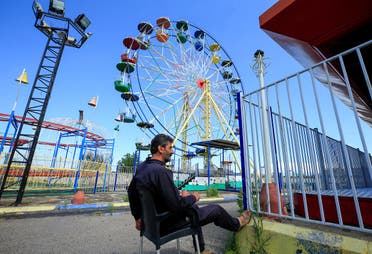 Indonesia
Indonesia, the world's largest Muslim-majority nation, has reported nearly 22,000 infections and 1,350 fatalities, the most in Southeast Asia. Lockdown orders intended to contain the pandemic mean there will be no congregational prayers at mosques or even open fields, no family reunions, no relatives bearing gifts for children.
Despite the measures implemented, thousands still congregated at mosques for Eid prayers.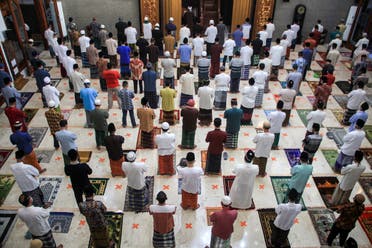 Pakistan
In Pakistan, Eid is being celebrated in the shadow of the coronavirus and in the wake of a passenger plane crash near Karachi on Friday that killed 97 people.
For the first time, Pakistan is celebrating Eid countrywide on the same day, ending an annual controversy between rival committees over the moon sighting that signals the start of the holiday.
For all the latest headlines follow our Google News channel online or via the app
Pakistan has taken measures to control the spread of the coronavirus since mid-March, but Prime Minister Imran Khan refused to close mosques during Ramadan despite pleas from doctors and a rising number of infections. Pakistan has reported more than 52,000 cases and more than 1,100 deaths.
More than 1,000 worshippers gathered and prayed shoulder-to-shoulder in an open field in Karachi on Sunday, with only a few of them wearing masks.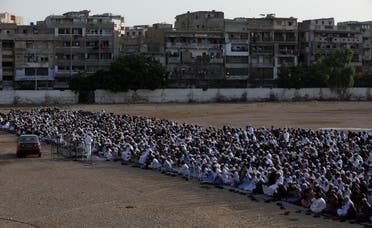 - With AP
Read more:
Coronavirus: More than half of UAE cases have recovered despite 781 new cases

Iran-backed leaders in Iraq call for terrorist operations in Saudi Arabia: Statements

Coronavirus: Nine-year old Dubai girl climbs Burj Khalifa at home for charity