As the coronavirus pandemic forces people around the world to stay home, coming out of lockdown knowing a new language – even one of the hardest to learn in the world – is possible, experts say.
For native English speakers the Arabic language is considered one of the most difficult to learn, with the US Foreign Service Institute (FSI) rating it as "exceptionally difficult."
But with the right resources, one can yatakallam al-arabiya (speak Arabic) by the end of the coronavirus pandemic.
Types of Arabic
Before starting to learn the language, a beginner should pick which type of Arabic to start studying. Unlike English, there are three main categories of Arabic: Classical or Quranic Arabic, Modern Standard Arabic, and regional dialects.
Most language courses teach Modern Standard Arabic, while others focus on regional dialects such as Levantine, Egyptian, and Gulf.
Choosing between learning the standard and dialect will depend on your goal in learning Arabic, according to Sarab Al Ani, a professor of Arabic at Yale University.
Some people want to study the language because they have Arab heritage, some may have an incentive to learn due to religious purposes, others may want to learn for future career plans.
"Depending on these goals, you are going to pick a specific path. Learning Modern Standard is the best place to start if you don't have a specific goal," said Al Ani in an interview with Al Arabiya English, adding that those who hope to use Arabic for future travel should focus on the dialect of the destination.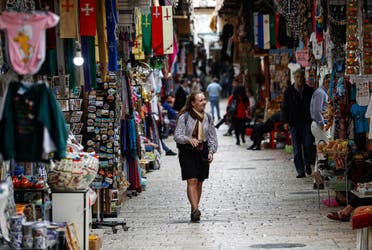 How to begin
There are more resources than ever before to learn Arabic, according to Al Ani, who recommends a beginner explore as many methods as possible to discover the best personal way to learn.
"A question to ask is, 'How do I learn best?' It could be text, video, audio, writing, or interaction, " said Al Ani, who teaches all levels of Arabic both in-person and online.
Textbooks: The two main textbooks used in American universities to learn Arabic are "Alif Baa" and "Al- Kitaab" that range in price from $30 to $80. Certain editions of the books come with multimedia components, as well. Though these textbooks were intended for classroom learning, they can be used for individual learning, as long as the individual is dedicated to learning Arabic, according to Al Ani.
Smartphone Apps: American language-learning app Duolingo added Arabic to its list of languages last July. The free platform offers a "good start" with its game-like lessons.However more resources will be needed for a robust, deeper understanding of the language, according to Al Ani.
YouTube: YouTube offers a wealth of Arabic language videos, but arguably the most popular Arabic teacher for English speakers on YouTube is Maha Yakoub and her "Learn Arabic with Maha" channel, which has amassed over 63 million views.
Her most watched videos include "Arabic Beginner Lesson 1- My name is" and "12 useful Arabic phrases you need to know!" Al Ani said Yakoub is "well-known" and "established" in the Arabic language learning world. Yakoub also offers specific videos that teach Arabic in the Palestinian dialect.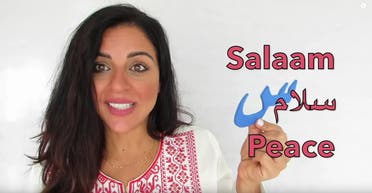 Another popular channel is "Learn Arabic with ArabicPod101.com," which focuses on the Arabic language of North African countries.
Online lessons: While almost all educational institutions have had to adapt to online teaching in a COVID-19 world, some Arabic language courses have always been virtual.
NaTakallam, an Arabic learning program based online, comes highly recommended by Al Ani, who has incorporated NaTakallam into her own classes. The instructors are native speakers of Arabic and also refugees, who have been forced to leave their homes.
NaTallakam, which means 'we speak' in Arabic, provides its instructors "access to income at times where they might otherwise be cut off from the traditional economy in their temporary homes." A one-hour conversation session with a tutor costs $15, while a spot in NaTakallam's integrated Arabic curriculum starts at $150.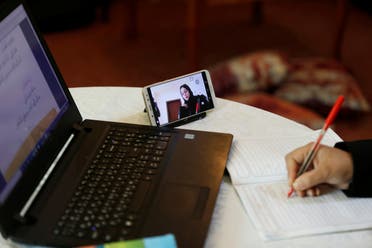 Looking into online courses offered by local language schools or local colleges in your area is also an option.
Online guides: Certain websites have beginner's guides to learning Arabic, such as the BBC, which has a main page where users can learn the alphabet, key phrases, and the history of the language.
For English speakers, it is important to know Arabic is read from right to left and written in cursive, rather than print script.
Al Ani, a native of Baghdad, said beginners should keep in mind Arabic is a Semitic language, so there will not necessarily be exact equivalents to English, which belongs to the Germanic family of languages.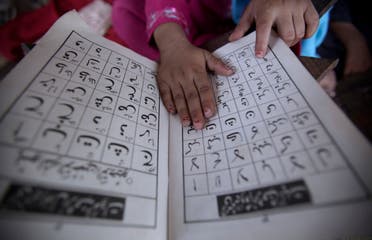 The demand for Arabic speakers in the United States and around the world has grown in the past decade and while it takes about 88 weeks to learn Arabic as an English speaker according to FSI, starting while in quarantine may put you on track to becoming fluent.