It's been a tougher year than usual for Lebanon's arts and culture institutions. Still struggling through the effects of the October 17 protests and a severe economic crisis, now compounded by the coronavirus pandemic lockdown, the sector is rapidly reaching its breaking point.
As regional grant-making organizations that have been aiding MENA culture for just under 20 years, Culture Resource (Al Mawred Al Thaqafy) and the Arab Fund for Arts and Culture (AFAC) are well aware of the many challenges institutions are facing today, and what has led them there.
With some spaces already permanently shuttered, AFAC and Culture Resource jointly began investigating the issue, which led to their recently launched Solidarity Fund.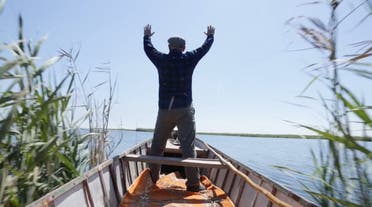 "What became more apparent during the pandemic and economic crisis is how precarious the sector is, due to the type of funding that has been there for years," AFAC director Rima Mismar told Al Arabiya English. "The environment where these cultural institutions exist lacks infrastructure, public support, cultural policy, and all this is magnified right now.
"Structures that already have spaces, running costs, families and a huge network of people that work and collaborate with them would wipe out a massive network if they shut down," she added. "This year is going to be a year of transition for many organizations and they need to reflect, discuss and think about their work in light of what's happening, but none have the luxury to take this time."
Read more: Coronavirus lockdown more harm than help for Lebanese who can't afford to stay home
During the months of Lebanon's 2019 protests, many cultural events were canceled. Banks drastically limited access to funds over a shortage in dollars and the Lebanese lira has been subject to rapid depreciation.
What funds institutions might have had are now worth 40 percent less. When coronavirus hit in mid-March, the sector was forced to further cancel activities, further limiting potential revenue.
"A lot of arts institutions in Lebanon rely on funding and grants on a per-project or per-event basis – not many can get funding if they're not running projects," Culture Resource director Helena Nassif told Al Arabiya English.
Little public funding for arts exists in Lebanon, and the large gap is mostly covered by local organizations, individuals, foreign NGOs or sponsorships from banks for specific projects, Nassif explained.
"While institutions were already asking questions about how to sustain themselves and continue, the pandemic has put a block between them and their audiences," she added, referring to profit-reliant venues. "Consumers of culture are also less now, because people don't have the spare income to spend on anything not completely essential."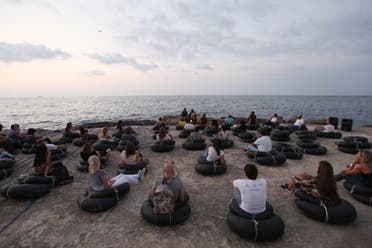 Unemployment is on the rise in the country, and the government has estimated that 75 percent of Lebanese are in need of aid.
The population with money to spend on cultural events is shrinking, and some institutions have lost their funding as a result. Other grants are specifically looking to fund projects that relate to the pandemic, limiting the type of work artists can create and putting a timeframe on its production, a box many are unable to squeeze in to.
Read more: Food prices in Lebanon spike by 55 pct as locals struggle to feed families: Report
"These people are important to the cultural scene, and we don't want all the independent cultural minds in Lebanon to leave the country or to scatter within the space of a year, due exceptional circumstances," Nassif said. "We don't know what the world will look like in a year's time so it could be a long process until we come out of COVID-19, with spaces opening and shutting constantly."
In light of these issues, the Solidarity Fund would offer up to $80,000 per organization, benefiting 16 arts and culture structures from diverse practices, to help them adjust while they navigate their new realities.
"Our fund is equivalent to what governments are doing across the world – supporting a whole sector should be the responsibility of a government but in Lebanon this kind of support is basically non-existent, sporadic and has no strategy," Mismar said. "The support of most spaces over the past years has been done by individuals, NGOs and private aid – during this financial crisis, this alone cannot drive the whole sector, and neither will our grant, but it is an intervention at a crucial turning point."
Lebanon is not alone in some of the problems the MENA arts sector is facing, with many countries lacking proper public funding for culture at the best of times.
Culture Resource has also set up a regional pandemic response fund, a special branch of their existing Be With Art grant, for 40 individual artists who are currently unable to pull in an income at the moment.
"We were receiving messages from artists who have lost all their income from freelance work, some are sick or in difficult situations, which have threatened their livelihood and left them in a precarious position," Nassif said. "Because of this, we created a special program called Support Through the Pandemic, which will support individuals facing trouble during this time."
Read more:
Link between Lebanon and Syria's economies spells disaster for both
Coronavirus: Lebanon introduces fines for not wearing face masks
Coronavirus deals heavy blow to Lebanon's bus drivers, now unable to turn a profit