Watch: Singapore installs free mask vending machines to combat coronavirus
Singapore's government has installed vending machines dispensing free reusable face masks, the latest in measures aimed at preventing the spread of the new coronavirus.
The vending machines appeared at community centers around the city-state on Tuesday.
For more on coronavirus, visit our dedicated section.
Residents can simply select the size of mask on a touch-pad screen before scanning their identity card to collect the mask.
For all the latest headlines follow our Google News channel online or via the app.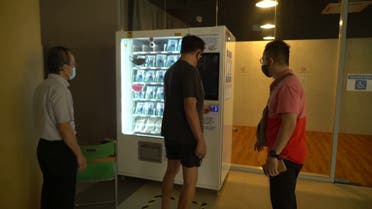 Since April 14, it has been compulsory for Singapore residents to wear masks in public. First-time offenders caught without a mask will be fined S$300 ($212). The government has already distributed reusable masks to households before the deployment of the vending machines.
Read more:
Coronavirus: Reclaim control of your life during the pandemic
Racist confrontation in NY Central Park ends up with woman getting fired from job
Italian Air Force acrobatic team gives 'tricolour hug' to post lockdown country