Coronavirus pandemic is far from over, we need to adopt new lifestyle: UAE official
UAE reported on Saturday 726 new coronavirus cases and two deaths, raising the total number of confirmed COVID-19 cases in the country up to 33,896 and the death toll up to 262.
The number of recovered coronavirus patients increased to 17,546, after reporting 449 new recoveries over the past 24, said Dr. Amna al-Shamsi, the official spokesperson for the UAE Government.
Visit our dedicated coronavirus site here for all the latest updates.
Regarding a question about media reports which claim that coronavirus is beginning to regress, the spokesperson for the UAE's health sector, Dr. Farida al-Hosani said: "It is difficult to generalize that the COVID-19 virus has started to recede on a global level, especially since there are many factors in play, which differ from one country to the next, such as measures implemented, the healthcare capabilities, and the level of adherence to precautionary guidelines."
"The number of cases in several countries is increasing, while there is a notable improvement in other countries. We also see that, based on the latest World Health Organization (WHO) statistics, the number of daily cases reported around the world is still rising."
She noted that there is a significant rise in coronavirus infections and deaths in South America, some countries in Southeast Asia and in the Middle East region, adding that "these indicators show that the global situation is still far from receding."
Al Hosani: It is too early and we cannot say that the spread of Covid-19 has been curbed. It all depends on our commitment to precautionary measures put in place and abiding to health instructions and practices particularly social distancing. #UAEGov.

— UAEGov (@uaegov) May 30, 2020
As for the claims that COVID-19 symptoms become less severe when it is transmitted from one person to another, al-Hosani said: "It has not been confirmed so far that the symptoms of the virus lessen in severity after transmission between people, and the severity of the disease may depend on the person's immune system and whether they suffer from chronic diseases."
New lifestyle
"We are living through a new stage that requires us to adopt a new lifestyle based on adherence to precautionary measures and following medical advice to limit the chances of COVID-19 infection," al-Hosani said.
"This can be done through practicing social distancing, regular sterilization, wearing face masks when leaving the home. This stage also requires increased caution among high risk groups, especially those suffering from chronic diseases such as diabetes, blood pressure, asthma and respiratory and heart diseases."
Al-Hosani added that the UAE's statistics point that the high risk groups she previously listed represent the biggest percentage of all coronavirus cases who require critical care, and they are highly prone to complications.
That necessitates that they adhere fully to all precautionary measures, practice social distancing and completely avoid leaving their homes and stay away from gatherings.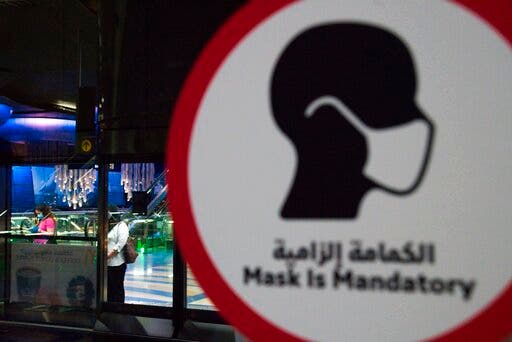 Rise in cases with re-opening?
Al-Hosani responded to a question regarding whether there were any expectations of a rise in the number of coronavirus infections in parallel with the resumption in business activity, saying: "The resumption of business activities in the country came after comprehensive study and inspection of all available data, including the readiness and preparedness of various sectors to open to the public and maintain their safety."
"As for the increase in infections, that is possible and subject to the extent of compliance with precautionary measures and social distancing. This means that everyone is responsible for their health and the safety of those around."
Al Hosani: With business activities resumed, we might see an increase in cases if the public doesn't act responsibly and continue to abide by measures in place. It is the responsibility of every one, citizens and residents, to cooperate and show their full commitment. #UAEGov.

— UAEGov (@uaegov) May 30, 2020
For all the latest headlines follow our Google News channel online or via the app.
Read more:
Coronavirus: UAE's new nightly curfew does not affect Dubai's 11 p.m. curfew
Coronavirus: Emirates allows booking flights from Dubai to 12 Arab states from July 1
Dubai reopens business activities as coronavirus curfew eases: 10 questions answered
Coronavirus: Dubai re-opens four beaches, major parks starting May 29