Coronavirus: UAE guide for private sector businesses, employees going back to work
Private sector businesses in Dubai can now operate at full capacity provided they follow a new list of guidelines, after authorities announced that restrictions measures aimed at slowing the spread of coronavirus in the workplace would end on June 3.
For more coronavirus news, visit our dedicated page.
Here is the full list of guidelines from the United Arab Emirates' Ministry of Human Resources and Emiratisation (MoHRE).
1. Sanitize equipment and facilities continuously.
2. Ensure that social distancing measures are maintained between employees, and between customers.
3. Place checkpoints at all entrances to the workplace, where temperature measurements must be taken and recorded upon an employee's arrival and departure.
4. Sterilize all labor housing and facilities daily.
5. Establish checkpoints at the entrances of workers' housing where their temperature will be taken when they enter or exit the building.
6. Ensure that a safe distance is maintained between employees when they use the establishment's transportation facilities.
7. Develop a plan to organize transportation from workers' housing to the work areas and vice versa to ensure a 25 percent capacity in vehicles is kept.
8. Provide sanitary isolation stations for employees who are infected with the virus or are suspected of being infected.
9. Report any cases of workers who show symptoms or are suspected of being infected.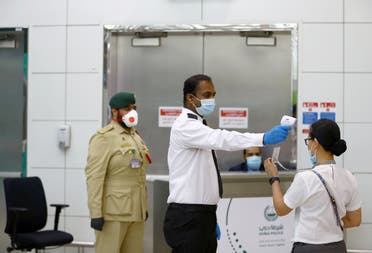 The MoHRE stipulated that some groups of people will be exempt from returning to work and are expected to work from home.
They include:
1. Pregnant women.
2. Employees over the age of 55.
3. People of determination.
4. Employees who suffer from respiratory or chronic illnesses.
5. Employees with children in the ninth grade and below.
6. Any other category which the institutions determines can work from home
Read more:
Coronavirus: UAE allows violators of residency law to leave country, waives all fines
Coronavirus: UAE schools to restart August 30, says minister