As governments across the world begin to ease lockdown measures and channel efforts toward restoring economies battered by COVID-19, identifying and isolating new cases of the novel coronavirus has become the top priority.
They do this by "contact tracing" – tracking down everyone who has been in close contact with patients who have tested positive for COVID-19 and instructing them to go into quarantine where they are carefully monitored.
Many countries have opted to use artificial intelligence and mobile applications to assist with this process, to varying degrees of success.
In Lebanon, the Health Ministry instead relies primarily on a more traditional method of contact tracing – calling up suspected contacts one-by-one, asking for their symptoms and urging them to self-isolate and get tested.
It has helped the country keep coronavirus cases low – the disease has so far infected 1,350 people and claimed the lives of 30. According to daily reports from Lebanon's national operations room, the proportion of people infected by an unknown source is consistently below 5 percent.
Read more: Lebanon's sectarian system leaves country ill-equipped to deal with coronavirus
Call centers run by the ministry's Epidemiological Surveillance Unit and Beirut's Rafik Hariri University Hospital – the hub for coronavirus testing and treatment in Lebanon – are responsible for contacting people who have tested positive and asking a series of questions about where they have been and who they have met.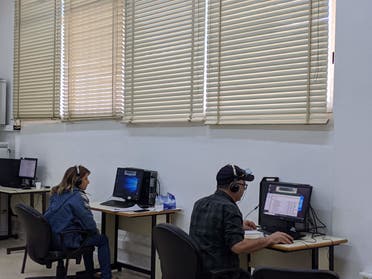 "Contact tracing is very important in Lebanon, particularly as we are still in the containment phase, which is all about finding cases and isolating them as quickly as possible," Dr. Firass Abiad, the director of Rafik Hariri Hospital, told Al Arabiya English.
It has allowed teams from the Health Ministry to conduct targeted testing, which has on multiple occasions revealed clusters of COVID-19.
Read more: From the coronavirus frontlines: Lebanon's hotline volunteers work around the clock
"Uncovering clusters through contact tracing has been an essential part of curbing the spread of the infection in Lebanon," said Ghinwa Hayek, a member of the Lebanese Epidemiological Association.
On Thursday, 42 people tested positive for coronavirus in the seaside town of Barja after coming in contact with a Lebanese woman returning on a flight from Saudi Arabia.
Health Minister Hamad Hasan said that if cases of returning expatriates continue to infect large numbers of people, reopening Beirut Airport – closed since March 18 – is out of the question.
While this cluster is a troubling indicator of a lack of compliance with home quarantine, other cases were quickly tracked down, which is a positive indictment of the contact tracing system, said Iman Shankiti, the World Health Organization's Lebanon representative.
"With good contact tracing you avoid using a blunt weapon like a total lockdown, and can use a precision missile, with targeted testing and localized, less damaging, lockdowns," Abiad said.
However, as the country continues to lift lockdown measures, quickly tracking down new cases will become even more essential to limit the virus' spread. Recently malls were allowed to open again and an overnight curfew was shortened. Most recently, sports centers and gyms were allowed to reopen.
"We are now at a crossroads, and without improving contact tracing we might slip into the unknown," Shankiti explained.
Bolstering the tracing system is not without its challenges, notably when it comes to recruiting and training enough people to make the hundreds of daily calls necessary to keep tabs on every suspected and confirmed case.
Social stigma
Effective contact tracing also relies on the people on the other end of the phone being "cooperative and forthcoming" with information, Abiad said, explaining that while some people may simply forget who they were with, others are reluctant to share personal details.
"There are a lot of social issues with a COVID-19 diagnosis, not just medical issues," he said.
Concerns over sharing personal information are particularly acute for Lebanon's most marginalized populations such as Syrian refugees, undocumented laborers and migrant workers.
Human Rights Watch said in a recent report that while contract tracing is essential to the COVID-19 response, it assumes that people will "feel comfortable enough to call a government-run service ... and potentially share information about where they live, whom they live with, where they have traveled, and where they work."
Syrian refugees have also expressed fears of additional stigmatization and discrimination if they contract coronavirus and have described this as a deterrent from seeking medical care, the report found.
Digital problems
While traditional contact tracing has so far proved effective in keeping cases low through targeted testing and isolation, Hayek questioned how it will fare in the long-term, particularly as Lebanese expatriates continue to return in large numbers.
"COVID-19 is not going anywhere, and many are anticipating another spike in the fall," she said. "So how can we make this sustainable?"
Technological solutions are being developed by governments all around the world to answer the question of longevity.
In South Korea, the government has used controversial surveillance methods like credit card tracking; Singaporean authorities had to rethink their strategy when only 20 percent of the population downloaded their contact tracing application; and the British government has faced backlash from volunteer tracers left in the dark without training.
The Lebanese Health Ministry's mobile app has a dedicated coronavirus section, through which users can check symptoms, report confirmed cases and view the current map of cases.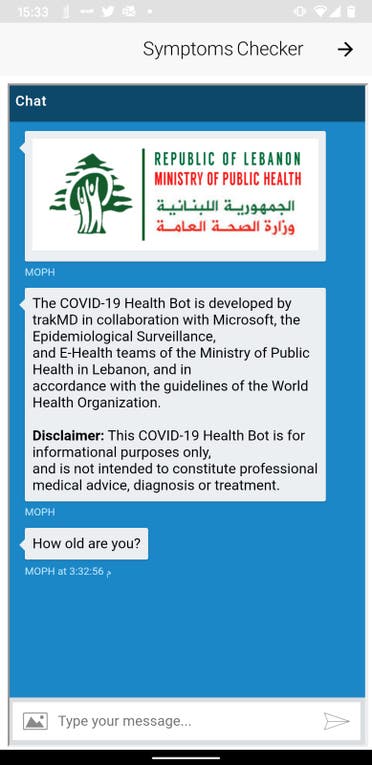 However, Shanktiti explained, the app often requires call center operatives to follow up with users due to mistakes in data entry and does not use GPS signaling to trace users.
Digital rights NGO SMEX has also warned that the app lacks basic privacy protections, with "excessive privacy permissions" prompting users to give access to their cameras, microphone and locations.
"A major problem with digital contact tracing is a breach of personal information, meaning people are less likely to opt-in to an app," Abiad said.
Research has so far found that to be effective, 50 to 70 percent of the population needs to download and use contact tracing apps.
To ensure the Lebanese authorities continue on their path of relative success with the coronavirus and prevent an underfunded public health system from becoming overwhelmed, Hayek believes the best solution is "a mixed-methods approach of digital and traditional contact tracing."
"This way, we meet in the middle."
Read more:
Coronavirus lockdown adds to Lebanon's culture sector crisis
Lebanon: Anti-govt protesters clash with police officers in Tripoli
Splinters in Lebanon protests emerge as some call for Hezbollah disarmament