Send a selfie, get a portrait: One German artist thanks coronavirus frontline workers
One German artist, confined in his countryside atelier for about six months, has created portraits of health care workers on the coronavirus front lines.
Edward B. Gordon invited medical workers across the globe to send him a selfie, which he uses to create a portrait.
These works belong to his latest "Portraits of Heroes" series. Gordon said the efforts of frontline workers and their dedication and selflessness in the fight against COVID-19 deeply moved him.
"It's not much, but the best thing I can do," he said.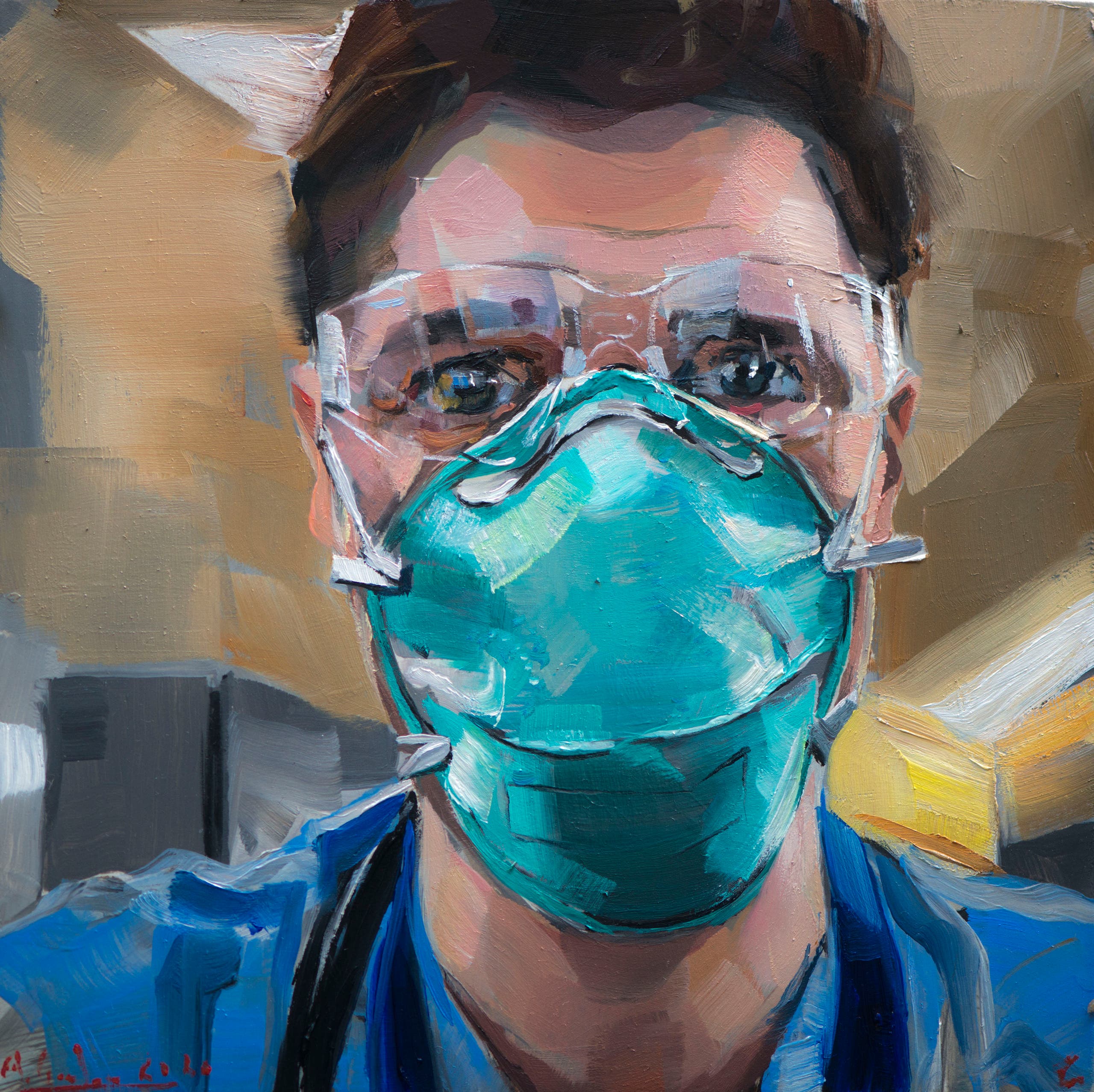 "Every frontline worker can apply by mail, no matter from which country. It concerns us all. Without Borders," he wrote in a statement on his website.
So far, more than 30 medical workers from the US and Europe have sent Gordon photographs to be turned into portraits that is then sent to the healthcare professional as a way to say thank you.
"We could not provide our medical personnel, as a very rich country, with the necessary lifesaving protection gear," explained Gordon, who produces one or two portraits per week. "The hospital staff is overworked and underpaid. Nurses had to suffer insults from the public in fear that they could infect someone. So, I had this wish to do something."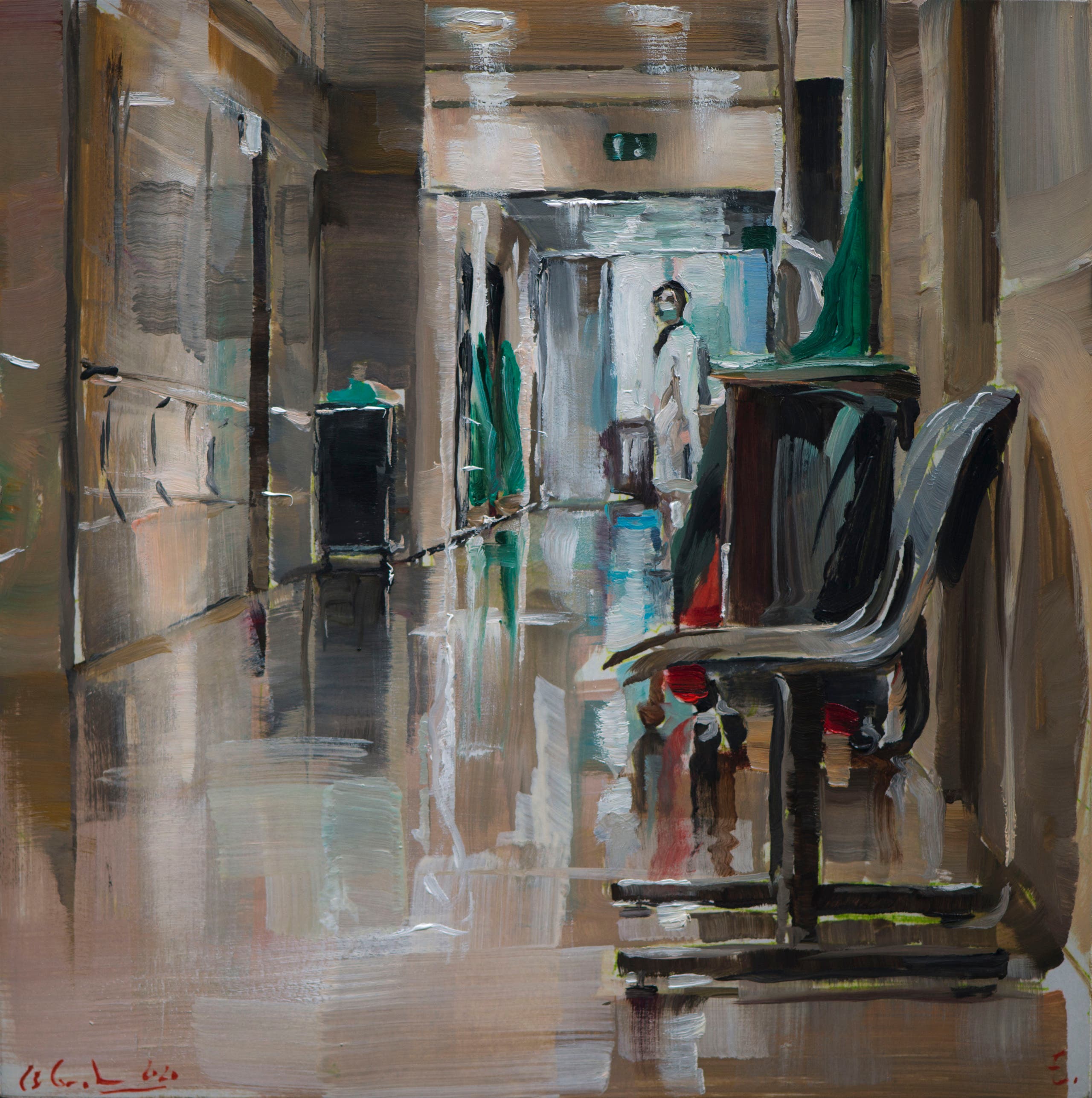 Every portrait, executed with bold brushstrokes, is created with care and attention. Portraits depict a physician called 'Ben' and a nurse called 'Sandra' in a raw and unfiltered state. Through their eyes, one feels a sense of weariness that has been caused by the uncertainty and fragility of this universal health crisis.
"Most of them are wearing masks, so my main focus with these portraits is their eyes, which are the windows to the soul," commented Gordon.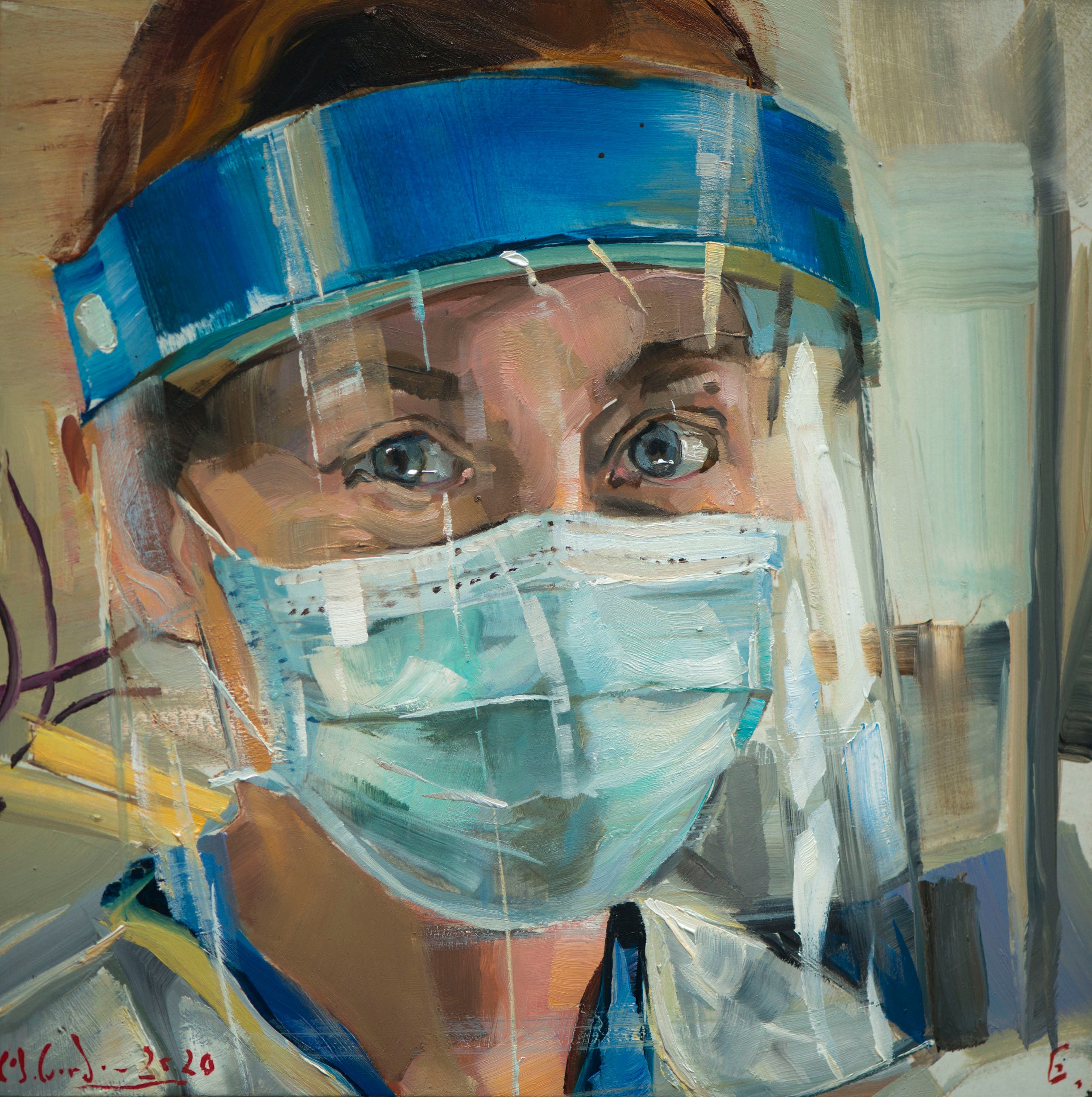 Aside from working on these portraits, Gordon has also made other 5.9 x 5.9 inch paintings, offering his own interpretation of the nuanced state of the world.
"The Italian Concert," for instance, shows a female singer who is dressed in a bright red dress and is lost in song – a scene that is reminiscent of how cheerful Italians sang from their balconies during lockdown.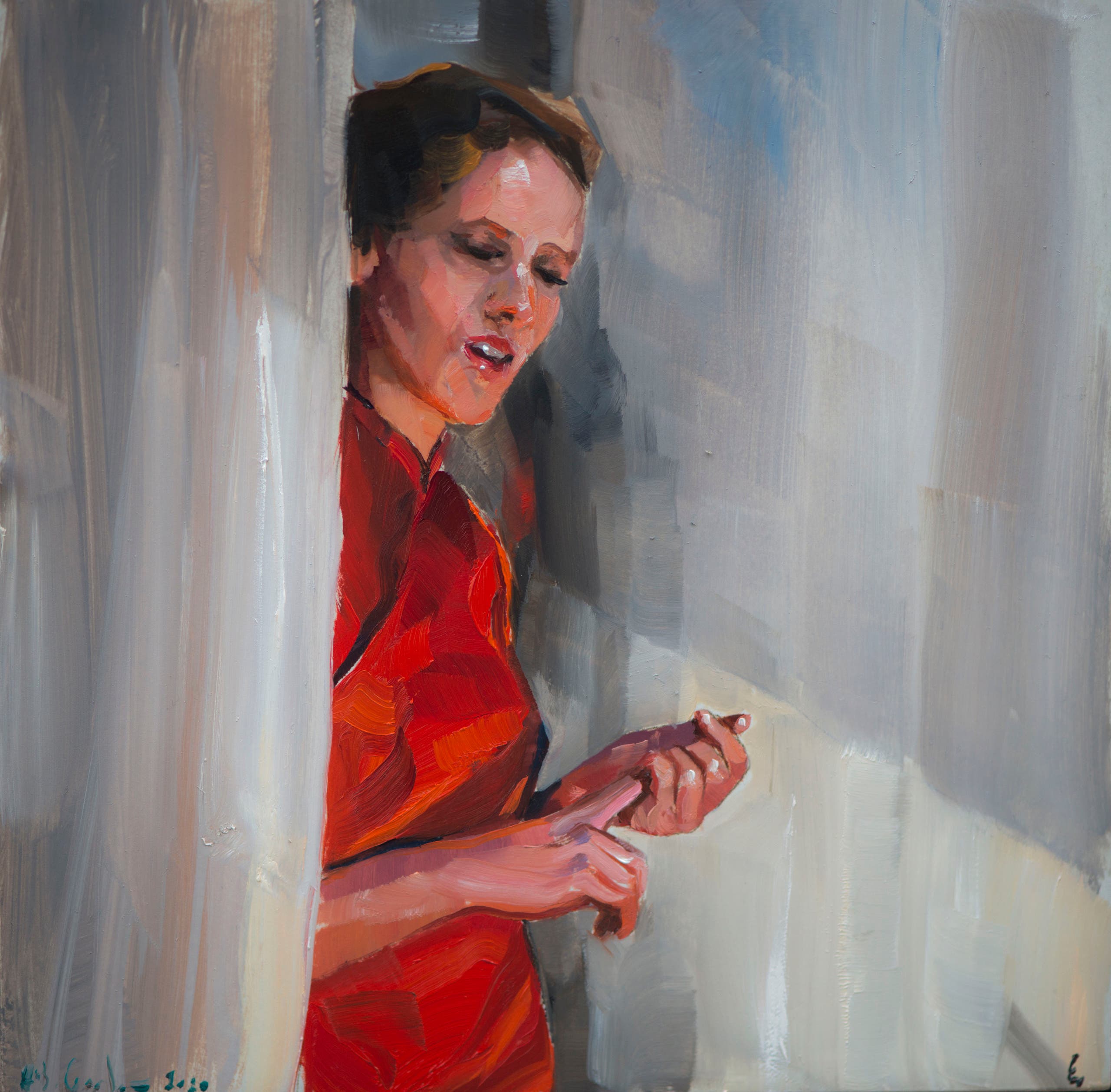 As people are mostly distanced from their loved ones during this period, loneliness is omnipresent in these COVID-19 images. One can grasp this in the aptly-titled "Empty Glasses," "Hiding from the World," "Speechless," and "Station 25," portraying a masked nurse that stands alone in the far end of an empty hospital hall. And yet, an element of hope comes through in "Take Care," where Gordon simply painted a sanitizing bottle that reads: "Take care. Keep Calm. Be Kind."
Although Gordon is in the beginning of his "Portraits of Heroes" project, he will continue working on these emotive portraits and hopes to hear from more medical professionals, as he fears "this pandemic will also stay for a while with us."
On this unique opportunity of virtually engaging with frontline workers, he added: "One feels very humbled listening to their experience, anger and frustration, but also a lot of determination and passion. That's why I am calling them 'heroes,' because they are."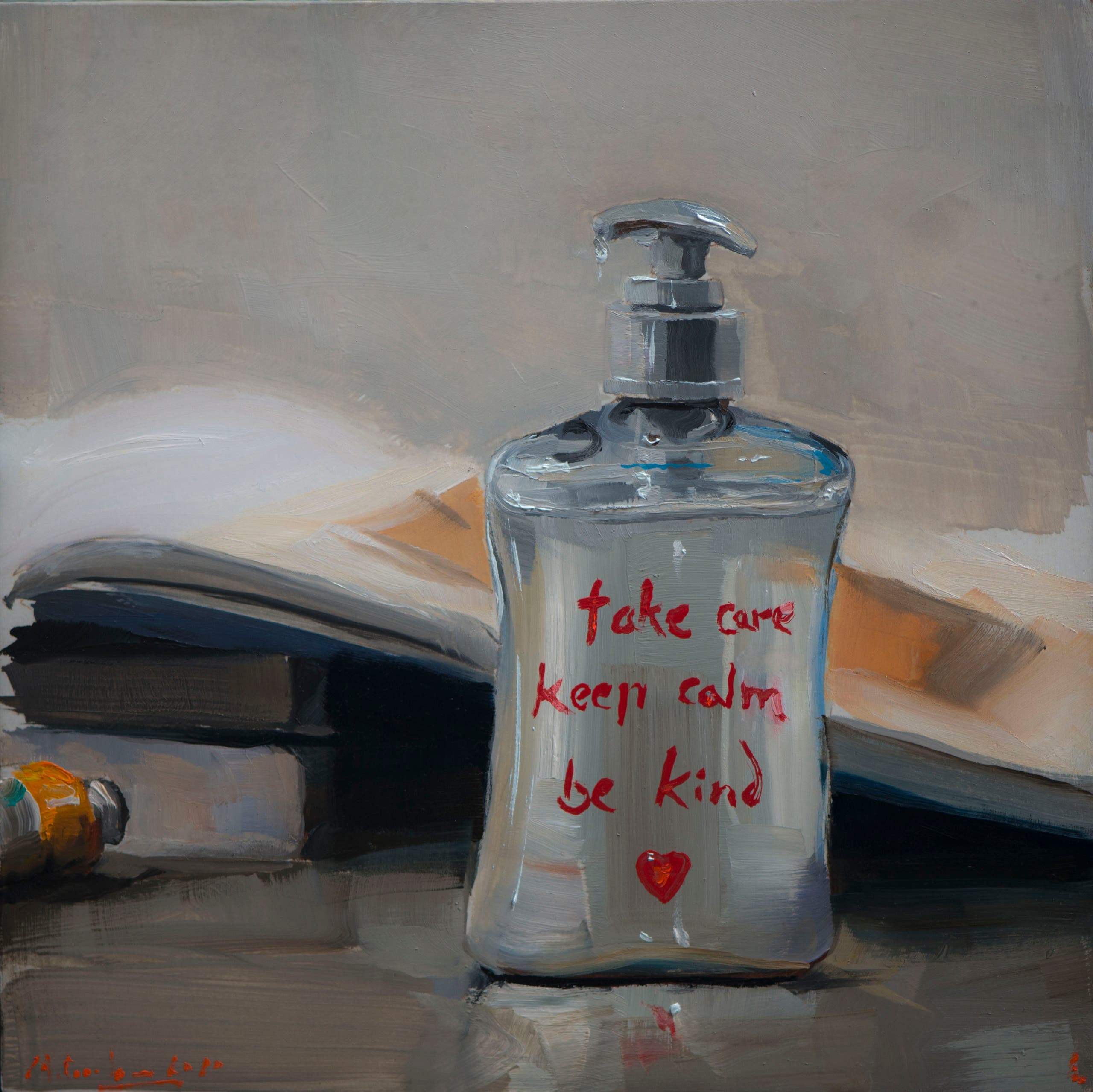 Reflecting on a craft
"An artist's duty is to reflect the times," declared musician Nina Simone in a vintage video that was recently circulated on Twitter hundreds of times amid the ongoing anti-racism global protests, set against the coronavirus pandemic that has claimed over 420,000 lives.
For more on coronavirus, visit our dedicated section.
"I think this whole situation affected me profoundly," he told Al Arabiya English. "It gave me a chance to see what is important and what is not."
As for working on his craft, staying indoors and painting his intimate and quiet scenes of everyday life is nothing new for the German artist, whose paintings have been featured in an exhibition at Egyptian Embassy in Berlin in the early 2000s. And today, a few of his paintings hang inside Cairo's Ministry of Foreign Affairs.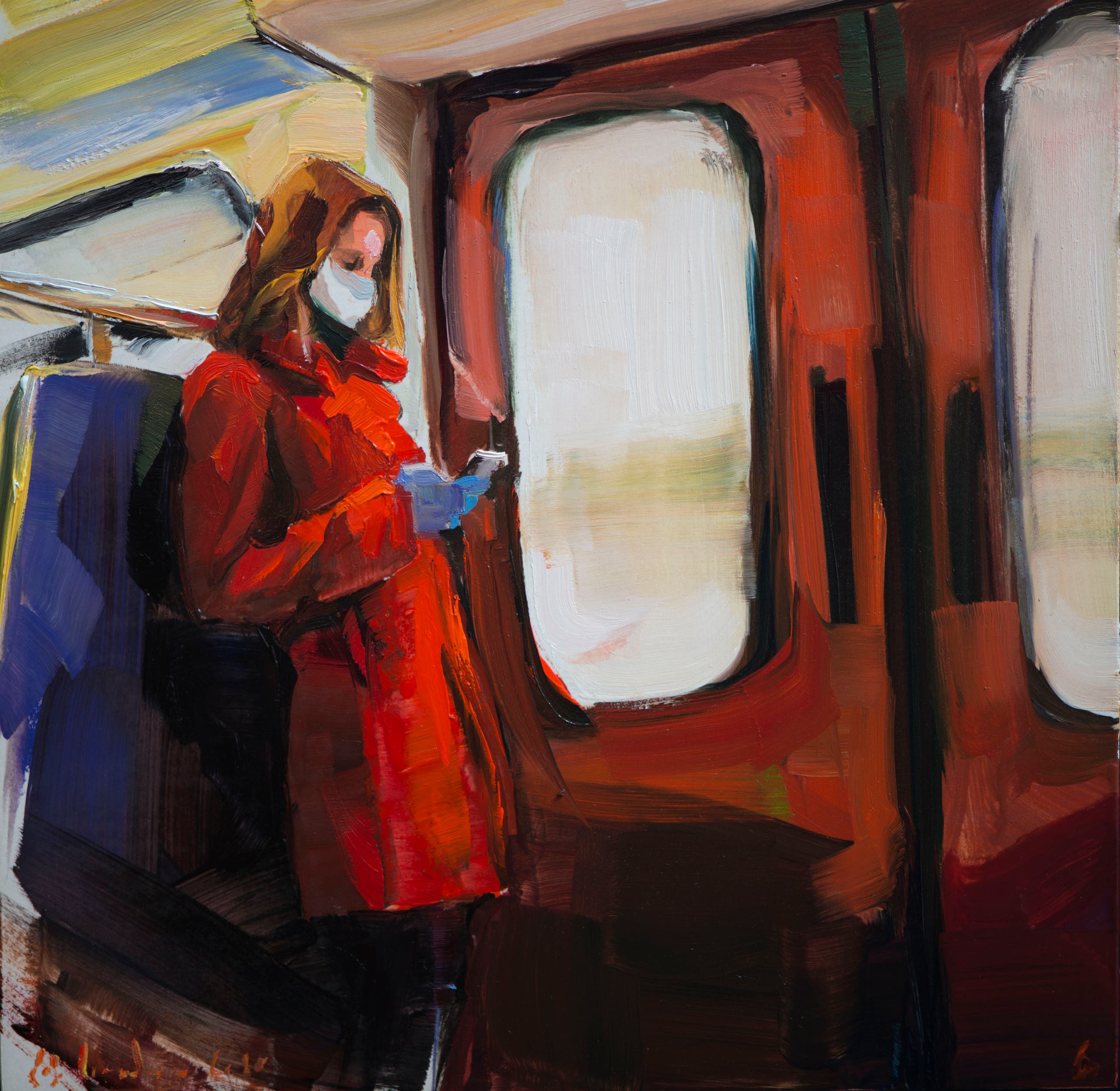 "As a painter, one is already conditioned to spend long periods of time alone in some kind of room," he continued. "Painting is all about concentration on so many levels and a seclusion from the world is part of the artistic process."
Born in Hanover in 1966, Gordon grew up in an artistic environment, where his mother was a painter and his father practiced sculpting.
"They introduced me to the whole world of art while I was still in my cradle," he penned in his 2012 monograph "Painting Berlin."
Educated in London, which he once called his "spiritual home," Gordon studied acting but it was the art of painting that he eventually pursued and has been committed to since the late 1980s.
Currently represented by Berlin's "Kunsthaus Artes" and "Warnars & Warnars Art Dealers" in Amsterdam, his works have found homes around the world and have also been featured as special commissions in Germany's leading newspapers, including Die Zeit and Die Welt.