Dubai-based Indian teen breaks Guinness record for unusual lockdown activity
A Dubai-based teenager from New Delhi, India broke a Guinness world record for participating in an unusual activity when the country imposed a nationwide lockdown to curb the novel coronavirus outbreak.
For more coronavirus news, visit our dedicated page.
Seventeen-year-old Soham Mukherjee earned the Guinness World Record title for most side-to-side hops in 30 seconds, completing 110 hops. The previous record was 96 hops in half a minute.
The teen said he had that he decided to take up the challenge as a way to stay active at home.
"During lockdown, I wanted to test my determination, so I started to search for something to do to keep active and do a remarkable achievement, and then decided to go for an official attempt with Guinness World Records," Mukherjee said.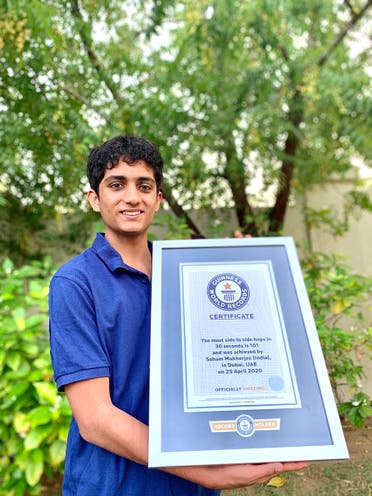 "The record was measured by a close-up slow-motion video, so that the line object and my feet are clearly seen," he added.
Mukherjee said that he will be attempting another record in aerobics and is confident that he will break the previous title.
Read more:
Watch: Heartwarming video of blind dog in Egypt recognizing shelter worker goes viral
Watch: The UAE's Emirates Mars Mission Hope Probe route through space
Instagram says Bella Hadid's post on Palestinian father 'shouldn't have been removed'