Coronavirus
Coronavirus: The UAE names 80,000 COVID-19 health heroes for new support programs
The United Arab Emirates has identified 80,000 frontline professionals and volunteers who will be eligible for upcoming support services as part of efforts to recognize their role in fighting the coronavirus pandemic.
The recently established Frontline Heroes Office created the registry to provide a "detailed national picture of all those who serve on the front line against COVID-19," reported the official Emirates News Agency (WAM).
The registry aims to support these frontline workers and their families by allowing support services and programs to target those in need.
Read the latest updates in our dedicated coronavirus section.
"Our frontline heroes make the choice every day to put their own health and well-being at risk to protect the lives of people across our nation," Sheikh Sultan bin Tahnoon, chairman of the Frontline Heroes Office, told WAM.
"We owe it to them to recognize their heroic efforts and ensure we are providing our frontline professionals and their families with the same level of protection and support they offer us," he added.
The 80,000 people identified as frontline workers include medical staff, essential service providers, humanitarian agencies, police, and volunteers.
The Frontline Heroes Office's support programs will be announced and implemented in the next weeks, reported WAM.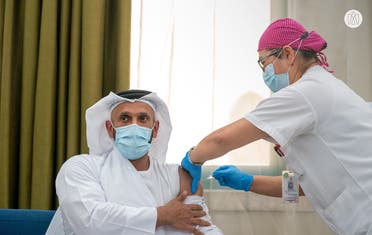 Read more: Coronavirus: UAE records slight drop with 470 new COVID-19 cases, 438 recoveries
The Frontline Heroes Office is permanent
The Frontline Heroes Office was established in July 2020, with a mandate to support and reward frontline staff in partnership with other government entities and the private sector.
While the office was established in reaction to the unprecedented global coronavirus pandemic, its Director-General Dr. Maha Barakat told WAM that it is a permanent office that will also work on any future crises or emergencies.
"To help our nation maintain a frontline workforce ready and able to take on the sacrifices and risks we ask, we owe it to them to ensure they are appropriately recognized and supported by our government and our people. Our first task has been to directly engage with and listen to our frontline heroes to truly understand what matters most to them," Dr. Barakat told WAM.
The office's board of director includes several UAE ministers, the chairman of Abu Dhabi's Department of Health, and the director-general of the National Emergency Crisis and Disaster Management Authority among other high-profile officials.
For all the latest headlines, follow our Google News channel online or via the app.
UAE healthcare staff satisfied with jobs
The Frontline Heroes Office surveyed almost 8,000 UAE healthcare staff to assess their challenges and work out how best to support them.
The majority – 85 percent – said they were satisfied with their jobs overall, with 86 percent saying they were satisfied with the quality of infrastructure and resources available.
A higher number of staff – 95 percent – said they approved of the government's overall handling of the COVID-19 outbreak.
"Our frontline heroes are genuinely committed to and believe in the 'united together' mantra of our nation's leaders as the key to successfully overcoming this pandemic. At the same time, we need to always work to better understand and respond to the pain points and challenges our frontline heroes face," said Dr. Barakat.
"We want to create an environment where these incredibly talented and committed frontline heroes receive the kind of support and recognition that makes them want to continue to build their careers and raise their families here in the UAE," he added.
Read more:
Coronavirus: Dubai residents can now get a PCR test for only $68 or less
Coronavirus: Entering Abu Dhabi requires either COVID-19 PCR or laser test, not both
Coronavirus: COVID-19 saliva tests as effective as PCR nose swabs, UAE study shows