Coronavirus: Syria sends students back to school with preventative measures
More than 3 million Syrian students started school in government-held areas Sunday, marking the first school day amid strict measures to prevent the spread of the coronavirus, state media reported.
Syria, which had a population of 23 million before its conflict began in March 2011, has registered 3,506 confirmed coronavirus cases as well as 152 deaths in government-held areas.
The actual number of cases is believed to be much higher, as the number of tests being done in the country is very low and many people in rural areas are unaware they are carrying the virus.
Coronavirus tests at private clinics cost around $60, far too expensive for most Syrians, whose average salary is less than $100 a month. The government conducts about 300 free tests each day for people showing symptoms.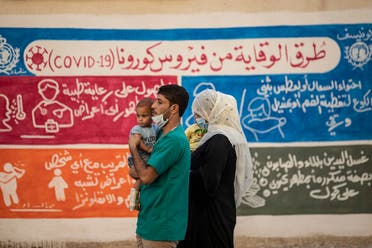 Among the precautionary measures taken by the Ministry of Education were the sanitizing of all classrooms, walls, floors, stairs and bathrooms of schools, state news agency SANA said.
Students' temperatures will be checked as well.
Read more:
Coronavirus: Saudi Arabia records 601 COVID-19 cases as daily toll continues to drop
Countries brace for coronavirus resurgence
Coronavirus: China virologist says COVID-19 man-made, market claims false