Anti-vax beliefs rise in some countries as world races to find coronavirus vaccine
As the world races to develop a COVID-19 vaccine, confidence in vaccines in some parts of the world has fallen since 2015, a new study shows.
Despite the scientific consensus that vaccines are safe and the best way to eradicate diseases, public belief in the safety of vaccines change rapidly and are influenced by religion, gender and education, according to a study published in the medical journal The Lancet on Thursday.
"Perceptions about vaccines are much more volatile than they used to be," the study's leading researcher Heidi Larson told a briefing, according to the World Economic Forum.
For more coronavirus news, visit our dedicated page.
"Overall, there's a lot of confidence in the world about vaccines. But don't take it for granted. Confidence goes up and down ... it's highly variable," said Larson, who is a professor at the London school of Hygiene & Tropical Medicine.
Gender and education are key factors in this variation, said the study. For example, men with lower education are less likely to be vaccinated than their female or more educated counterparts.
Anti-vax on the rise in 10 countries
The World Health Organization has named vaccine hesitancy or anti-vax – a reluctance to get vaccinated due to the belief that vaccines are unsafe, unimportant, or ineffective – as one of the top 10 threats to global health in 2019.
The study measured the prevalence of anti-vax beliefs and confidence in vaccines across 149 countries between 2015 and 2019 and surveyed nearly a quarter million individuals; in 2019, researchers conducted 50,000 interviews.
Read more: Coronavirus: WHO reports record single-day increase in global COVID-19 cases
Researchers found anti-vax stances had increased in ten countries.
In Afghanistan, Azerbaijan, Indonesia, Nigeria, Pakistan, and Serbia researchers saw a jump in the number of people who strongly disagree that vaccines are safe between 2015 and 2019.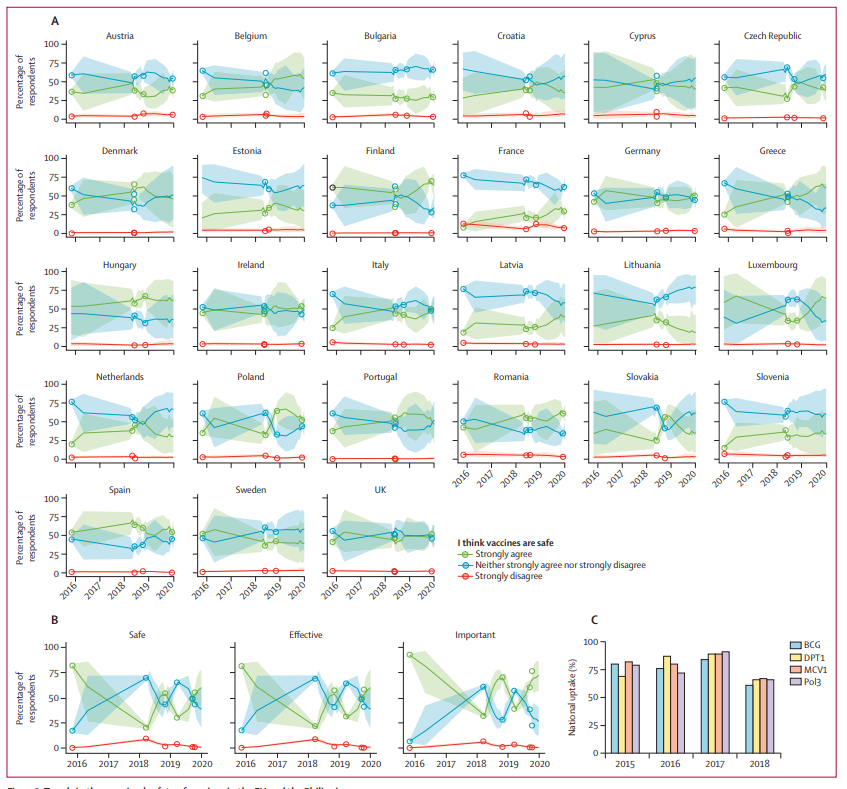 However, over the four years, vaccine confidence increased in France, India, Mexico, Poland, Romania, and Thailand.
Misinformation
Misinformation is a key driver of vaccine hesitancy. Researchers found that those who trust health care professionals for medical advice, rather than turning to family, friends or the internet were more likely to be vaccinated.
In Indonesia, religious factors were at play.
"Indonesia witnessed a large drop in confidence between 2015 and 2019, partly triggered by Muslim leaders questioning the safety of the measles, mumps, and rubella (MMR) vaccine, and ultimately issuing a fatwa – a religious ruling – claiming that the vaccine was haram and contained ingredients derived from pigs and thus not acceptable for Muslims," the study said.
The study found that in South Korea and Malaysia, online mobilization against vaccines was a major barrier.
While the United States was not included in the Lancet study, a previous Gallup study showed that 35 percent of Americans would not get an FDA-approved, free COVID-19 vaccine.
Experts have said that globally, countering misinformation has been one of the biggest challenges when it comes to fighting COVID-19, and in the US, the debate over vaccines has become especially polarized with the rise of the "anti-vaxxer" movement, or those who refuse to vaccinate their children.
"There is growing evidence of vaccine delays or refusals due to a lack of trust in the importance, safety, or effectiveness of vaccines, alongside persisting access issues," the authors wrote.
Well-founded fears in some countries
In some countries where confidence is particularly low, that mistrust is linked to vaccines that have proved unsafe.
Read more:
Watch coronavirus spread across the globe: Ten questions answered
Coronavirus: Saudi Arabia allows international travel for set categories from Sept 15
Coronavirus: UK records over 3,000 new cases for third day in a row
Japan ranked as one of the countries with the lowest vaccine confidence in the world, which the authors note may be linked to scares over safety of the human papillomavirus (HPV) vaccine that began in 2013 and caused the Japanese government to suspend its active recommendation of the vaccine.
Vaccine confidence plummeted in the Philippines and in Indonesia as well, where in 2017 vaccine manufacturer Sanofi announced their new dengue vaccine Dengvaxia.
The vaccine "posed a risk to individuals who had not previously been exposed to the virus, prompting outrage and panic across the population where nearly 850 000 children had been given the new vaccine the previous year," the Lancet study said.
Researchers have said that if a COVID-19 vaccine is available it may not be ready for mass consumption until the end of 2021, although several Phase III clinical trials are underway around the world.
The study's authors said that in the COVID-19 era, their findings provide a valuable baseline of "confidence levels to measure change in times of evolving disease threats and to help to identify where more trust building is needed to optimize uptake of new life-saving vaccines."